David Miliband is stepping down as a Labour MP and going to work for International Rescue in New York. Here's the resignation letter he wrote to Alan Donnelly, Chair of the South Shields Constituency Labour Party: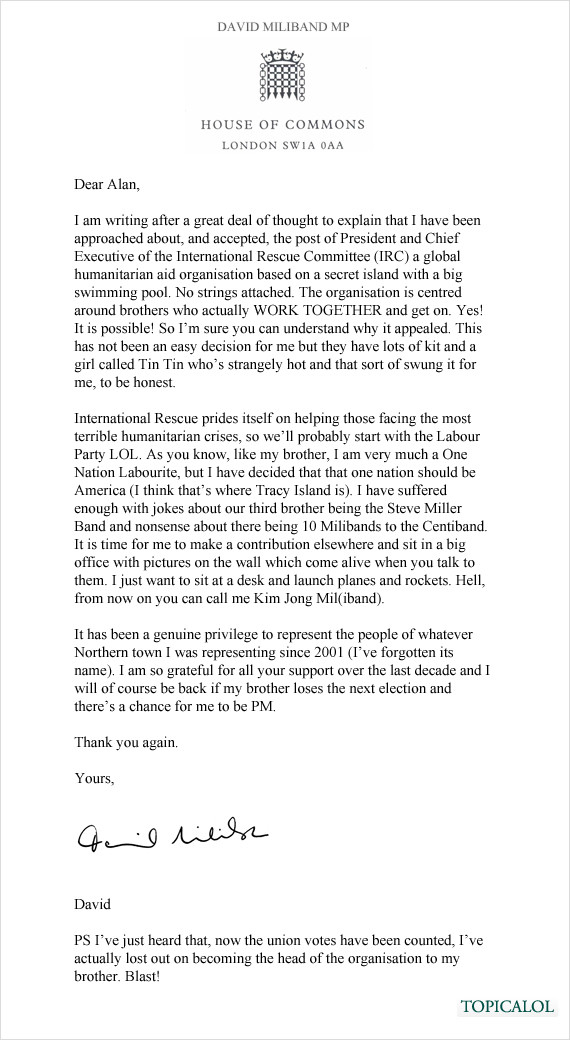 (Obtained for HuffPost UK Comedy by David Schneider and Simon Hume.)
More TOPICALOLs:


"You really think little Ed will one day be leader..."

"And then I told Ed, there's only room for one Miliband in this town"

"Monica was here... and then Hillary knocked on the door"

Miliband reveals what he learnt with Clinton

"I've got this won..."

David Miliband reacts as the leadership results are read out

Miliband attempts to strangle Ed in a large ditch attempt to run for PM

Looks like it was one banana too many for this suit

David reveals his secret weapon in his bid for the leadership

Did he really call her a "bigoted woman"?

"Damn that salmon mousse"

Poor Dave was nearly taken away when he was spotted trying to kickstart this bench

The best photo. ever.

Tired of politics

"I'm with stupid"

"And I grabbed Sarkozy like zis..."