Chris Brown has opened up about his 2009 assault on Rihanna, insisting he has learned lessons from the incident.
In a continued effort to win back public support, the singer told 'The Today Show' that he now understands what he did was 'absolutely wrong'.
You're not kidding.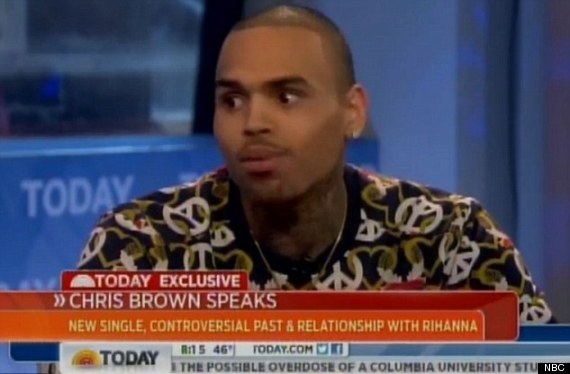 "I think it is just proving myself once again and me being a man. Knowing what I did was wrong and never doing it again," he told host Matt Lauer.
"As far as she (Rihanna) and I are concerned, she knows my heart and I know her heart. I am not really focused on the negative, everything is positive for me. I did my 52 weeks of counseling and learned it was absolutely wrong."

Talking about his treatment, he went on: "It was domestic violence counselling. A 52 week program. Every Monday in Virginia, I remember going, sitting in there thinking 'why did I do what I did?' I really just wanted to get help."
Promising it would 'never happen again', he added: "The naysayers are going to have their opinion. Anything I do... It's not going to be 'Chris is the greatest'. So I am not going to focus my life on pleasing those people. The only thing I can do is please my family, myself and please her (Rihanna) and my fans."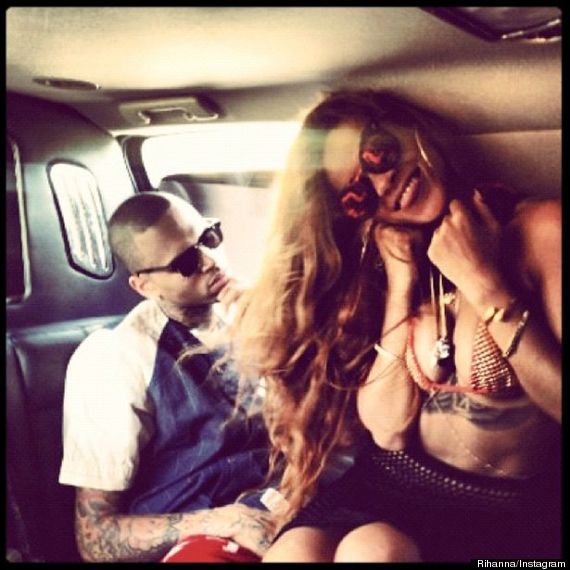 His interview also appeared to silence reports that he and Rihanna had split once more.
It was thought the couple were no longer together, when Chris appeared to say as much during a radio interview.
"Are you still with Rihanna?" Power 106 host Big Boy asked Chris, who replied with, "Uh, no. That's the short answer."
So what is going on exactly? Answers on a postcard please.
LIKE US ON FACEBOOK | FOLLOW US ON TWITTER
Loading Slideshow
RiRi hit back at fans who dared to question what the suspicious white powder on top of the man's head was in a photo she posted at Coachella Festival, labelling them 'pathetic c*nts'. Nice.

While there isn't hardly an inch of Rihanna's skin we haven't seen before, we were still shocked when she stripped completely naked for GQ in 2012.

Rihanna used to love the c-word, and would wear it emblazoned on necklaces and t-shirts, that was until she was shocked to discover the word was actually offensive.

As RiRi hit a strip club with her pals in 2012, she was seen throwing dollar bills at the performers. She tweeted: "#ROCstarshit my daddy would be proud". Yep, bet he was beaming.

When Rihanna appeared on 'The X Factor' final in 2010 along with Christina Aguilera, their raunchy performances racked up over 1,000 complaints to media regulator Ofcom. It led to a ruling stars would have to cover up to appear on TV before the 9pm watershed.

Rihanna was seen brazenly smoking a suspicious looking cigarette whilst holidaying in Hawaii in 2012. She even tweeted: "Kush rolled, glass full...I prefer the better things!" - and for those of you not down with drug lingo (unlike Rihanna), 'kush' is a type of marijuana from the Middle East.

"Come here rude boy, boy can you get it up?" sings Rihanna on her 2010 hit 'Rude Boy'. Such a good role model.

Rihanna had us all worried when she tweeted a picture of herself hooked up to a drip and then went quiet. While everyone speculated she had been rushed to hospital, suffering from exhaustion, others said she was receiving an intravenous vitamin boost, popular with many popstars.

Rihanna and Chris Brown teamed up to record 'Birthday Cake' for her sixth album 'Talk That Talk' in 2011, giving us the first sign they were back in contact after he beat her in 2009.

Rihanna dresses as a weed fairy for a Halloween party in Hollywood in 2012. Whatever happened to plain old Frankenstein, eh?

While most of the male population may love RiRi getting naked, one person who didn't was farmer Alderman Alan Graham. After she froliced around topless while on his farm to film the video to 'We Found Love' in 2010, he insisted the star cover up or get off his land.

This was the scene of a New York nightclub in June 2012 after a brawl erupted between Chris Brown and Drake, allegedly over Rihanna.

The world was aghast when Rihanna confessed she was still in love with ex Chris Brown during a tearful interview with Oprah Winfrey in 2012.

Rihanna unveiled a shocking new addition to her body art in 2009 - a tattoo of a gun on the side of her rib cage.

Rihanna singing about 'chains and whips', whilst provocatively sucking on her finger. Her video for 201 hit 'S&M' was RiRi at her saucy pop best.

In what was to become the biggest PR disaster ever, Rihanna invited a bunch of journalists and fans to fly around the world with her as she plays seven gigs in seven countries in seven days. The result was far from a party in the sky, with the journos comparing it to prison as RiRi refused them access to her, and only made two brief appearances during the whole week.

Amid rumours they were more than just friends again, Rihanna planted a smacker on ex Chris Brown at 2012's MTV VMAs, leaving viewers gobsmacked.

Rihanna was at the centre of a race row when she picture of a bag of rice cakes wearing sunglasses and a pair of earrings alongside the caption: "Ima a make u my b****". Later in 2012, her best friend used the term (which is a slur against people from Asia) to insult Chris Brown's ex Karrueche Tran, who is part Asian.

She may have appeared as a guest at the Victoria's Secret Show in 2012, but RiRi saved her sauciest antics for after the show when she tweeted a snap of herself in a state of undress.

Rihanna has never made any secret of her fondness for a bit of the green stuff and told fans she 'didn't really give a f*ck' what they thought when she tweeted a picture of a nug of weed in 2012. Charming.

After months of speculation, Rihanna finally confirmed she was back wither her abusive ex Chris Brown in an interview with Rolling Stone magazine in January 2013.

RiRi was branded a 'desperate freak' by PETA in 2012 when she stepped out wearing snakeskin boots. "Rihanna may not have a clue that snakes killed for boots are often nailed to a tree and skinned alive. Of course, they can't go on Oprah to cry about it," they said. Ouch.

Rihanna seemed to enjoy riding on a rather suggestive looking pink tank during Last Girl On Earth tour in 2010 a little too much, if you ask us.

Rihanna was criticised for a shaky performance at a Swedish music festival in 2012 after she arrived 45 minutes late on stage, seemed disorientated and was accused of miming. It followed the death of her beloved GranGran Dolly days earlier.

Errr, yes Rihanna, we can see your nipples. And your underwear.