Many girls (and grown women) have long wondered what it would be like to wake up next to Harry Styles.
Well, thanks to the 'One Direction: This Is Us' director, Morgan Spurlock, they now know.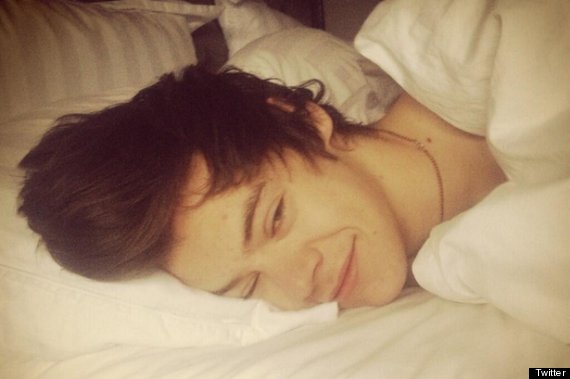 He posted a snap of Mr Styles coming round from his slumbers on Twitter, teasing the band's upcoming 3D movie.
Talk about a Friday treat.
Morgan has also been spilling the beans on what fans can expect from the film, promising "more shirtless moments than you can imagine".
Sounds good to us, but we'll have to take along a few tissues too by the sound of it.
"There have been some really lovely emotional moments that we've captured. I think fans may shed a tear or two while watching," Morgan added.
"We spend a lot of down time with the band, with their families and friends. We really wanted you to see what their 'normal' lives are like."
The film is due to hit cinemas later this year.
19 Reasons Why We Love Harry Styles
1. He's got lovely, bouncy curls which we'd love to run our fingers through.

2. He's not afraid of getting naked.

3. He's got a rather nice voice, which he could serenade us with.

4. He was the cutest kid ever - just look at those cheeks!

5. His bromance with Nick 'Grimmy' Grimshaw. We heart a good bit of man love.

6. He scrubs up well in a suit. Yum!

7. He loves animals *melts*.

8. He gave Taylor Swift enough material for about 10 more albums during their relationship.

9. He has tattoos. Lots of tattoos. OK, many are questionable but it just adds to his allure.

10. He loves his mum. Bless!

11. He always gets the best girls (we love Flacko almost as much as Harry).

12. He's part of our favouritest band ever (ok, this week) - One Direction.

13. He's got a filthy mouth.

14. He's got some flashy cars. And a Capri. This is very cool indeed.

15. He's not afraid to make a fool of himself (yes, that is him inside that thing).

16. He's touchy feely. Especially when it comes to his bandmate's bits.

17. He's the Robbie of 1D.

18. He's charitable - 1D are releasing this year's Comic Relief single.

19. He'd be an amazing mate. We are sure of this.