Harry Styles has been quite literally caught with his trousers down.
However, this time has got nothing to do with women, more his mischievous bandmates.
Fans at One Direction's gig at London's O2 on Saturday got an eyeful when Liam Payne decided to play a prank on him, sneaking up behind him to pull down his trews.
The crowd went wild as Harry stood on the stage in his small black pants, blushing as he tried to preserve his modesty.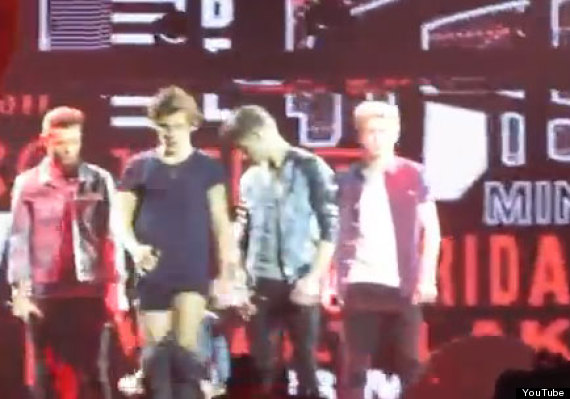 As Harry, 19, tried to zip himself back up, his bandmates watched and laughed and the 20,000 fans at the O2 Arena cheered, screamed and whistled.
But the curly-haired star wasn't to be put off, and carried on singing the group's hit 'What Makes You Beautiful' throughout. What a pro!
It wasn't the first time Harry has been the victim of one of Liam's jokes - last year he tore open Harry's shirt and exposed his bare chest at a concert in the US.
Long may these sort of antics continue, we say.
Watch the video above to see Harry baring all.
Meanwhile, Harry's bandmates have reignited their war of words with The Wanted with the mother of all Twitter spats.
href="http://www.facebook.com/HuffPostUKEnt"target="_hplink">LIKE US ON FACEBOOK | FOLLOW US ON TWITTER
19 Reasons Why We Love Harry Styles
1. He's got lovely, bouncy curls which we'd love to run our fingers through.

2. He's not afraid of getting naked.

3. He's got a rather nice voice, which he could serenade us with.

4. He was the cutest kid ever - just look at those cheeks!

5. His bromance with Nick 'Grimmy' Grimshaw. We heart a good bit of man love.

6. He scrubs up well in a suit. Yum!

7. He loves animals *melts*.

8. He gave Taylor Swift enough material for about 10 more albums during their relationship.

9. He has tattoos. Lots of tattoos. OK, many are questionable but it just adds to his allure.

10. He loves his mum. Bless!

11. He always gets the best girls (we love Flacko almost as much as Harry).

12. He's part of our favouritest band ever (ok, this week) - One Direction.

13. He's got a filthy mouth.

14. He's got some flashy cars. And a Capri. This is very cool indeed.

15. He's not afraid to make a fool of himself (yes, that is him inside that thing).

16. He's touchy feely. Especially when it comes to his bandmate's bits.

17. He's the Robbie of 1D.

18. He's charitable - 1D are releasing this year's Comic Relief single.

19. He'd be an amazing mate. We are sure of this.