Sarah Harding has been arrested for using her mobile phone whilst driving and subsequently failing to stop for police.
The former Girls Aloud singer was seen talking on the phone whilst driving her 4x4 down Charing Cross Road in central London on Thursday, and allegedly refused to pull over when flagged down by cops.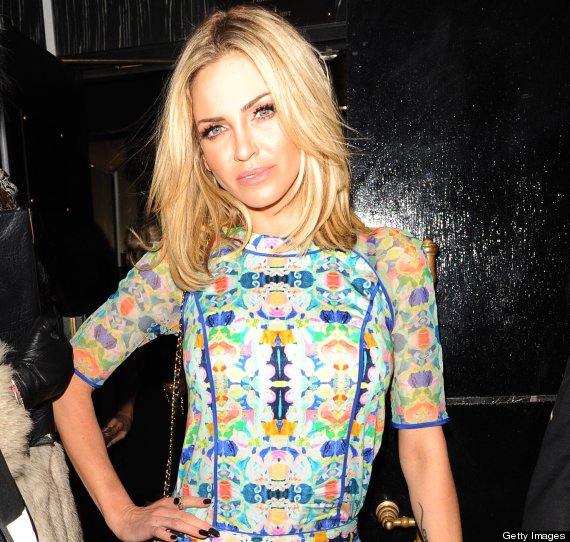 After eventually stopping minutes later, she was arrested and taken to nearby Holborn Police station, according to The Mirror.
A source told the paper: "Apparently Sarah was very upset when she was arrested and charged. The offences are pretty serious."
Sarah was charged with the two offences and bailed to appear at Highbury Corner Magistrates Court on 16 April.
She faces a £1,000 fine and could lose her licence for using her phone. Failing to stop for police also carries a £5,000 fine.
The star recently told of how she was in a much better place in her life following a stint in rehab, believing her attitude to life has improved dramatically.
She told Look magazine: ''I'm 200 percent better in terms of my inner strength and attitude. I'm a lot calmer. I still have my hyper days, but I just take one day at a time.
''In the band it was a rollercoaster. And yes, I have learned from my mistakes.''
href="http://www.facebook.com/HuffPostUKEnt"target="_hplink">LIKE US ON FACEBOOK | FOLLOW US ON TWITTER
Michael Lohan Booking Photo - October 26, 2011

The DUI arrest that continues to haunt her! Lindsay Lohan was first arrested for a DUI on May 27, 2007 but was arrested again -- and this time for cocaine possession, too -- after a brief car chase in Santa Monica on July 24, 2007.

Lindsay Lohan's ex-girlfriend was arrested on suspicion of DUI outside Baker, Calif., on Aug. 1.

The actor was pulled over on California's Pacific Coast Highway on July 28, 2006 for speeding, but ended up being busted for a DUI.

The former "OC" star was arrested for a suspected DUI, drug and controlled substance possession and driving without a valid license on December 27. 2007.

The former "Simple Life" star was popped for a DUI in the early morning of December 11, 2006 after she was spotted driving the wrong way on a California speedway.

The E! reality star was busted in March 2007 for a DUI -- and it was all caught on camera for her family's reality show, "Keep Up With The Kardashians."

The heiress was busted for a suspected DUI on September 9, 2006 in Hollywood.

The "24" star was picked up in the early hours of Sept. 25, 2007 in Hollywood for a suspected DUI.

The Motley Crue singer was arrested for drunken driving near the Las Vegas strip on June 27, 2010.

Charlie Sheen's porn star pal and former "goddess" was picked up for a suspected DUI in Fort Wayne, Indiana on February 3, 2011.

He might have seen dead people in "The Sixth Sense" but he was probably seeing double when he was picked up for a DUI -- and misdemeanor marijuana possession -- on August 18, 2006 after crashing his car into a tree.

The former "Partridge Family" star wasn't singing a pretty tune when he was arrested on suspicion of DUI November 3, 2010 in Florida.

The "American Pie" actor was arrested in 2005 (pictured above) for drunken driving, and faced a second DUI charge on June 16, 2010 after being arrested in Los Angeles.

The actress was arrested on January 5, 2011, where she registered a 0.22 blood alcohol level, which is almost three times the legal limit.

The "Melrose Place" actress was busted for a suspected DUI on September 27, 2008 near Santa Barbara, Calif.

The Black Eyed Peas singer (real name: Jaime Luis Gomez) was arrested on March 27, 2007 near Los Angeles for driving under the influence.

The former "Lost" star was arrested on December 1, 2005 for drunk driving in Hawaii.

The actor was arrested on February 11, 2009 in Malbu, Calif., for a suspected DUI.

The boxer was arrested in Scottsdale, Ariz., on December 29, 2006, for driving under the influence.

Mickey Rouke was arrested for driving under the influence -- on a vespa -- on November 8, 2007.

The "Hills" star -- and sister to Spencer -- was arrested on October 18, 2009 for a suspected DUI in Hollywood.

Flo Rida was busted in Florida on June 9, 2011 for a suspected DUI while driving a million-dollar car. Yikes.