Science has spoken guys: penis size matters – at least to women who are deciding if they want to have sex with you.
Using data from a large study of Italian men, researchers created 343 computer-generated male figures varying in (flaccid) penis size, as well as in height and shoulder-to-hip ratio.
Qualities such as facial attractiveness and hair were deliberately omitted from the graphics and a group of 105 young Australian women were asked to rate each image on sexual attractiveness. Not-so-surprising: Penis size matters (to women)
While narrow hips and broad shoulders were rated as attractive, larger penis sizes were strongly linked to high attractiveness scores.
Published in the Proceedings of National Academy of Science (PNAS) journal, the study was led by University of Ottowa researcher Brian Mautz.
Dr Mautz concluded: "We found that flaccid penis size had a significant influence on male attractiveness.
"Males with a larger penis were rated relatively more attractive."
SEE ALSO:
The study was inspired by Dr Mautz's observation that the human penis is significantly longer than it needs to be to perform its primary biological role, i.e. to reproduce.
As The Independent puts it, the evolution in the size of penises "is in fact the result of many generations of prehistoric women choosing well-endowed men."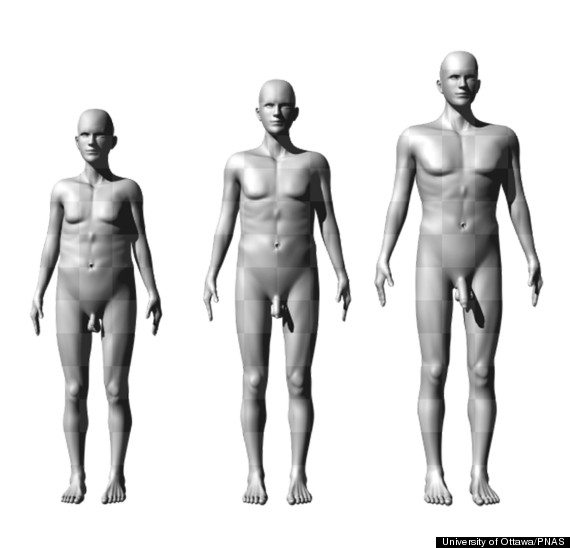 Women were shown computer generated images of men whose heights, body shape and penis size varied
Dr Mautz told the newspaper: "Our results show that present-day females rate larger penises as more attractive, but it is hard to infer anything much beyond that. Part of the reason is because of clothing - it does complicate the situation."

Strangely, the study found attractiveness increased quickly until flaccid penises reached 7.6cm (approximately 3 inches), slowing down thereafter.
Science Mag summarises the reason for this as being:
Penis size isn't the only thing that matters. It interacts with other traits, and its effect depends on whether those other traits are already attractive to begin with. If one of the model men was tall and had a masculine, V-shaped torso with broad shoulders and narrower hips, for example, he was considered more attractive than his shorter, stockier counterparts, regardless of penis size.
The not-so-surprising findings come after an earlier study in The Journal of Sexual Medicine, which concluded larger penises are better equipped to provide vaginal orgasms through penetrative sex (as opposed to clitoral orgasms).
Overall the women who reported the highest number of vaginal orgasms said they preferred longer penises. However researchers concluded penis size was not related to the frequency of clitoral orgasms. British men typically have bigger penises than their French counterparts
And just in case you were interested, Republic of Congo men are among those with the largest penises, with an average of 7.1in.
British men rank 78th out of 113 nationalities in the table of average penis lengths, according to the study.
In Europe, Icelanders are the best endowed at 6.5in and the Irish are the second smallest at 5.03in - behind Romanians at 5.01in.
British men come in just under the Germans, who are in line with the European average of 5.7in.
7 Steps To Mind-Blowing Sex
It's too easy for us women to convince ourselves to settle for less. We're so helpful and accommodating, so eager to please and afraid of rejection that we're quick to give up the things we need, including when it comes to sex. What we need to see is that doing this will leave us chronically frustrated. While it's true that every relationship requires a certain amount of compromise, going without the things that we really need just doesn't work. We'll end up unhappy in the relationship or resentful toward our partner. The bottom line is, we need to know what we can't live without, sexually, and what we just can't live with. We ignore these non-negotiables at the expense of a fulfilling sex life.

If you can't ask them for what you want in bed, you shouldn't be sleeping with them. Good sex happens when we feel safe and at ease. If we're afraid to ask for something or to tell our partner that we don't like something, sex will never be more than mediocre. This second tip follows from the first one, in that once we identify what we want and don't want, we have to express these things clearly. It's unfair to expect our partner to be a mind-reader and "prove" that they care by somehow knowing what we want without our having to tell them. Healthy sex comes out of healthy communication.

We need to be in touch with our bodies; with what feels good, what feels not so good and what feels wrong. We also really need to stop judging ourselves in terms of our weight and our shape. Only a superficial dope would give us a hard time over our imperfections. If someone makes us feel bad about our physical selves, this is more a reflection of his inadequacies than of our own. Our negative self-talk has to stop. The running commentary on how fat we are, how much cellulite or how many wrinkles we have is guaranteed to kill the mood, often before it even starts. Feeling good about our bodies is crucial if we're going to let go and enjoy ourselves. Being physically self-conscious will keep us from experiencing the joyful abandon of great sex.

In the bad old days, some women were led to believe that the way to get a man to toe the line is to offer sex for good behavior or withhold it when the man has displeased them. Most of us today recognize this as hateful behaviour and a recipe for disaster. Men don't want to be controlled or punished, especially around sex. They don't want to be made to feel like little boys. When we're hurt or angry at our partner, we need to share our feelings with him in an adult way. We can even say that we're too upset for sex, right now. What we mustn't ever do is make him feel like we're deciding when he gets to have sex, based on whether he's been "good" or "bad." On the other hand, using sex as a reward turns us into sex objects and makes sex into a commodity for our partner to "earn." It's no longer two people being intimate or enjoying each other. Commodifying sex makes it into a business transaction and our bodies then become objects for trade.

We might love Fluffy or Rover, but they don't belong in the bedroom when we're being intimate. Our pets are very territorial and could get jealous or want to play, too. Dogs might bark or even growl. Cats might jump onto the bed and start walking around. We can avoid these disasters by remembering to shut the door and leave our four-legged friends outside.

Sex is about connection and intimacy, but also it's about having fun. It can be mind-blowingly great or occasionally, things can go wrong. Having a good sense of humor about sex will keep things in perspective. Being able to laugh at ourselves and at the comical aspects of sex will take the pressure off the whole experience. We might love and adore our partner, but we don't have to be so serious about making love to them. Humour relieves pressure and is a great way to connect.

The best sex is the kind in which each person is trying to please the other one. The sharing in sex is one of the things that make it great. It can be technically amazing, but when one person gets the impression that the other person really isn't there with them, it can ruin the whole experience. What makes someone a fantastic lover is not their technical ability or their repertoire of moves but their attentiveness and their efforts to make their partner happy. When both people show that they really care about meeting their partner's needs, sex becomes something wonderful.