London Sundance Festival, the UK arm of Robert Redford's original big idea, kicks into life for 2013 on Thursday.
Over four days - 25 to 28 April - the second Sundance London presents four exciting days of live music, the UK premieres of American independent films fresh from the 2013 Sundance Film Festival, plus panel discussions, filmmaker Q&As and special events.
One of the strongest strands is the section dedicated to documentaries, including one charting the personal journey of actress Mariel Hemingway.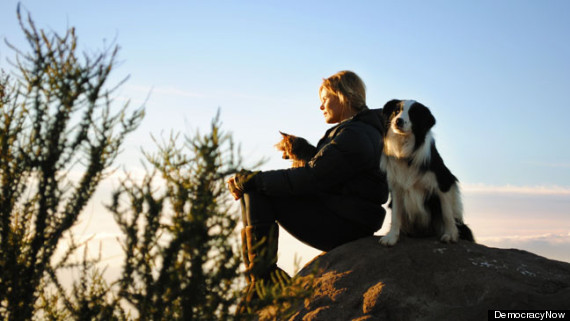 'Running From Crazy' chronicles the life of Hemingway, the granddaughter of the novelist Ernest Hemingway. The film focuses on Mariel's family history of mental illness, drug addiction, and the suicides of seven relatives, including her grandfather and her sister, Margaux. The stakes are high, as Mariel attempts to ensure the fate of herself and her children is a very different one.
For a full list of what's on offer this year, click here - in the meantime, here are the best documentaries to watch out for...
Loading Slideshow
Blood Brother

Rocky went to India as a disillusioned tourist. When he met a group of children with HIV, he decided to stay. He never could have imagined the obstacles he would face, or the love he would find.

Blackfish

Notorious killer whale Tilikum is responsible for the deaths of three individuals, including a top killer whale trainer. Blackfish shows the sometimes devastating consequences of keeping such intelligent and sentient creatures in captivity.

God Loves Uganda

A powerful exploration of the evangelical campaign to infuse African culture with values imported from America's Christian Right. The film follows American and Ugandan religious leaders fighting "sexual immorality" and missionaries trying to convince Ugandans to follow biblical law.

History of the Eagles Part One

Using never-before-seen home movies, archival footage and new interviews with all current and former members of the Eagles.

Muscle Shoals

Down in Alabama Rick Hall founded FAME Studios and gave birth to the Muscle Shoals sound. Mick Jagger, Keith Richards, Gregg Allman, Aretha Franklin, Etta James, Alicia Keys, Bono and others bear witness to the greatest untold American music story.

Running From Crazy

Mariel Hemingway, granddaughter of Ernest Hemingway, strives for a greater understanding of her family history of suicide and mental illness. As tragedies are explored and deeply hidden secrets are revealed, Mariel searches for a way to overcome a similar fate.

The Summit

Twenty-four climbers converged at the last stop before summiting K2, the most dangerous mountain on Earth. Forty-eight hours later, 11 had been killed or simply vanished. Had one, Ger McDonnell, stuck to the climbers' code, he might still be alive.

The Moo Man

A year in the life of heroic farmer Steve, scene-stealing Ida (queen of the herd), and a supporting cast of 55 cows. When Ida falls ill, Steve's optimism is challenged, and their whole way of life is at stake.