The Huffington Post pictures of the day brings you the very best images from around the world chosen by our own photo editors, Elliot Wagland, Matthew Tucker and Tahira Mirza.
We would love to hear your thoughts on the stories of the day - leave a comment at the bottom of the blog.
Follow The Huffington Post picture desk on twitter.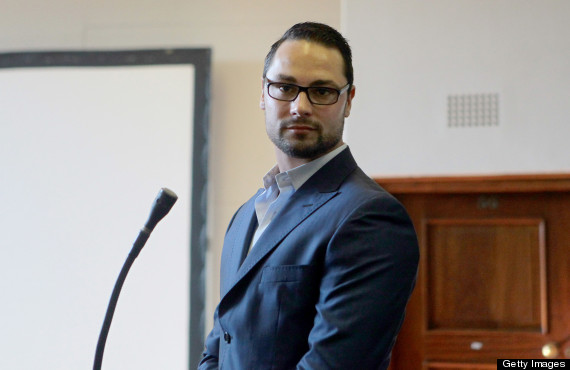 Carl Pistorius, brother of South African star sprinter Oscar Pistorius, appears in court on April 25, 2013 at the Vanderbijlpark Magistrate's Court in Johannesburg. Carl, 28, has been charged with culpable homicide and reckless driving after a 2008 road accident in which a 36-year-old woman motorcyclist was killed.
Loading Slideshow
SAFRICA-CRIME-TRIAL-PISTORIUS

Carl Pistorius, brother of South African star sprinter Oscar Pistorius, appears in court on April 25, 2013 at the Vanderbijlpark Magistrate's Court in Johannesburg. Carl, 28, has been charged with culpable homicide and reckless driving after a 2008 road accident in which a 36-year-old woman motorcyclist was killed. AFP PHOTO / JENNIFER BRUCE (Photo credit should read JENNIFER BRUCE/AFP/Getty Images)

SAFRICA-CRIME-TRIAL-PISTORIUS

Carl Pistorius, brother of South African star sprinter Oscar Pistorius, appears in court on April 25, 2013 at the Vanderbijlpark Magistrate's Court in Johannesburg. Carl, 28, has been charged with culpable homicide and reckless driving after a 2008 road accident in which a 36-year-old woman motorcyclist was killed. AFP PHOTO / JENNIFER BRUCE (Photo credit should read JENNIFER BRUCE/AFP/Getty Images)

SAFRICA-CRIME-TRIAL-PISTORIUS

Carl Pistorius (R), brother of South African star sprinter Oscar Pistorius, talks with his lawyer Kenny Oldwage in court on April 25, 2013 at the Vanderbijlpark Magistrate's Court in Johannesburg. Carl, 28, has been charged with culpable homicide and reckless driving after a 2008 road accident in which a 36-year-old woman motorcyclist was killed. AFP PHOTO / JENNIFER BRUCE (Photo credit should read JENNIFER BRUCE/AFP/Getty Images)

SAFRICA-CRIME-TRIAL-PISTORIUS

Carl Pistorius (R), brother of South African star sprinter Oscar Pistorius, talks with his lawyer Kenny Oldwage (C) and a member of his legal team in court on April 25, 2013 at the Vanderbijlpark Magistrate's Court in Johannesburg. Carl, 28, has been charged with culpable homicide and reckless driving after a 2008 road accident in which a 36-year-old woman motorcyclist was killed. AFP PHOTO / JENNIFER BRUCE (Photo credit should read JENNIFER BRUCE/AFP/Getty Images)

SAFRICA-CRIME-TRIAL-PISTORIUS

Carl Pistorius, brother of South African star sprinter Oscar Pistorius, appears in court on April 25, 2013 at the Vanderbijlpark Magistrate's Court in Johannesburg. Carl, 28, has been charged with culpable homicide and reckless driving after a 2008 road accident in which a 36-year-old woman motorcyclist was killed. AFP PHOTO / JENNIFER BRUCE (Photo credit should read JENNIFER BRUCE/AFP/Getty Images)

Carl Pistorius, brother of Oscar Pistorius, accused of murder, stands inside the court for his culpable homicide case at the Magistrate Court in Vanderbijlpark, South Africa on Thursday April 25, 2013. (AP Photo/Themba Hadebe)

Carl Pistorius, brother of Oscar Pistorius, accused of murder, stands inside the court for his culpable homicide case at the Magistrate Court in Vanderbijlpark, South Africa on Thursday March 25, 2013. (AP Photo/Themba Hadebe)

Carl Pistorius, brother of murder accused Oscar Pistorius, stands inside the court for his culpable homicide case at the Magistrate Court in Vanderbijlpark, South Africa on Thursday March 25, 2013. (AP Photo/Themba Hadebe)

SAFRICA-CRIME-TRIAL-PISTORIUS

Pistorius's sister Aimee is pictured on April 25, 2013 during the Carl Pistorius trial at the Vanderbijlpark Magistrate's Court in Johannesburg. Carl, 28, brother of South African star sprinter Oscar Pistorius, has been charged with culpable homicide and reckless driving after a 2008 road accident in which a 36-year-old woman motorcyclist was killed. AFP PHOTO / JENNIFER BRUCE (Photo credit should read JENNIFER BRUCE/AFP/Getty Images)

SAFRICA-CRIME-TRIAL-PISTORIUS

Pistorius's father Henke is pictured on April 25, 2013 during the Carl Pistorius trial at the Vanderbijlpark Magistrate's Court in Johannesburg. Carl, 28, brother of South African star sprinter Oscar Pistorius, has been charged with culpable homicide and reckless driving after a 2008 road accident in which a 36-year-old woman motorcyclist was killed. AFP PHOTO / JENNIFER BRUCE (Photo credit should read JENNIFER BRUCE/AFP/Getty Images)

SAFRICA-CRIME-TRIAL-PISTORIUS

Pistorius's father Henke is pictured on April 25, 2013 during the Carl Pistorius trial at the Vanderbijlpark Magistrate's Court in Johannesburg. Carl, 28, brother of South African star sprinter Oscar Pistorius, has been charged with culpable homicide and reckless driving after a 2008 road accident in which a 36-year-old woman motorcyclist was killed. AFP PHOTO / JENNIFER BRUCE (Photo credit should read JENNIFER BRUCE/AFP/Getty Images)

SAFRICA-CRIME-TRIAL-PISTORIUS

Pistorius's father Henke is pictured on April 25, 2013 during the Carl Pistorius trial at the Vanderbijlpark Magistrate's Court in Johannesburg. Carl, 28, brother of South African star sprinter Oscar Pistorius, has been charged with culpable homicide and reckless driving after a 2008 road accident in which a 36-year-old woman motorcyclist was killed. AFP PHOTO / JENNIFER BRUCE (Photo credit should read JENNIFER BRUCE/AFP/Getty Images)

SAFRICA-SPORT-CRIME-POLICE

Carl Pistorius (R) and Aimee Pistorius (L) attend the appearance of their brother South African Olympic sprinter Oscar Pistorius on February 19, 2013 at the Magistrate Court in Pretoria. Pistorius battled to secure bail as he appeared on charges of murdering his model girlfriend Reeva Steenkamp on February 14, Valentine's Day. South African prosecutors will argue that Pistorius is guilty of premeditated murder in Steenkamp's death, a charge which could carry a life sentence. AFP PHOTO / STEPHANE DE SAKUTIN (Photo credit should read STEPHANE DE SAKUTIN/AFP/Getty Images)

SAFRICA - SPORT - CRIME - POLICE

Carl Pistorius (R) and Aimee Pistorius (L) attend the appearance of their brother South African Olympic sprinter Oscar Pistorius on February 19, 2013 at the Magistrate Court in Pretoria. Pistorius battled to secure bail as he appeared on charges of murdering his model girlfriend Reeva Steenkamp on February 14, Valentine's Day. South African prosecutors will argue that Pistorius is guilty of premeditated murder in Steenkamp's death, a charge which could carry a life sentence. AFP PHOTO / STEPHANE DE SAKUTIN (Photo credit should read STEPHANE DE SAKUTIN/AFP/Getty Images)

SAFRICA-SPORT-CRIME-POLICE

Carl Pistorius (R) and his sister Aimee Pistorius (L) attend the appearance of their brother South African Olympic sprinter Oscar Pistorius on February 19, 2013 at the Magistrate Court in Pretoria. Pistorius battled to secure bail as he appeared on charges of murdering his model girlfriend Reeva Steenkamp on February 14, Valentine's Day. South African prosecutors will argue that Pistorius is guilty of premeditated murder in Steenkamp's death, a charge which could carry a life sentence. AFP PHOTO / STEPHANE DE SAKUTIN (Photo credit should read STEPHANE DE SAKUTIN/AFP/Getty Images)

SAFRICA-SPORT-CRIME-POLICE

Carl Pistorius (R) embraces his sister Aimee Pistorius (L) as they attend the appearance of their brother South African Olympic sprinter Oscar Pistorius on February 19, 2013 at the Magistrate Court in Pretoria. Pistorius battled to secure bail as he appeared on charges of murdering his model girlfriend Reeva Steenkamp on February 14, Valentine's Day. South African prosecutors will argue that Pistorius is guilty of premeditated murder in Steenkamp's death, a charge which could carry a life sentence. AFP PHOTO / STEPHANE DE SAKUTIN (Photo credit should read STEPHANE DE SAKUTIN/AFP/Getty Images)

Oscar Pistorius in Court

PRETORIA, SOUTH AFRICA - FEBRUARY 19: Oscar Pistorius's brother, Carl Pistorius, outside the Pretoria Magistrate Court on February 19, 2013 in Pretoria, South Africa. Oscar Pistorius, who has been charged with the murder after allegedly shooting dead his girlfriend Reeva Steenkamp at his home in Silver Woods last Thursday, is appearing in court today for his bail hearing. (Photo by Liza van Deventer/Foto24/Gallo Images/Getty Images)

SAFRICA - SPORT - CRIME - POLICE

Carl Pistorius (R) embraces her sister Aimee Pistorius (L) as they attend the appearance of their brother South African Olympic sprinter Oscar Pistorius on February 19, 2013 at the Magistrate Court in Pretoria. Pistorius battled to secure bail as he appeared on charges of murdering his model girlfriend Reeva Steenkamp on February 14, Valentine's Day. South African prosecutors will argue that Pistorius is guilty of premeditated murder in Steenkamp's death, a charge which could carry a life sentence. AFP PHOTO / STEPHANE DE SAKUTIN (Photo credit should read STEPHANE DE SAKUTIN/AFP/Getty Images)

Oscar Pistorius Charged With Murder

PRETORIA, SOUTH AFRICA - FEBRUARY 15: (SOUTH AFRICA-OUT) Carl Pistorius attends the Pretoria Magistrate court hearing on February 15, 2013, in Pretoria, South Africa. Oscar Pistorius stands accused of murder after shooting girlfriend Reeva Steenkamp on the morning of February 14, 2013. His bail hearing has been postponed until February 19, 2013, with prosecutors stating they will pursue a charge of premeditated murder against him. (Photo by Liza van Deventer/Foto24/Gallo Images/Getty Images)