When we heard that Justin Bieber had got yet another tattoo, we admit, we did a little yawn.
However, when we heard that Justin Bieber had apparently got a tattoo of ex girlfriend Selena Gomez, our ears suddenly pricked up.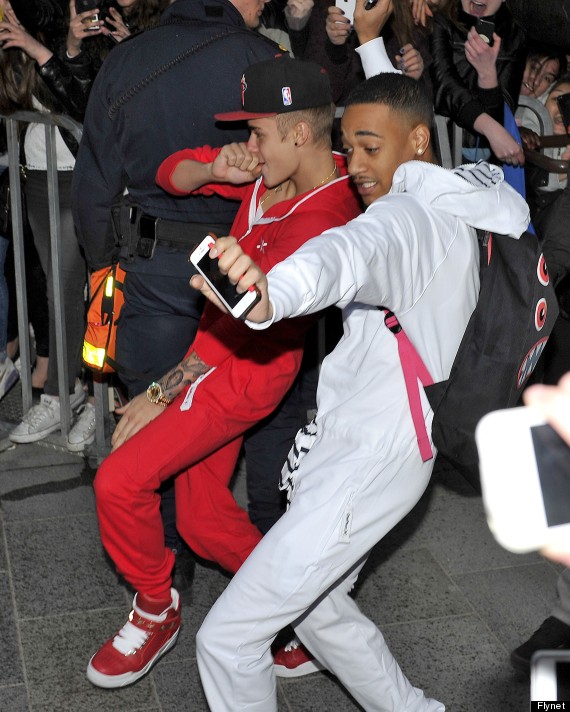 As the Bieb-meister added to his collection of inkings, speculation soon began about the new angel design on his arm that bares more than a passing resemblance to the former Disney star.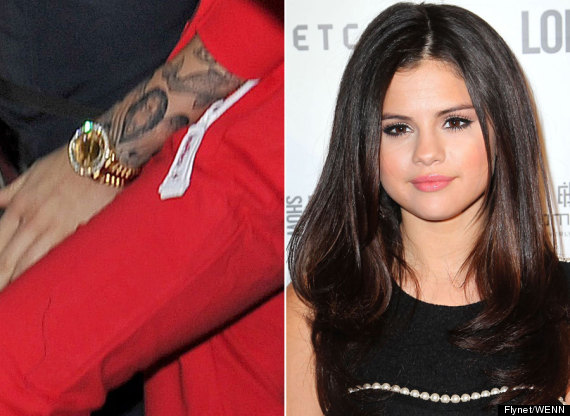 Twitter went into overdrive when he debuted the tat in Sweden, along with a new tiger on his upper arm, saying it looked like Selena's recent busty photoshoot for Elle magazine.
The tribute tat comes as rumours escalate that the couple have reunited.
He set tongues wagging earlier this week when he posted a photo of the two of them looking pretty cosy together on Twitter, amid other reports that they were seen in Norway sharing a kiss.
Let's just hope TAT they can work it out this time.

Anastasia, it's time to book an appointment at the laser removal clinic.

We get it Cheryl - you're an English rose. But do they have to be that big?

In a move that was ugly on several levels, real-man-impersonator and least-deserving-celebrity-of-all-time Chris Brown got a picture of a woman's battered face tattooed onto his neck months after battering a woman's face with his bare fists.

Slim Shady's insistence on putting daughter Hailie Mathers in his songs was bad enough. This tattoo of her is embarrassing parenting taken a step too far.

There's nothing wrong with Eva's (now removed) 'Nine' tattoo per say, except that it represents the folly of getting inked in tribute to your partner - in this case basketball player Tony Parker, jersey number 9 - when they end up cheating on you.

Harry's tatts all look like they've been scribbled on the back of a biology exercise book in Biro by a fidgety teenager. Quite apt, really.

Like a job application or a witty riposte, the first run of getting words tattooed onto yourself is to make sure it is spelled properly. Heroes star Hayden stumbled at this first hurdle with her Italian phrase which was meant to say 'live without regrets'. She has since admitted regretting the tattoo.

Nothing wrong with an owl, we suppose... represents knowledge and wisdom... good at hunting... it's just that this one likes a bit, well, crap.

...and while we're at it, Justin, getting the name of your own album tattooed on your arm is a bit naff - not least of all because you're bound to get older and want to move away from your pop origins into making 'proper music'. Just sayin'.

We know Pricey is fond of a wedding, but this is just ridiculous...

It's one direction alright - down your forearm towards your hand. Why, we have no idea.

What is it with 1D and their doodles?!

Irony or no irony, a tattoo of your own name is NEVER cool.

The problem with getting a line from King Lear tattooed on your back is that everyone, forever, is going to ask about it, and you're going to have to say 'It's a quote from Shakespeare'. Which is a line that's impossible to say without sounding like a pretentious t**t.

It's on your face Mike. Enough said.

Would you get a tattoo reminding everyone of your most embarrassing failure? Of course not. So why Pamela Anderson has one that screams: 'I starred Barbed Wire one of the biggest commercially and critical flops of all time', we have no idea.

The Jackass star got his own face tattooed on his back, which is a lot of pain to go through for a joke.

"I got a mic on my arm cos, y'know, I'm all about music". O-kay...
Justin Bieber's Many Looks Through The Years
NEW YORK - SEPTEMBER 01: Musician Justin Bieber visits the Nintendo World Store on September 1, 2009 in New York City. (Photo by Bryan Bedder/Getty Images)

NEW YORK - NOVEMBER 15: Justin Bieber performs on ABC's Good Morning America' at ABC News' Good Morning America Times Square Studio on November 15, 2009 in New York City. (Photo by Michael N. Todaro/WireImage)

NEW YORK - DECEMBER 11: Justin Bieber attends the Z100s Jingle Ball 2009 presented by H&M at Madison Square Garden on December 11, 2009 in New York City. (Photo by Jim Spellman/WireImage for Clear Channel Radio)

LOS ANGELES, CA - FEBRUARY 13: Singer Justin Bieber poses after his free performance presented by KIIS-FM at Nokia Plaza L.A. Live on February 13, 2010 in Los Angeles, California. (Photo by Angela Weiss/Getty Images)

NEW YORK - NOVEMBER 26: Justin Bieber promotes his new book 'First Step 2 Forever' at Barnes & Noble, 5th Avenue on November 26, 2010 in New York City. (Photo by Andy Kropa/Getty Images)

LOS ANGELES, CA - MAY 15: Justin Bieber attends KIIS FM's 2010 Wango Tango Concert at Staples Center on May 15, 2010 in Los Angeles, California. (Photo by Jason LaVeris/FilmMagic)

Teen idol Justin Bieber arrives on the red carpet for the 68th annual Golden Globe awards at the Beverly Hilton Hotel in Beverly Hills, California, on January 16, 2011. AFP PHOTO/Valerie MACON (Photo credit should read VALERIE MACON/AFP/Getty Images)

LONDON, ENGLAND - FEBRUARY 16: Justin Bieber attends the 'Justin Bieber: Never Say Never' premiere at the O2 Cineworld on February 16, 2011 in London, England. (Photo by Jon Furniss/WireImage)

LAS VEGAS, NV - MAY 22: Singer Justin Bieber poses in the press room with the Digital Artist of the Year award during the 2011 Billboard Music Awards at the MGM Grand Garden Arena May 22, 2011 in Las Vegas, Nevada. (Photo by Isaac Brekken/Getty Images)

NASHVILLE, TN - JUNE 08: Justin Bieber attends the 2011 CMT Music Awards at the Bridgestone Arena on June 8, 2011 in Nashville, Tennessee. (Photo by Jeff Kravitz/FilmMagic)

Singer Justin Bieber attends the 2011 BET Awards at The Shrine Auditorium on June 26, 2011 in Los Angeles, California. (FilmMagic)

UNIVERSAL CITY, CA - AUGUST 07: Singer Justin Bieber arrives at the 2011 Teen Choice Awards held at Gibson Amphitheatre on August 7, 2011 in Universal City, California. (Photo by Jon Kopaloff/FilmMagic)

Singer Justin Bieber arrives at the The 28th Annual MTV Video Music Awards at Nokia Theatre L.A. LIVE on August 28, 2011 in Los Angeles, California. (WireImage)

NEW YORK, NY - SEPTEMBER 08: Justin Bieber attends the Dolce & Gabbana Boutique on September 8, 2011 in New York City. (Photo by Eugene Gologursky/Getty Images for Dolce & Gabbana)

Singer Justin Bieber poses in the press room at The 53rd Annual GRAMMY Awards held at Staples Center on February 13, 2011 in Los Angeles, California. (Photo by Michael Tran/FilmMagic)

ATLANTA, GA - SEPTEMBER 17: (EXCLUSIVE COVERAGE) Musician and 2011 Horizon Award Recipien Justin Bieber poses backstage at the 33rd Annual Georgia Music Hall Of Fame Awards at the Cobb Energy Performing Arts Center on September 17, 2011 in Atlanta, Georgia. (Photo by Ben Rose/WireImage)