If this picture doesn't get your bottom lip quivvering, you're made of sterner stuff than us.
It shows a confused koala atop a pile of woodchips, sadly surveying the remains of his home.
The picture was captured by a volunteer with WIRES, a rescue operation licensed by the NSW National Parks and Wildlife Service.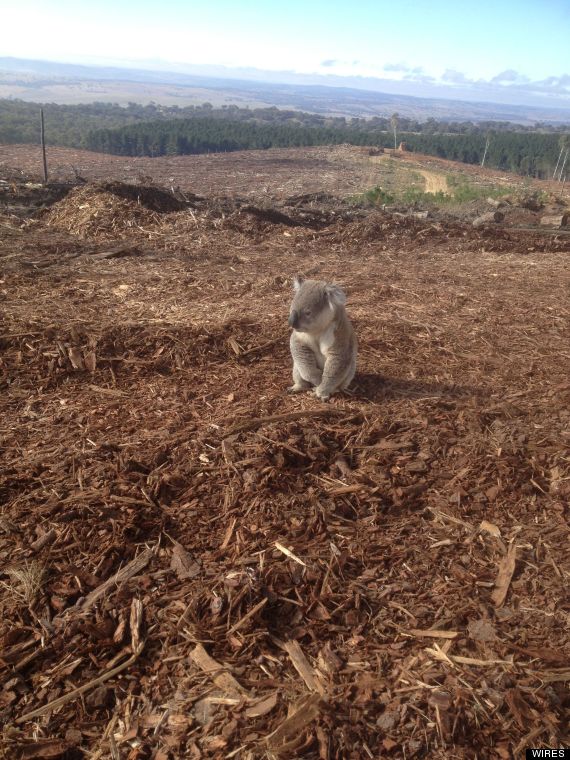 The lonely koala surveys his former home
The scene occurred after forestry workers felled trees in NSW's Vittoria State Forest.
According to the WIRES website: "He was reported by a concerned man working at the site as he was sitting out in broad daylight on top of a woodchip pile with trucks and machinery working close by."
WIRES general manager Leanne Taylor told the Courier Mail: "It is common for koalas to roam back to their home range afterwards and become confused to find nothing there."
In April 2012 the Australian government declared the koala's official status as "vulnerable".
The Australian Koala Foundation reports the animals are in serious decline suffering from the effects of habitat destruction, domestic dog attacks, bushfires and road accidents.
Three cheetah cubs, born in November 2004, lean against their mother during a preview showing at the National Zoo in February 2005 in Washington D.C. Today there are just 12,400 cheetahs remaining in the wild, with the biggest population, totaling 2,500 living in Namibia.

A baby Black Rhinoceros stands in front of its mother in an enclosure at Tokyo's Ueno Zoo in June 2009. The Black Rhinoceros is a critically endangered species, according to the International Rhino Foundation there are less than 5,000 surviving in the world.

An orangutan infant at Ragunan Zoo in Jakarta, Indonesia, on February 15, 2007. Orangutans are threatened by deforestation and hunting. Click here for more orangutan photos.

A baby joey koala at Sydney's Wildlife World. Though koalas are Australia's most iconic and adored marsupials, they are under threat due to a shortage of suitable habitat from mass land clearance.

A 15-year-old female mountain gorilla holds her five month old son at the Kahuzi Biega Nature Park in Democratic Republic of Congo in May 2004. Only 700 mountain gorillas are left in the world, and over half live in central Africa.

A group of African penguins gather near a pond at a conservation site in Cape Town, South Africa. Birdlife International say the African penguin is edging closer to extinction.

A Trio of 45 day-old Bengal white tiger cubs were born in December 2007 At the Buenos Aires Zoo. With only 240 white tigers living in the world, their birth gave a boost to the animals' endangered population.

A pair of black bears sit at a zoo in Kwacheon, South Korea in November 2001. Black bears have been on the endangered species list since 2007.

A newly born Madagascar Lemur, an endangered species, at Besancon Zoo in France. There are only 17 living in captivity worldwide.

Two-month-old twin Red Panda cubs make their debut at Taronga Zoo in March 2007 in Sydney, Australia. The cubs were born out of an international breeding program for endangered species.

China's panda is one of the world's most beloved but endangered animals. Lin Hui, a female Panda- on a ten-year loan from China - eats bamboo at Chiang Mai Zoo in Thailand in Sept 2005. Captive pandas are notoriously poor breeders.

The Sydney's Taronga Zoo is home for this bright orange male infant monkey. This South East Asian monkey is highly endangered.

A grey-bellied Night Monkey born in captivity climbs onto his mother's arms at the Santa Fe Zoo, in Medellin, Colombia. The Night Monkey is an endangered species.

A six-month-old male Sumatran tiger cub rests under his mother careful watch at the National Zoo in Washington in October 2004. Sumatran tigers are endangered; fewer than 500 are believed to exist in the wild and 210 animals live in zoos around the world.

A baby elephant is pictured at the Singapore Zoo on Friday, Dec. 10, 2010. Many elephants are threatened by habitat loss and listed as endangered on the IUCN Red List.

A sow polar bear rests with her cubs on the pack ice in the Beaufort Sea in Alaska. In 2008, the U.S. government described polar bears as threatened under the Endangered Species Act. Due to dangerous declines in ice habit, polar bears are at risk of becoming endangered.