Caroline Sparks died shortly after being shot in Kentucky's Cumberland County on Tuesday afternoon.
Her unnamed brother had received the .22-calibre Crickett rifle - known as 'My First Rifle' as a gift and used it when hunting with his father, WKYT reports.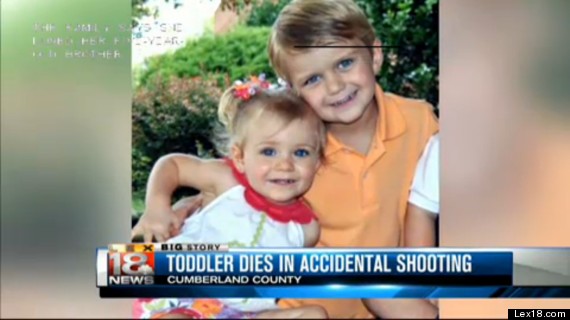 Two-year-old Caroline Sparks and her brother, 5
Neighbour Wanda Cole told the channel: "Oh it's devastating. An entire community, a whole county is devastated. Very happy children. Very loving children. A great family, give you the shirts off their backs."
He said: "It's a Crickett. It's a little rifle for a kid. The little boy's used to shooting the little gun."
Describing the shooting as "just one of those crazy accidents", White revealed the gun had been kept in the corner of the home and that the family did not realise a shell had been left in it.
Autopsy results are not expected for a week, Kentucky State Police Trooper Billy Gregory said.
He added no charges had been filed, but a grand jury could have the final say.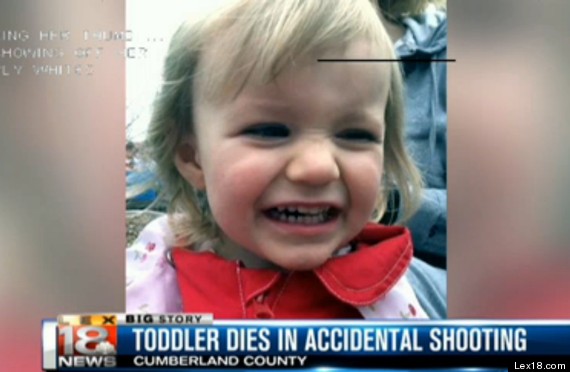 The little girl died on Tuesday
The website's "Kid's Corner" features pictures of children holding rifles from the range, including babies in fatigues and cowboy outfits with guns resting in their laps.
The Huffington Post UK has sought comment from Crickett.
Children With Guns On Crickett.com
SUBSCRIBE TO & FOLLOW UK DAILY BRIEF