A cure for grey hair which means millions will be able to throw away messy dyes could be available in the future, researchers have said.
Scientists found people who are going grey develop "massive oxidative stress" via accumulation of hydrogen peroxide in the hair follicle, which causes hair to bleach itself from the inside out.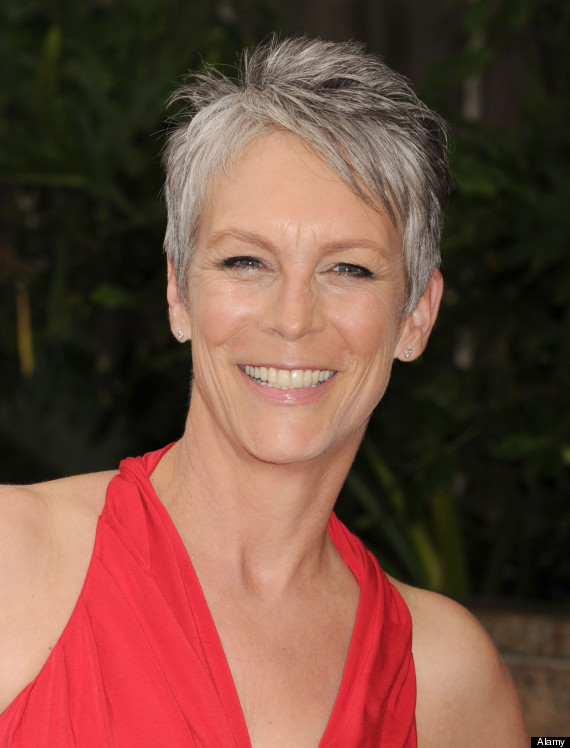 Jamie Lee Curtis sported a stunning grey hair cut in April 2012
According to the FASEB Journal, the team which includes experts from Bradford University's School of Life Sciences, have discovered the accumulation of hydrogen peroxide can be remedied with a proprietary treatment.
They described it as "a topical, UVB-activated compound called PC-KUS (a modified pseudocatalase)", the report said.
The treatment can also be used for people with the skin condition vitiligo, which causes a loss of pigmentation. In 1993 Michael Jackson claimed to have developed vitiligo.
Do you think these women need hair dye?
15 Women Who Make Us Love Grey Hair
Dame Judi Dench arrives at the Royal World premiere of Skyfall at the Royal Albert Hall, London.

Modelling legend Carmen Dell'Orefice, 81, holds a pose in a creation by designer Norisol Ferrari on September 10, 2012 during New York fashion week. Ferrari said her collection for spring-summer was inspired by the 'curves' of film legends Marilyn Monroe and Rita Hayworth. (Robert MacPherson/AFP/GettyImages)

Author Toni Morrison attends the National Dance Institute 31st Annual Gala at the New York State Theater, Lincoln Center on April 07, 2008 in New York City. (Photo by Scott Wintrow/Getty Images)

Kristen McMenamy attends the Chanel: The Little Black Jacket private view at Saatchi Gallery on October 11, 2012 in London, England. (Photo by Mike Marsland/Getty Images)

Ruby Dee attends the premiere of 'For Colored Girls' at Ziegfeld Theatre on October 25, 2010 in New York City. (Photo by Ben Gabbe/Getty Images)

Actress Jamie Lee Curtis arrives at the Los Angeles premiere of 'Hitchcock' at the Academy of Motion Picture Arts and Sciences on November 20, 2012 in Beverly Hills, California. (AFP PHOTO/Robyn Beck)

Emmylou Harris performs at the TJ Martell Honors Gala, Nashville at Hutton Hotel on March 26, 2012 in Nashville, Tennessee. (Photo by Rick Diamond/Getty Images for TJ Martell Foundation)

LONDON, ENGLAND - JULY 07: Actress Julie Walters attends the World Premiere of Harry Potter and The Deathly Hallows - Part 2 at Trafalgar Square on July 7, 2011 in London, England. (Photo by Ian Gavan/Getty Images)

Actress Blythe Danner attends the 2012 Arts For Humanity Gala at New York Public Library on October 17, 2012 in New York City. (Photo by Stephen Lovekin/Getty Images)
Study author Professor Karin Schallreuter said: "To date, it is beyond any doubt that the sudden loss of the inherited skin and localised hair colour can affect those individuals in many fundamental ways.
"The improvement of quality of life after total and even partial successful repigmentation has been documented."
She is a specialist in vitiligo and the research team made their discovery after studying an international group of 2,411 patients.
FASEB Journal editor-in-chief Gerald Weissman said: "For generations, numerous remedies have been concocted to hide grey hair but now, for the first time, an actual treatment that gets to the root of the problem has been developed.
"While this is exciting news, what's even more exciting is that this also works for vitiligo.
"This condition, while technically cosmetic, can have serious socio-emotional effects of people.
"Developing an effective treatment for this condition has the potential to radically improve many people's lives."