The Huffington Post pictures of the day brings you the very best images from around the world chosen by our own photo editors, Elliot Wagland, Matthew Tucker and Tahira Mirza.
10/05/2013 16:17 BST
Trafalgar Letter Auction A letter valued at £800 from a midshipman on board H.M.S Mars written to his mother eight days after the battle of Trafalgar describing his part in it, is to be auctioned at Lyon & Turnbull Edinburgh on May 14.
10/05/2013 16:01 BST
Justin's Having Some Fun In The Jungle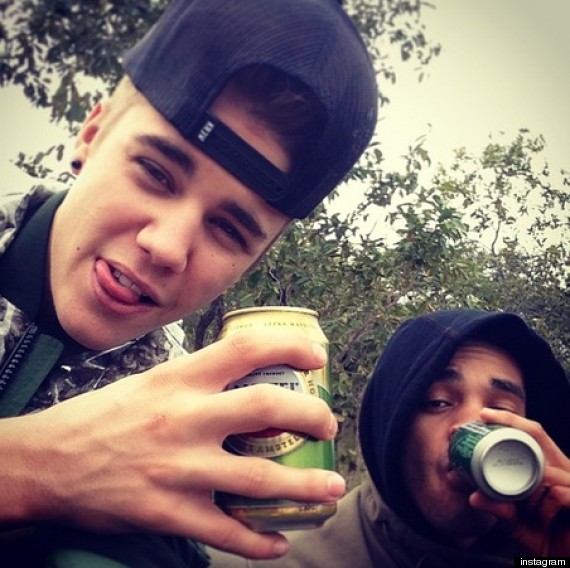 Justin Bieber uploaded photo of himself and a friend captioned 'Beers in the jungle' ... by the looks of things it doesn't seem he would last long in a series of celebrity get me out of here
10/05/2013 14:16 BST
Prince Harry Visits Arlington National Cemetery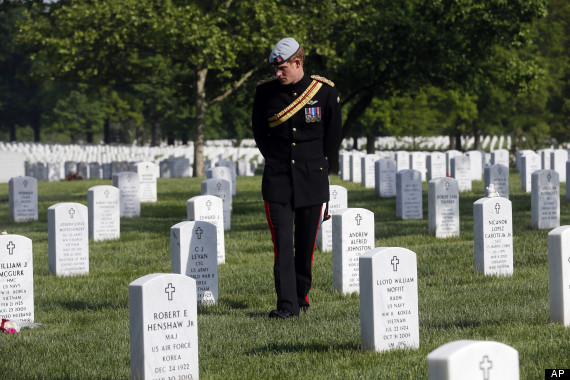 Prince Harry visits Section 60 at Arlington National Cemetery, Friday, May 10, 2013. The British soldier-prince is spending most of his week in the U.S. honoring the wounded and the dead of war.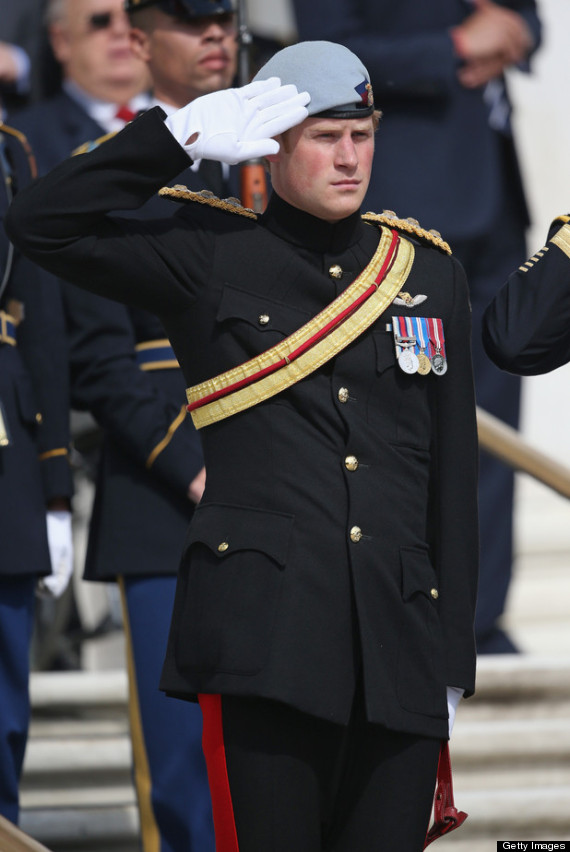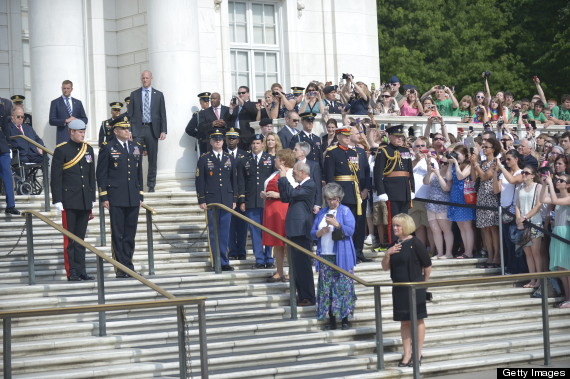 Britain's Prince Harry of Wales (L) is seen at the Tomb of the Unknowns in Arlington National Cemetery on May 10, 2013 in Arlington, Virginia. Prince Harry is on a week long tour of the United States where he is visiting charities.
10/05/2013 13:47 BST
Spire At The Top Of The World A 408-foot spire is set into place at the top of One World Trade Center seen from the Heights neighborhood of Jersey City, N.J., Friday, May 10, 2013. With the spire, the building rises at a symbolic 1,776 feet tall. Workers pose for a photo prior to raising the silver spire atop the 1 World Trade Center building in New York early Friday May 10, 2013. The 408-foot spire will serve as a world-class broadcast antenna. An LED-powered light emanating from it will be seen from miles away. When it is fully installed on the building's roof, it will bring the iconic structure to its full, symbolic height of 1,776 feet.
10/05/2013 12:54 BST
Woman Found ALIVE After 17 days Amongst Rubble In Factory Collapse, Bangladesh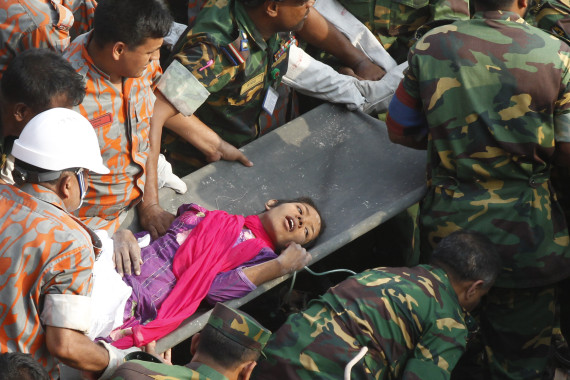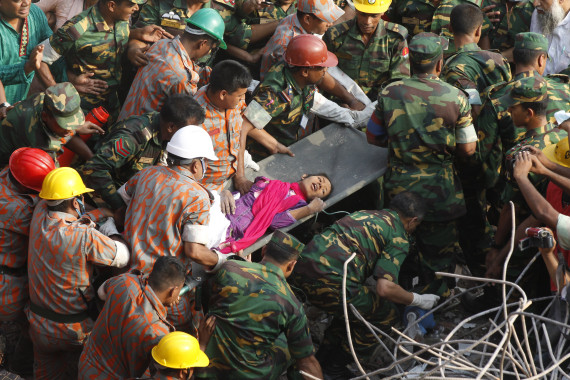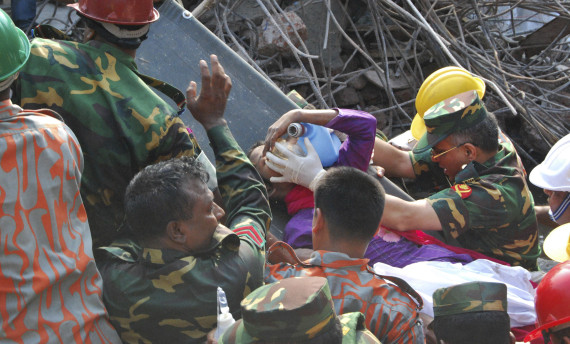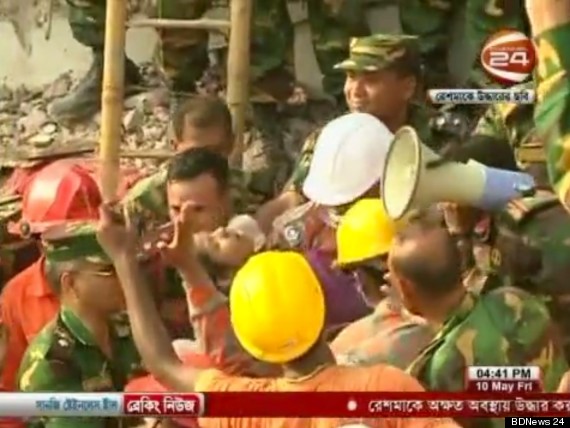 Bangladeshi rescuers retrieve garment worker Reshma from the rubble of a collapsed building in Savar on May 10, 2013, seventeen days after the eight-storey building collapsed. The death toll from last month's collapse of a garment factory complex in Bangladesh rose past 1,000 as piles of bodies were found in the ruins of a stairwell where victims had sought shelter.
10/05/2013 12:43 BST
Lets Shake On It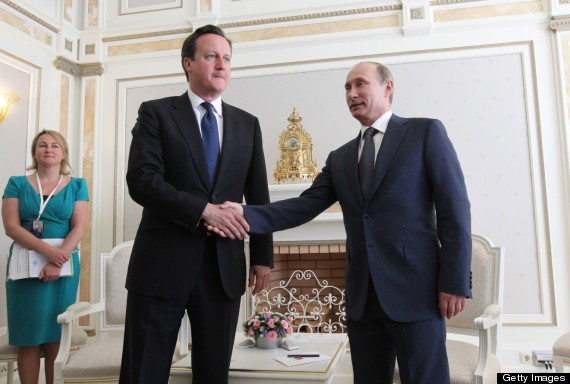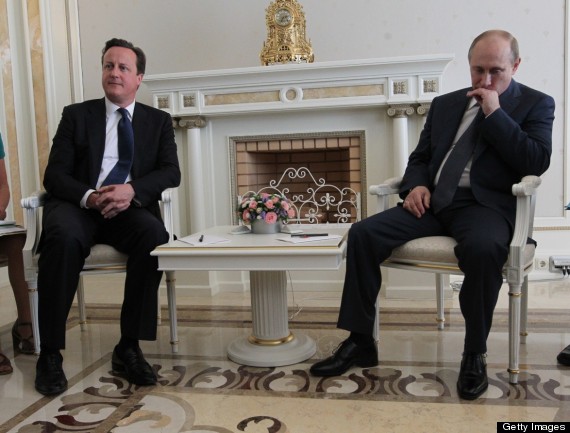 Russian President Vladimir Putin receives Britain's Prime Minister David Cameron at his Bocharov Rruchey residence on May 10, 2013 in Sochi, Russia. David Cameron is having a one-day visit to Russia where he and his Russian counterpart will talk about the conflict in Syria.
10/05/2013 12:41 BST
Phil Vickery Joins McDonald's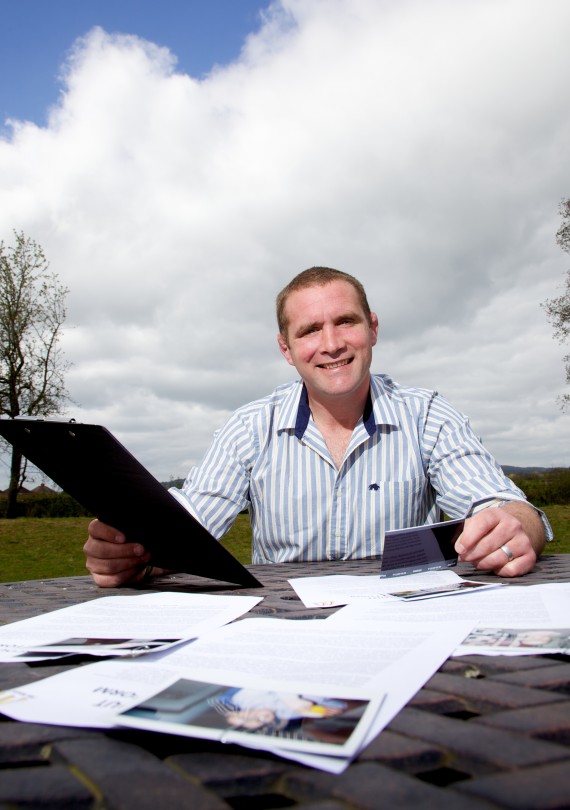 McDonald's today launched its search for 'Quality Scouts', members of the public who will go behind the scenes and report back on how some of its most famous products are made – including the Big Mac and Fries and the Sausage and Egg McMuffin – in response to increased interest from consumers in where the food they buy comes from.
The Quality Scouts will investigate and chronicle the supply chain journey from some of the 17,500 British and Irish farms that supply McDonald's through to food production and restaurants. They will meet and interview farmers, food suppliers and McDonald's employees to find out the facts about what's in their chosen product and how it is made. McDonald's will then publish the Quality Scouts' reports on its interactive website whatmakesmcdonalds.co.uk later this year.
McDonald's has invited farmer, England rugby legend and 2011 Celebrity MasterChef winner, Phil Vickery, to help select the Quality Scouts and take part in behind-the-scenes supply chain visits this summer.
10/05/2013 11:44 BST
Cruise Ship Left High And Dry The captain of this cruise ship the Lady Busum boobed after driving onto a sand bank. The wrong turn meant that the 136 passengers on board were left stranded for eight hours before rescuers could rig up a way of getting them to safety.
10/05/2013 11:31 BST
Helen Flanagan Pictures: Top 10 Instagram Selfies
Helen Flanagan, as we know, isn't exactly the shy and retiring type, whether she's flashing the flesh in a bikini in the 'I'm A Celebrity' jungle or stripping off to celebrate being voted FHM's Sexiest Woman in the UK.
And if there isn't a snapper around to capture her on film, the former-Corrie actress - a regular user of Twitter and Instagram, opts for the DIY route to take 'selfies' - pics of her herself (usually in her underwear).
Ms Flanagan may need a little help with her composition but she's getting there - and as they say, practice makes perfect.
Here's Helen Flanagan's top 10 selfies...
10/05/2013 10:19 BST
Sad Cat Diary
SUBSCRIBE TO & FOLLOW UK DAILY BRIEF