Samsung 5G Network Will Let You Stream Films In Seconds
Slightly taking the sheen of the upcoming UK 4G roll-out is the news that Samsung have successfully developed the world's first 5G system.
The latest advance in mobile communications technology promises the ability to stream 3D content and HD films in as little as a second.
Samsung aim the make the technology commercially viable by 2020 and will be 100 times faster than 4G, operating a Gbps speeds.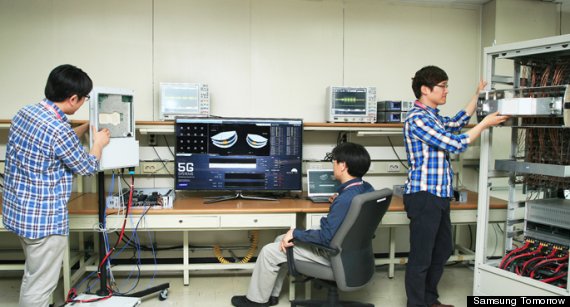 Developers at Samsung
The 5G system uses high-frequency wavebands that until now were not believed to be capable of transmitting data the distances required for a mobile network.
The breakthrough came when the Korean tech giant developed an "adaptive array transceiver" capable of utilising the necessary wave-band.
In a statement Samsung said: "The implementation of a high-speed 5G cellular network requires a broad band of frequencies, much like an increased water flow requires a wider pipe.
"While it was a recognized option, it has been long believed that the millimeter-wave bands had limitations in transmitting data over long distances due to its unfavourable propagation characteristics.
"Samsung's latest innovation is expected to invigorate research into 5G cellular communications across the world; the company believes it will trigger the creation of international alliances and the timely commercialization of related mobile broadband services."
The announcement gives Samsung a massive boost over rivals such as Apple.
A light but powerful compromise between the heavier-duty Macbook Pro, the new 13-inch Macbook Air has an incredible 12-hour battery, a new Intel Haswell chip and is just as light and portable as ever. A stunning machine.

Google's ChromeBook Pixel has the best screen we've ever seen on a laptop - and features stunning hardware design. It only runs the browser-based Chrome OS, however, and as such is severely limited in what it can actually do. But for the right kind of user, it's a wonderful machine.

The Macbook with Retina display is just a beautiful, capable machine in every respect. WIth its elegant OS X software, stunning looks and lightweight, portable design, it's an all-around classic.

Samsung makes thin, beautiful, hard-wearing laptops, and this is no exception. It has an i% chip , a brilliant 1080P touchscreen and runs the always-improving Windows 8.1 OS. It starts at £1,000 and if you want a Windows machine at the same price-point as a Macbook Air, it's a good place to start.

Laptop Magazine said "the IdeaPad Yoga is an able contortionist, blurring the line between laptop and tablet, while enabling users to explore the full capabilities of Windows 8". We agree. With a bright touchscreen, an 180-degree rotating display and an all-important sturdy hinge, it's a decent bridge between tablet and laptop.

Like the bigger, and much more expensive Pixel, the Chromebook 11 only runs Google's very limited browser-based OS. But it also costs just £229, has a genuinely excellent screen and keyboard, and charges via MiniUSB rather than a traditional laptop charger. It's a storming machine for the price, as long as you're able to live within Google's walled garden.

The S7 is the same weight as the Macbook Air, has a great 1920 x 1080 pixels (touch) screen and is actually a little thinner than Apple's signature laptop. It has a lower-quality battery, though, and while it's cheaper by about £60 you might want to make sure Windows is that crucial for your workflow before making your choice.

For gamers you can't go far wrong with the Alienware M17x. It's hefty, yes - you're not going to want to carry this around on the Tube too often. But it has a brilliant graphics card, as you'd expect, a 1080p 17-inch screen and runs an Intel Core i7. (Starts at around £1315)

Sony's Vaio Pro line-up has all the basic high-quality features you want: they're light and thin, with decent battery life and excellent displays. They also have Sony's trademark black-ninja design and a few decent extras. They're not perfect - The Verge notes they tend to feel a bit "flexible" in the middle - but they're an excellent pro laptop range.