On Monday evening if you were in a certain parts of the UK, you would have been lucky enough to witness a mesmerising rainbow.
This meteorological and optical phenomenon occurs when the sunlight reflects off the water particles in the Earth's atmosphere, resulting in a beautiful spectrum which is appears and is magically showcased in the sky.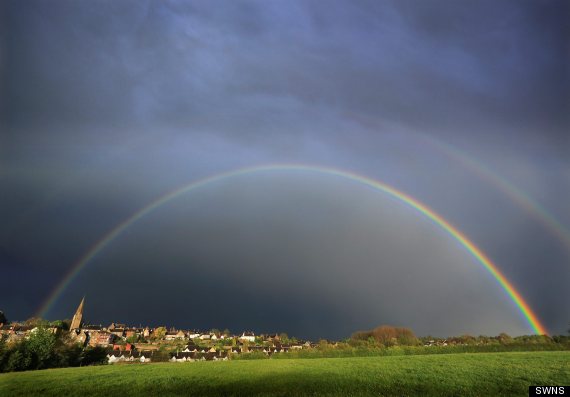 Malmesbury in Wiltshire witnessed a spectacular storm which produced a beautiful rainbow
So, take a look at 19 rainbow pictures that will put a smile on your face...
19 Rainbow Pictures That Will Put A Smile On Your Face
A general view a rainbow over the Lime Kiln at Beadnell harbour, Northumberland

A general view of a rainbow over Beadnell Harbour, Northumberland

A rainbow over the the memorial cross at Morar

West Indies, Jamaica, Blue Mountains landscape with rainbow and drifts of cloud.

united kingdom, channel islands, guernsey, double rainbow over lihou island.

scotland, perth, friarton road bridge over the river tay with colourful rainbow.

UK, Lincolnshire, Double rainbow against storm clouds.

A rainbow forms over crowds gathering for the Diamond Jubilee Concert in front of Buckingham Palace, London.