Helen Flanagan has finally put her allergy to wearing clothes to good use by stripping naked and having her nude body covered in 'reptile' paint. As you do.
The 'I'm A Celebrity' star has stripped off and flashed the flesh to help PETA raise awareness of the use of exotic animal skins in the fashion trade.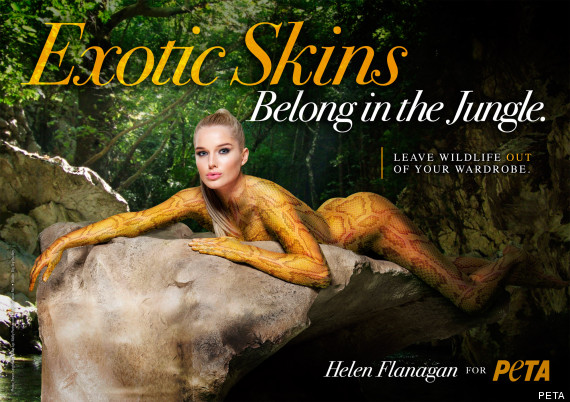 Helen Flanagan
The ad, which was shot by celeb photographer Trevor Leighton, sees the newly crowned FHM Sexiest Woman in the UK, posing next to the words 'Exotic skins belong in the jungle. Leave wildlife out of your wardrobe'.
Loading Slideshow
wenn20377458

wenn20377440

wenn20377441

wenn20377455

wenn20377456

wenn20377582

wenn20377524

wenn20377457

wenn20377459

wenn20377460

wenn20377461

wenn20377462

wenn20377463

wenn20377464

wenn20377522

wenn20377523

wenn20377723

wenn20377526

wenn20377527

wenn20377528

wenn20377529

wenn20377578

wenn20377579

wenn20377580

wenn20377581

wenn20377583

wenn20377584

wenn20377720

wenn20377721

wenn20377722

wenn20377780

wenn20377725

wenn20377727

wenn20377728

wenn20377774

wenn20377775

wenn20377776

wenn20377777

wenn20377778

wenn20377779
Helen, who launched the campaign in London's Covent Garden earlier today, said: "Spring is the perfect time to clean the cruelty from our closets.
"I know when people see PETA's video, they won't want anything to do with the exotic-skins industry and will join me in leaving wildlife out of their wardrobes."
LIKE US ON FACEBOOK | FOLLOW US ON TWITTER
Loading Slideshow
Helen Flanagan

Helen Flanagan

Helen Flanagan

LONDON, UNITED KINGDOM - MAY 01: Helen Flanagan attends the FHM 100 Sexiest Women In The World 2013 Launch Party at Sanderson Hotel on May 1, 2013 in London, England. (Photo by Stuart C. Wilson/Getty Images)

Helen Flanagan

Helen Flanagan

Helen Flanagan

Helen Flanagan

Helen Flanagan

Helen Flanagan

Helen Flanagan

Helen Flanagan

Helen Flanagan

Helen Flanagan

Helen Flanagan

Helen Flanagan

Helen Flanagan

Helen Flanagan

Helen Flanagan

Helen Flanagan

Helen Flanagan

Helen Flanagan

Helen Flanagan

Helen Flanagan

Helen Flanagan

Helen Flanagan

Helen Flanagan

Helen Flanagan

Helen Flanagan

Helen Flanagan

Helen Flanagan

Helen Flanagan

Helen Flanagan

Helen Flanagan

Helen Flanagan

Helen Flanagan

Helen Flanagan

Helen Flanagan

Helen Flanagan

Helen Flanagan

Helen Flanagan

Helen Flanagan

Helen Flanagan

Helen Flanagan

Helen Flanagan

Helen Flanagan

Helen Flanagan

Helen Flanagan

Helen Flanagan

Helen Flanagan

Helen Flanagan

Helen Flanagan
Also on HuffPost: