Tulisa Contostavlos is single again after splitting from her footballer boyfriend Danny Simpson.
The former 'X Factor' judge and Newcastle United player had been together for six months but decided to call it a day after a series of rows.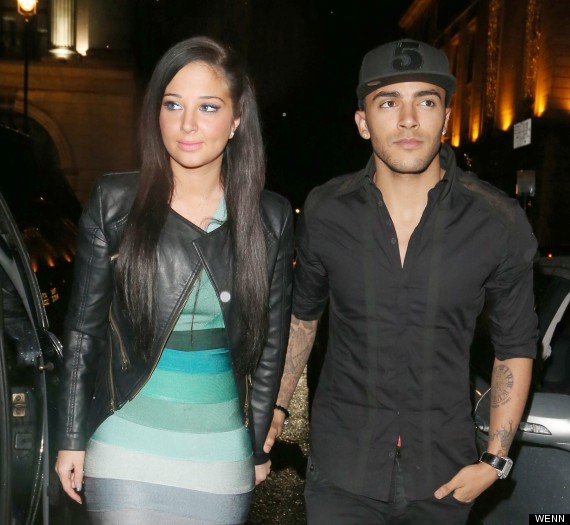 Tulisa and Danny Simpson
The 24-year-old N-Dubz singer - who got a matching tattoo with her ex back in February - has since flown to Marbella in Spain on a girly break to help her get over the split.
A friend told The Sun: "Tulisa and Danny have been having problems for a while now and have been arguing a lot.They have been trying to work things out but Tulisa decided she'd had enough and didn't want to fight for the relationship any more.
"It's 100 per cent over. It's an amicable split with no hard feelings."
It's been a tough week for Tulisa. As well as her split from Danny, she also confirmed she's been axed from 'The X Factor' and replaced by Sharon Osbourne on the judging panel.
Taking to Twitter this week to confirm the news, she wrote: "Just wanted to let you all know that I won't be part of the X Factor panel this year.
"I've had a great time on the show, but this year it's time to do something different. I'd like to thank everyone on The X Factor for two amazing years. Stay tuned as I have a very exciting announcement soon!"
Tulisa love, you appear to have made a dress out of the contents of our Nana's 'special occasion' wrapping paper drawer.

Tulisa shows off the latest hair trend... for drag queens.

Believe it or not, this isn't one of the cast members of the film 'Kidulthood'.

Where Tulisa's from this is considered tres chic, innit.

Words actually fail us.

Tulisa once proudly proclaimed she bought her clothes from "Matalan, brrrrap!". Yep, we can tell.

If Jane Norman was still open, we reckon they would've snapped Tulisa up to be the face of the brand.

No, Tulisa hasn't been tarred and feathered, she actually chose to wear this.

Looks like Tulisa got carried away playing around in Katie Price's dressing up box.

Even X Factor judges are prone to a spot of the dreaded camel toe.

We didn't realise Tulisa was in 'Two Pints of Lager and a Packet of Crisps'.

Tulisa, Vicky Pollard's been on the phone and she's asked for her look back.

All she needs is a couple of parrots hanging from those earrings and this outfit would be complete. Completely awful.

The Croydon facelift look is still a favourite of Tulisa's, despite leaving dreadful clothes like this behind.

You should look ashamed, love.

Someone should really tell her it's dark outside so she can lose the diamante encrusted sunglasses.

Taking tan advice from the cast of 'TOWIE' is never a good idea.

Thank goodness she has a stylist these days. Now at least she has someone to blame for get-ups like this.