A nude pregnant sculpture of Kim Kardashian by artist Daniel Edwards will go on display in Los Angeles next month.
The controversial artwork of the seven months' pregnant reality TV star -- called L.A. Fertility -- will be part of an exhibition at the LAB ART Gallery from June 5, according to a statement from Cory Allen Contemporary Art (CACA).
It will form part of Edwards' Celebrity Baby Boomer series, which began in 2006 when the artist first depicted a naked pregnant celebrity.
To the surprise of the art world, Edwards created a sculpture of a nude Britney Spears giving birth on a bearskin rug (see below).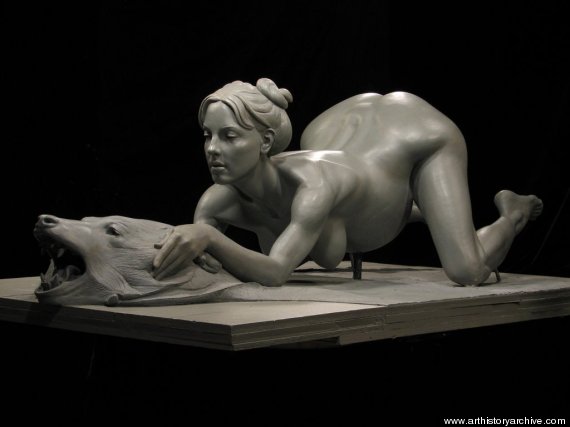 Monument to Pro-Life sculpture by artist Daniel Edwards
"I was inspired by the beauty of Kim Kardashian and felt quite put-off by the media's criticism of her weight gain during pregnancy," said artist Daniel Edwards of his latest project.
"Such criticism should be off limits."
Visitors who are enticed by the sight of Kardashian's voluminous belly are welcome to give her a "respectful rub" say the gallery, in order to wish the mother and baby good luck.
Edwards is well known for focusing on celebrity figures as subjects, having cast images of Hillary Clinton and Fidel Castro in the past, as well as sculpting Suri Cruise's first bowel movement (we're not joking).
"We live in a media-absorbed culture where anyone can access and share a celebrity's most intimate moments," said Cory Allen, in a statement. "Daniel visually captures 'that' intimacy."
Other works in the exhibit will include a sculpture of Kate and William's newborn child slumbering peacefully in the crown Queen Elizabeth wore as a princess.
Did you know these other stars were expecting?
Celebrity Babies On The Way
The actress is reportedly expecting her first baby with fiance, Romain Dauriac.

Kunis is reportedly expecting her first child with fiance Ashton Kutcher.

Actress Lake Bell is pregnant with her first child with husband Scott Campbell.

"Girls" actress Gaby Hoffmann is expecting her first child with cinematographer boyfriend Chris Dapkins.

Keibler is expecting her first child with new husband Jared Pobre.

Snooki is expecting her second baby with fiance Jionni LaValle.

Milano is expecting her second child, a baby girl, with husband David Bulgari.

The actress is expecting her first child with husband James Heerdegen.

Bilson is reportedly expecting her first child with longtime boyfriend Hayden Christensen.

Bell is expecting her second child with Dax Shepard.

Kourtney Kardashian is pregnant with her third child with partner Scott Disick.

Mendes is reportedly expecting her first child with boyfriend, Ryan Gosling. Hey girl, we know, we know.

Saldana is expecting her first child with husband Marco Perego. She displayed her growing belly throughout the "Guardians of the Galaxy" press tour.

Alicia Keys and husband Swizz Beatz are expecting their second child. He shared this picture on his Instagram account July 31.