The live stream of the Women's Prize for Fiction 2013 awards is now over.

The winner of the Women's Prize was A.M Homes with her novel May We Be Forgiven.
The Women's Prize for Fiction 2013 (formerly the Orange Prize for Fiction) will be streamed live in the competition's first ever Google+ Hangout, hosted here on HuffPost UK.
The public will be able to watch the ceremony streamed live from The Clore Ballroom, Royal Festival Hall, Southbank, including the announcement of the 2013 winner on Wednesday 5th June.
This year's shortlist makes history, for the first time two previous winners of the Orange Prize will battle it out for 'the Bessie' award and cash prize of £30,000.
American author Barbara Kingsolver won the Orange Prize for Fiction in 2010 for The Lacuna, and British writer Zadie Smith won in 2006 for On Beauty. Kingslover's 2013 shortlisted novel Flight Behaviour tells the story of the discovery of a bizarre lake of fire and Smith explores the cheek-by-jowl relationships of neighbours in north-west London in her novel NW.
Other contenders include Life After Life by Kate Atkinson, May We Be Forgiven by A.M Homes and Where'd You Go, Bernadette by Maria Semple. Shortlisted author Hilary Mantel made headlines this year when she scooped the 2012 Man Booker Prize with Bring Up the Bodies, making her the only UK author ever to have won it twice.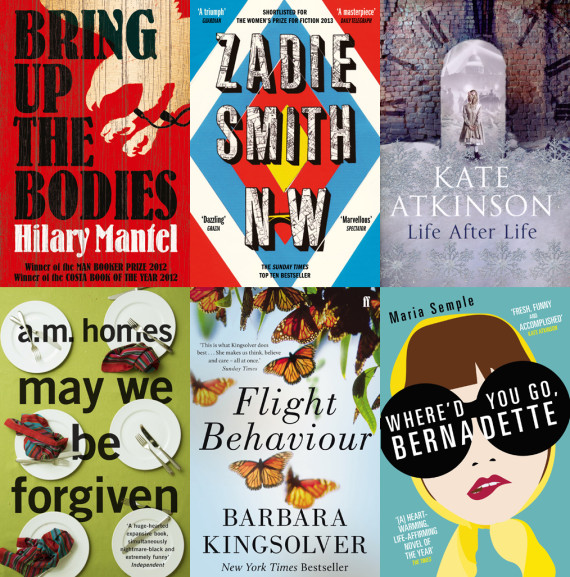 Book covers of the Women's Prize For Fiction 2013 Shortlist
The judging panel for this year's Women's Prize for Fiction is chaired by the actor Miranda Richardson, alongside fellow judges Razia Iqbal, Rachel Johnson, JoJo Moyes and Natasha Walter.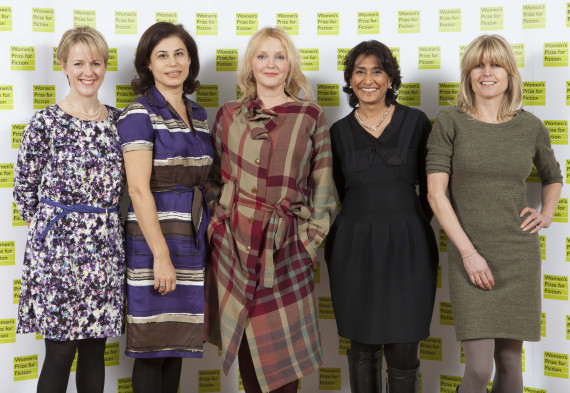 The Women's Prize for Fiction 2013 judging panel (l-r) JoJo Moyes, Natasha Walter, Miranda Richardson, Razia Iqbal and Rachel Johnson
Richardson said: "The shortlist for 2013 represents six tremendous writers at the top of their game.
"Their individual novels are flawlessly presented, they contain a heady mix of ideas and without exception take the reader on a unique and deeply satisfying journey."
The Women's Prize for Fiction was set up in 1996 to promote international fiction by women throughout the world, previous winners include Madeline Miller's The Song of Achilles (2012) and Lionel Shriver's We Need to Talk About Kevin (2005).
Head here on Wednesday 5th June, 6.45pm, to watch the Women's Prize for Fiction 2013 live from Royal Festival Hall, Southbank, London.
Read our interview with Kate Mosse on the importance of arts partnerships, the future of digital publishing and drinking Baileys.
Flick through this year's shortlist:
Women's Prize for Fiction 2013 Shortlist
During a snowstorm in England in 1910, a baby is born and dies before she can take her first breath. During a snowstorm in England in 1910, the same baby is born and lives to tell the tale. What if there were second chances? And third chances? In fact, an infinite number of chances to live your life? Would you eventually be able to save the world from its own inevitable destiny? And would you even want to? Kate Atkinson won the Whitbread (now Costa) Book of the Year prize with her first novel, Behind the Scenes at the Museum, and has been a critically acclaimed international author ever since. She was appointed MBE in the 2001 Queen's Birthday Honours List.

Harry has spent a lifetime watching his younger brother, George – a taller, smarter and more successful high-flying TV executive – acquire a covetable wife, two kids and a beautiful home. But Harry, a historian and Nixon scholar, also knows George has a murderous temper, and when George loses control the result is an act so shocking that both brothers are hurled into entirely new lives, in which they both must seek absolution. A.M. Homes is the author of two collections of short stories, Things You Should Know and The Safety of Objects, the novels Music for Torching, The End of Alice, In a Country of Mothers, Jack and the bestselling This Book Will Save Your Life, and the highly acclaimed memoir, The Mistress's Daughter, all published by Granta Books. She is a contributing editor to Vanity Fair and writes frequently on arts and culture for numerous magazines and newspapers. She wrote and produced for the television series The L Word and is currently developing a major US TV series for HBO called The Hamptons. She lives in New York City.

Dellarobia Turnbow is a restless farm wife who gave up her own plans when she accidently became pregnant at seventeen. Now, after a decade of domestic disharmony on a failing farm, she has settled for permanent disappointment but seeks momentary escape through an obsessive flirtation with a younger man. She hikes up a mountain road behind towards a secret tryst, but instead encounters a shocking sight: a silent, forested valley filled with what looks like a lake of fire. She can only understand it as a cautionary miracle, but it sparks a raft of other explanations from scientists, religious leaders and the media. The bewildering emergency draws rural farmers into unexpected acquaintance with urbane journalists, opportunists, sightseers, and a striking biologist with his own stake in the outcome. As the community lines up to judge the woman and her miracle, Dellarobia confronts her family, her church, her town and a larger world, in a flight towards truth that could undo all she has ever believed. Barbara Kingsolver's work has been translated into more than twenty languages and has earned a devoted readership. Barbara Kingsolver's thirteen books of fiction, poetry and non-fiction include the novels The Bean Trees and the international bestseller The Poisonwood Bible which, amongst other accolades, won the 2005 Penguin/Orange Reading Group Book of the Year award. In 2010 she won the Orange Prize for Fiction for The Lacuna. Before she made her living as a writer, Kingsolver earned degrees in biology and worked as a scientist. She now lives with her family on a farm in southern Appalachia.

The year is 1535 and Thomas Cromwell, Chief Minister to Henry VIII, must work both to please the king and keep the nation safe. Anne Boleyn, for whose sake Henry has broken with Rome and created his own church, has failed to do what she promised: bear a son to secure the Tudor line. As Henry develops a dangerous attraction to Wolf Hall's Jane Seymour, Thomas must negotiate a 'truth' that will satisfy Henry and secure his own career. But neither minister nor king will emerge undamaged from the bloody theatre of Anne's final days. Hilary Mantel CBE was born in Derbyshire in 1952 and studied Law at the London School of Economics and Sheffield University. She worked as a social worker before going to live in Botswana for five years and Saudi Arabia for four before returning to Britain in the mid-1980s. She was awarded a CBE in 2006. Her books include Eight Months on Ghazzah Street (1988), Fludd (1989), A Place of Greater Safety (1992), A Change of Climate (1994), Beyond Black (2005), and Wolf Hall (2009), winner of the Man Booker Prize. Bring up the Bodies won the 2012 Man Booker Prize, making Hilary the only UK author ever to have won it twice. It also won the 2012 Costa Book of the Year making Bring Up the Bodies the first book to have been both named as Costa Book of the Year and won the Man Booker Prize in the same year. Hilary Mantel was recently awarded the David Cohen Prize for Literature.

Bernadette Fox is notorious. To her Microsoft-guru husband, she's a fearlessly opinionated partner; to fellow private-school mothers in Seattle, she's a disgrace; to design mavens, she's a revolutionary architect, and to 15-year-old Bee, she is a best friend and, simply, Mum. Then Bernadette disappears. It began when Bee aced her report card and claimed her promised reward: a family trip to Antarctica. But Bernadette's intensifying allergy to Seattle - and people in general - has made her so agoraphobic that a virtual assistant in India now runs her most basic errands. A trip to the end of the earth is problematic. To find her mother, Bee compiles email messages, official documents, secret correspondence--creating a compulsively readable and touching novel about misplaced genius and a mother and daughter's role in an absurd world. Maria Semple spent her first few years travelling around Europe with her parents. While living in Spain, her father, Lorenzo wrote the pilot for the TV series Batman. The family packed up and moved to Los Angeles and then to Aspen, Colorado. She went to College at Barnard with plans to become a novelist or a teacher. Those dreams got derailed when she sold a movie script to Twentieth Century Fox just after graduation and moved to LA. The movie didn't get made but her friend Darren Star got her a job on Beverly Hills 90210. Thus began a 15-year career in television, writing for shows like Ellen, Mad About You, Saturday Night Live and Arrested Development. Maria had a baby, quit television and wrote her first novel This One is Mine (published in the USA in 2008 and due for UK release in November 2013). Maria now lives in Seattle.

This is the story of a city. The north-west corner of a city. Here you'll find guests and hosts, those with power and those without it, people who live somewhere special and others who live nowhere at all. And many people in between. Every city is like this. Cheek-by-jowl living. Separate worlds. And then there are the visitations: the rare times a stranger crosses a threshold without permission or warning, causing a disruption in the whole system. Like the April afternoon a woman came to Leah Hanwell's door, seeking help, disturbing the peace, forcing Leah out of her isolation. NW follows four Londoners – Leah, Natalie, Felix and Nathan – as they try to make adult lives outside Caldwell, the council estate of their childhood. From private houses to public parks, at work and at play, their London is a complicated place, as beautiful as it is brutal, where the thoroughfares hide the back alleys, and taking the high road can sometimes lead you to a dead end. Zadie Smith was born in north-west London in 1975. She is the author of the novels White Teeth, The Autograph Man and On Beauty which won the Orange Prize for Fiction, and of a collection of essays, Changing My Mind. She is also the editor of The Book of Other People.