We love Lady Gaga, but we're not quite sure we'd want her as our bridesmaid - there would always be the risk she'd upstage us by turning up in a meat dress with a telephone on her head.
But thankfully she toned the eccentricity down as she served as a bridesmaid for best friend Bo - in fact the singer looked barely recognisable.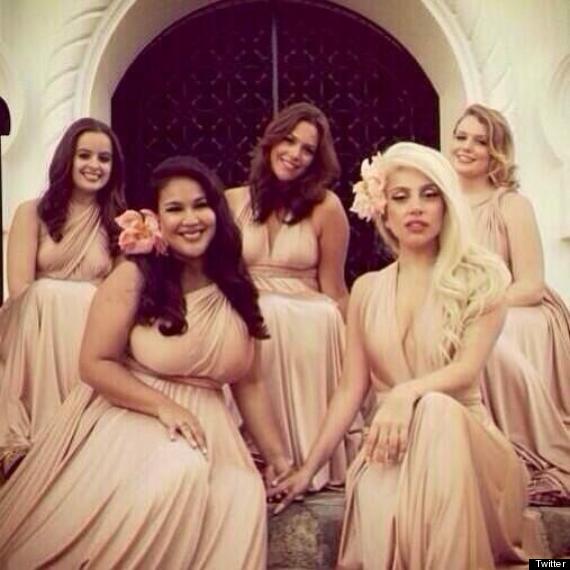 Wearing a simple blush gown with a flower in her blonde locks, the star matched the other bridesmaids at the ceremony in Mexico last weekend.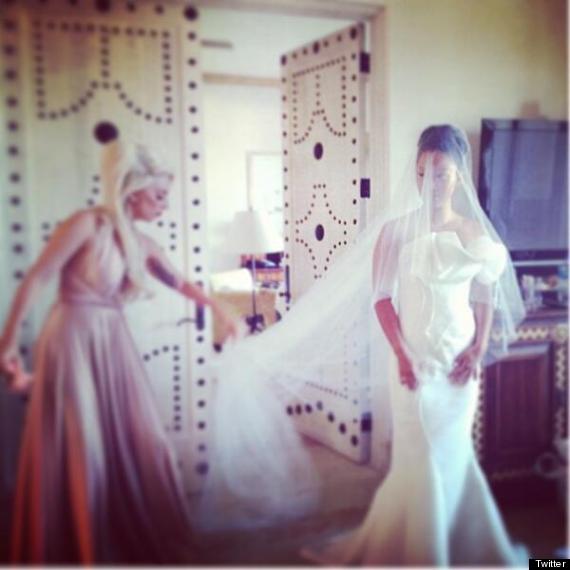 She last was seen in the country ahead of the nuptials, as she showed off her toned bikini body on the beach with her pals.
She has been out of the spotlight recently after taking time out to recover from hip surgery.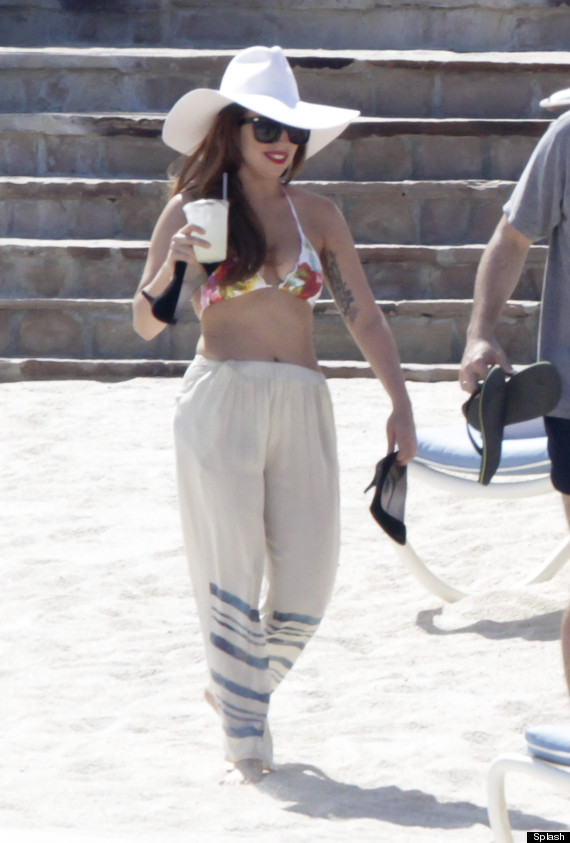 Gaga is currently dating 'Vampire Diaries' star Taylor Kinney, but has reportedly become jealous of his relationship with Cameron Diaz, as the pair shoot new film 'The Other Woman' together.
A source told The Sun: "This isn't going down well. It's been a stressful time for Gaga with this on her plate as she's recovering from hip surgery.
"Cameron and Taylor have clicked on set and are getting on really well. They've been hanging out and the news has reached Gaga's camp."
Gaga and Taylor have been dating since 2011, when Taylor starred in her video for single 'You And I', and recent rumours suggested the pair were engaged.
Lollapalooza, 2007, Chicago Back in 2007, Lady Gaga, aka Stefani Germanotta, was just a brunette trying to make a name for herself in the music world. Like many other pop stars, she resorted to performing in as few clothes as possible.

The Slipper Room, 2007, New York Who knew these 80s legwarmers and glitzy leotard would be the tamest items in Gaga's wardrobe?

New T-shirt line debut at Kitston, 2008, L.A. A full-body latex unitard, platinum blonde locks and a quirky hair bow made up Lady G's early red carpet uniform, when her single Just Dance was hitting airwaves.

Jet nightclub performance, 2008, Las Vegas One of Gaga's early show-stopping dresses, this futuristic frock with matching headpiece certainly got her noticed. Shame about those hideous greige shoeboots.

Nokia 5800 party, 2009, London By early 2009, Gaga had debuted her signature 'hair-bow' look, and perfected the art of statement sunnies on the red carpet. This is probably her last appearance in something as normal as an LBD for the next two years - at least.

Brit Awards, 2009, London For the 2009 Brits, Gaga donned a subversive Marilyn-in-Gentleman-Prefer-Blondes style frock with plunge V-neck and exaggerated hips.

Glastonbury Festival, 2009 Gaga's stage style is still more outrageous than her red carpet style in 2009. This mirror-ball sculptural tutu dress and fishnets got her noticed in Glastonbury.

Much Music Video Awards, 2009, Toronto Mother Monster shows off her subversive style in the first of many hair dresses she will wear over the years.

13th Annual ACE Awards, 2009, New York The singer takes the underwear-as-outerwear trend a little too literally in this bizarre getup for the Accessories Council Awards in 2009.

Capital FM Jingle Bell Ball, 2009, London And so begins a love affair with sheer latex that has yet to end...

Meeting Queen Elizabeth II, 2009, Blackpool The singer covers up to meet HRH, donning a latex Queen of Hearts-style dress and crazy eye glitter.

Grammy Awards, 2010, L.A. The singer looks out of this world as she attends the Grammys in a gorgeous, glittering Armani Prive frock and now-trademark heel-less heels.

Grammy Awards performance, 2010, L.A. Showing off a futuristic style sensibility - and her toned body - Gaga wears a sparkly leotard and matching boots for her on-stage look.

Brit Awards, 2010, London The star wore a bizarre tiered cape dress to the Brit Awards in 2010, which looked like it was inspired by Pierrot from the Commedia dell'Arte...

Brit Awards, 2010, London ... But she couldn't resist showing off her bod (all of it), so she unveiled this sheer lacy unitard later in the evening.

MAC Viva Glam launch, 2010, London The MAC Viva Glam face shows off her pout (and not much else of her face) in an elaborate latex mask and lace bodysuit.

New Tokyo International Airport, 2010 Gaga's airport style is more complicated than most people's. She teams goth lips and footwear with avant-garde trousers and blouse, and even decorates her Birkin bag with a message (in marker!) to her Japanese fans.

MTV Video Music Awards, 2010, CA The singer walked away with eight awards at the ceremony in 2010, but even more than her impact on the music industry, her relationship with the fashion world was felt as she wore a regal gown from her favourite designer, the late Alexander McQueen's, final collection.

MTV Video Music Awards, 2010, CA Where would we be without the meat dress? Under the guidance of stylist and friend Nicola Formichetti, Gaga claimed the most iconic fashion moment of the year - and perhaps the decade - when she wore slabs of raw meat to the MTV Video Music Awards.

Political rally, 2010, Maine Lady Gaga is as outspoken about her politics as her sartorial choices. At this 'Don't Ask, Don't Tell' repeal rally in Maine she works androgynous style with a US flag tie and geeky specs.

Grammy Awards, 2011, L.A. In what seems to be a subversive interpretation of the birth of Venus, Gaga arrives on the red carpet in her weirdest outfit yet - an egg.

Thierry Mugler fashion show, 2011, Paris Gaga supported her pal Nicola Formichetti's first women's collection as creative director of Thierry Mugler by rocking a sexy bustier ensemble from the label for the A/W 2011 show.

CFDA Awards, 2011, New York Gaga wore a dramatic punky prom dress by Thierry Mugler to take home her Fashion Icon award from the CFDA in 2011. She teamed the black frock with dramatic teal hair and more than one nipple flash, naturally.

St. Regis Hotel, 2011, Rome Gaga spent the summer of 2011 having a love-in with vintage Versace prints. And we loved her in the eclectic (yet still tamer than her usual) ensembles.

Narita International Airport, 2011, Japan Lady Gaga tries an elegant ensemble of simple leather trench with matching heels and hair on for size and proves she can look normal-ish, too.

MTV Video Music Awards, 2011, CA Of course Lady Gaga has a male alter-ego. Meet Jo Calderone, who wears a mannish suit and dirty tee.

MTV Europe Awards, 2011, Belfast The star shows off yet another side of her fashion personality in this futuristic fish-scale mermaid dress with sea-creature makeup and tiered ponytail.

Barney's Lady Gaga workshop opening, 2011, New York Didn't think Gaga could rock Chanel couture? The star proves she can look stunning in a boucle jacket and pearls - with some added Gaga drama, of course.

Bambi Awards, 2011, Germany The star looks gorgeous as she brings McQueen catwalk style to the red carpet.

Heading to an X Factor taping, 2011, London Lady G loves her quirky accessories. In 2011, she brought back the teacup and saucer she used to carry around in the early days of trying to make a name for herself.

NYE Times Square ball drop, 2011, New York The singer sparkled in this Art Deco-style dress and crystal mask as she helped usher in 2012 - another year for her to embark on countless style transformations, no doubt.