"Over half the women in England use sex toys," goes the commentary in the new Channel 4 TV show on sex toys, "but they are all designed by men."
The show is called 'Sex Toy Stories' (cue your best Buzz Lightyear jokes), and charts an initiative by Ann Summers to ask real women to design real sex toys. The women range from a 20-something virgin to a septuagenarian grandma, and there's something immensely fun about hearing 70-year-old Margaret Holyland refer to one toy as a "bejeweled finger of fun". You may never look at your Nan in quite the same way again.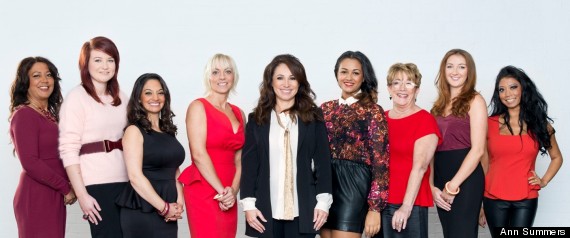 Eight women were chosen to head the panel and, apart from Margaret, another noted member was 47-year-old Kim Smith who had never had an orgasm -- some 28% of women struggle to -- and we're pleased to say that, after using the new range of toys, she eventually did.

Too much info? Well, you may have to get with the times.
Sex toys are no longer a dirty secret stuffed deep down in the underwear drawer. We reported on how the sex toy industry was booming late last year.
The Daily Mail wrote that counseling service Relate say we are more open about it too.
And, love it or loathe it, the popularity of '50 Shades of Grey' last year went a long way to bringing sex toys out into the open. Sales of 'jiggle balls' rose by 200%, according to The Guardian.
Take a look at the next generation of sex toys, designed by Ann Summers and the help of the ladies above
New Sex Toys On the Block
It may look like a glove belonging to an alien, but this was the toy that gave 47-year-old Kim Smith her first orgasm.

You may never call someone sweetheart again, but this baby is waterproof, has an accelerator and is rechargeable. Ann Summers says: "It may look gentle but its silicone heart packs a powerful punch."

The sex toy for beginners, they say, and it even comes with a remote control. If you don't fancy a solo mission it's great for couples and isn't too daunting.

This discreet little toy is the cheapest of the bunch and is good for a beginner. You clip it to your underwear and set it on buzz. Happy travels!

Equestrian Emily was inspired to create a toy that users could rock on (that just sounds 50 Shades of Wrong to us), but for those of us who don't ride horses, you may find this does the trick.

We all know about the Rampant Rabbit but this is like the T-1000 version. Called the 'expanding' Rampant Rabbit, it was created by Kim Axford who wanted a toy that could expand and contract on request. It has seven speeds and a six-inch shaft.

Jill Demirellowres and Margaret Holyland wanted to design a toy that could massage and vibrate different areas of the body - and this mini bullet can be used above the waist or below. It has a multi-speed settings and if you are woman enough, you can even wear it in your bra outdoors and set it to vibrate.

Watch 'Sex Toy Stories' on Channel 4 and 4OD