An exposed ankle, a heady hint of shoulder blade - there was once a time where these titillating sights on-screen would have sent audiences running to the censor, crying out at the profanity. But we have entered a world of side-boobs, under-boobs, and sheer dresses – a world where Matthew McConaughey appears contractually obliged to go topless each and every movie.
Emboldened by personal trainers, tear-inducing diets, and 24/7 pilates, the stars of Hollywood are letting it all hang out like never before. So much so that it actually came as a shock when Lars Von Trier announced that his upcoming 'Nymphomaniac' shoot would feature lower-body doubles for the film's star's numerous sex scenes. Not that Shia LeBeouf has seemed to have any problem with baring all in the past…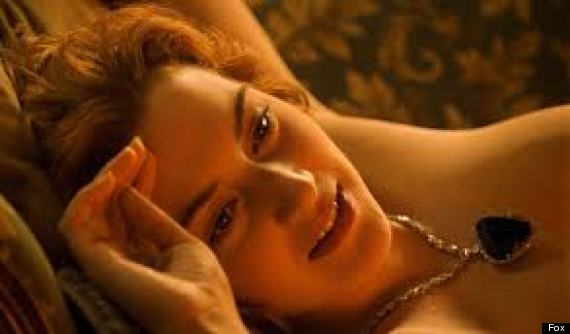 Kate Winslet is an artiste frequently prepared to lay it all out there for art, as in here in 'Titanic'
"We saw your boobs," sang Seth McPharlane at the Oscars – and there would have been several male members of the audience whose laughs hid the fact that they've shown a fair bit more. Nowadays, every man, woman, and avatar seems to be getting in on the act.
So as the sun finally begins to shine and we throw our wooly jumpers off with giddy abandon, now seems as good a time as any to jointly celebrate the industry's collective destruction of the no nudity clause, and the appropriately timed arrival this weekend of 'Miss Naked Beauty' on Sony Entertainment Television, by taking a look at 10 Stars Who Bared All…
Stars Who Bared All For Their Art
"Draw me like one of your French girls," Kate commanded a quivering Leonardo Di Caprio, clothed in nothing but a multi-million dollar blue diamond necklace. The English Rose would rip her bodice off throughout her stellar career – appearing au natural in a number of award-winning movies.

Prone to bouts of regular nakedness, the comedian has no qualms about revealing a little flesh. But he might have revealed a little too much in Borat: crashing around a hotel room, wrestling his sweaty, equally nude, colleague Azamat, and with nothing more than a foot long black rectangle to hide his modesty.

The one time Marky Mark began his impressive rise to the big time (steady ladies!) with this critically-acclaimed role as porn star Dirk Diggler. Even his days as a Calvin Klein underwear model couldn't have prepared him for Diggler's giant final-scene reveal.

By the old Gods and the new, the cast of Game of Thrones are not shy about getting their furs off. Winter might be coming, but the men and women of Westeros are removing more layers than a wildling on Spring Break. From Emilia Clarke's Daenerys to Kit Harrington's Jon Snow - seven hells they're all at it!

Getting dumped is never fun. Getting dumped in the buff is even worse. Segal kicked off Forgetting Sarah Marshall with its very best scene. Hilarious and heartbreaking by equal measure, it's impossible to take your eyes off 'it'. An image we won't be forgetting in a hurry.

Fass proved he had absolutely nothing to be 'shamed about during his soul-baring performance in Steve McQueen's melancholic masterpiece. Wearing little more than a birthday suit and a look of permanent self-loathing, Fassbender became the talk of the town – with George Clooney even announcing his jealousy on-stage at the Golden Globes.

As the titular American Gigolo, Gere delivered titillation by the bucket-load. Often hailed as the first time a male film star was required to go fully commando, it was the committed actor himself who told the director to strike pants and trousers from the prop-list. What a pro!

Gok Wan wouldn't need to do much coaxing here. Sharon Stone's femme fatale was happy to flaunt everything she had in order to get her way. And with one casual re-shuffle of her legs, Stone was catapulted straight into the A-List in one of the most talked about scenes of all time.

The Bartman spent countless years telling people to 'eat his shorts', but no-one ever imagined we would see him without them. Not until The Simpsons Movie, in which a skateboarding Bart proudly flashed his animated yellow manhood. A million innocent childhood memories were ruined in an instant.

Marginally less well known than the others on the list perhaps – but we couldn't fail to include Britain's first ever Miss Naked Beauty! Not one to rest on her laurels, after being crowned by Gok, Shona petitioned Downing Street to include an hour a year on body confidence in the school curriculum – even meeting the appropriately named Ed Balls in person (…oh how we wish he was on this list too).
Miss Naked Beauty showing on Sony Entertainment Television (Sky 157/Virgin 193) weekly from 12pm, Friday 21 June.