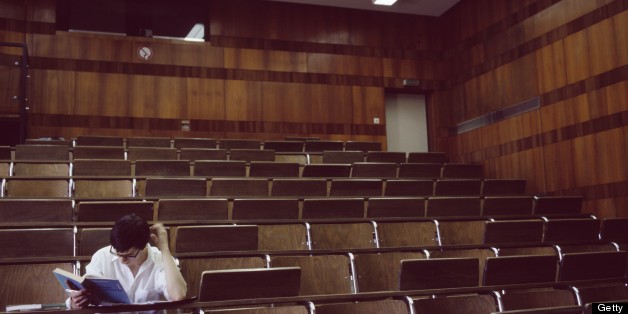 Top universities are so focused on research they are neglecting teaching, while the UK's institutions are "suffering" due to lack of funds, a higher education expert has warned.
Older universities are in danger of "resting on their laurels" while younger institutions storm ahead, Phil Baty, editor of the Times Higher Education (THE) magazine, tells the Huffington Post UK.
Baty's concerns stem from the latest university rankings, released by the THE, which sees South Korea and Switzerland dominate the top three. The University of York is the only UK institution to make an appearance in the top 10, which features Hong Kong, US, Netherlands, French and Singapore universities, as Lancaster and East Anglia failed to make the crunch this year.
Although the UK has the most representatives on the "horizon scanning" list, two institutions have dropped out of the rankings since last year, with Asia institutions making eight appearances.
The 100 under 50 league table, which aims to provide "unique insights into the nations best poised to challenge the traditional dominance of the UK and the US", proves many more young universities have "great potential to challenge the old guard", says Baty.
"While the older universities, some with many centuries of history and tradition, tend to dominate the traditional university rankings, the traditional heritage institutions do not have a monopoly on excellence.

"They can absolutely not afford to rest on their laurels and there are many pretenders to their crown, some moving rapidly up the league tables."
Many of the institutions have developed world class teaching and research which already matches the top standards - within a matter of decades.
"One of our advisors pointed out that all empires crumble, and many ancient institutions are already pale shadows of their former selves, others at the top of the traditional rankings are so focussed on their research mission that there are concerns that they neglect teaching.
"So the THE 100 Under 50 list offers serious alternatives to the traditional elite, and some very exciting prospects."
Earlier this week, Harvard don Stephen Blyth, said universities are failing to recognise "the evolving economic realities" and need to realise the importance of building endowments and looking at their financial support. Baty echoed Blyth's warnings, saying the UK is "suffering" from lack of finances.
"The traditional world university rankings show that the UK's institutions are losing ground to high-spending and strongly supportive countries in East Asia – Singapore, Hong Kong, South Korea and China in particular.
"These countries have recognised that their universities play an absolutely crucial role in their future economic success – driving the knowledge economy – and they are supporting them.
"There is no doubt that money talks when it comes to staying globally competitive, and the UK is suffering.
"These countries have recognised that their universities play an absolutely crucial role in their future economic success – driving the knowledge economy – and they are supporting them.
"The UK's research funding has been frozen, cut in real terms, and public funding for university teaching has plummeted, replaced largely by tuition fees."
And, Baty adds, it's not only the established institutions which are losing out - their younger rivals are equally affected by the cuts and "losing ground".
"In austere times, with growing economies investing heavily in building world-class universities, there is no doubt that UK universities must become ever-more entrepreneurial, and find new sources of income, in a bid to stay competitive," Baty advised.
Last year, the UK had 20 institutions in the top 100, with City University London and Bradford losing their places this year, the rankings show. A third institution, Keele University has also dropped out because it was founded in 1962 and is now considered too old to be included.
The UK's high status in the rankings is largely down to the success of universities founded in the 1960s, which have become globally competitive, the THE suggested.
But many of these institutions will drop out of the table in the next few years because they will be too old to be included.
Just three newer UK universities - all formed after 1992 made this year's list - Plymouth, Hertfordshire and Liverpool John Moores.
Simon Renton, president of the University and College Union said: "Only with increased investment does the UK have a fighting chance of competing on this increasingly dynamic world stage where developing countries have proved they can set up world class players in just 20 years.
"The days where we could take our historical dominance for granted are over.
"These countries are investing heavily in higher education and if we don't do the same, UK higher education plc will be usurped."
SUBSCRIBE AND FOLLOW
Get top stories and blog posts emailed to me each day. Newsletters may offer personalized content or advertisements.
Learn more