Palestinian children are being used as human shields and tortured in custody by Israeli forces, a report from a UN human rights watchdog has found.
Minors are systematically subjected to physical and verbal abuse, threatened with death, physical violence and sexual assault, said the UN Committee on the Rights of the Child in a report released on Thursday.
The body expressed its "deepest concern about the reported practice of torture and ill-treatment of Palestinian children arrested, prosecuted and detained by the military and the police."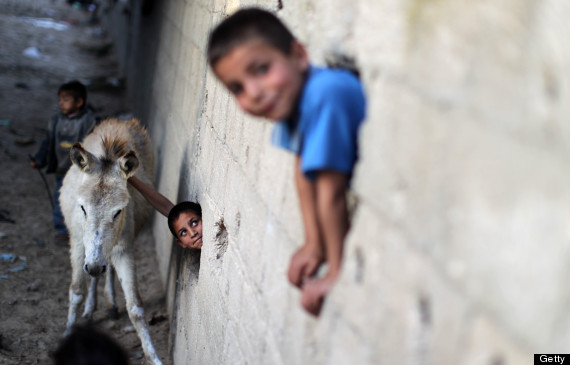 Palestinian refugee children play in the northern Gaza Strip
Those in custody have access to toilets, food and water routinely restricted, it added.
The findings, which cover the previous ten years, state: "Palestinian children arrested by (Israeli) military and police are systematically subject to degrading treatment, and often to acts of torture, are interrogated in Hebrew, a language they did not understand, and sign confessions in Hebrew in order to be released."
The information was obtained from other UN rights bodies, military sources and Israeli and Palestinian rights groups. Israel did not cooperate with requests for information, it said.
An estimated 7,000 Palestinian children aged between 12 and 17 have been arrested, interrogated and detained since 2002 - an average of two a day, AFP reports.
"These crimes are perpetrated from the time of arrest, during transfer and interrogation, to obtain a confession but also on an arbitrary basis as testified by several Israeli soldiers as well as during pre-trial detention," the committee added.
The Israeli Foreign Ministry has dismissed the report as "political bashing of Israel."
It said it responded to a report by the UN children's agency UNICEF in March on the ill-treatment of Palestinian children and questioned whether the UN committee's investigation covered new ground.
SEE ALSO:
"If someone simply wants to magnify their political bias and political bashing of Israel not based on a new report, on work on the ground, but simply recycling old stuff, there is no importance in that," spokesman Yigal Palmor told Reuters.
Speaking in March, Palmor told Haaretz: "Israel will study the conclusions and will work to implement them through ongoing cooperation with UNICEF, whose work we value and respect."
The report gave 38 recommendations for improving the protection of children.
It stated: "It is understood that in no other country are children systematically tried by juvenile military courts that, by definition, fall short of providing the necessary guarantees to ensure respect for their rights. All children prosecuted for offenses they allegedly committed should be treated in accordance with international juvenile justice standards, which provide them with special protection."
According to 972mag, the recommendations were given "extra weight" in the Israeli media "because UNICEF is not one of the UN bodies regularly dismissed as having an anti-Israel bias."
Palestinians Mark 65th Anniversary Of Displacement
SUBSCRIBE AND FOLLOW
Get top stories and blog posts emailed to me each day. Newsletters may offer personalized content or advertisements.
Learn more