Pictures Of The Day: Monday 24th June 2013
The Huffington Post pictures of the day brings you the very best images from around the world chosen by our own photo editors, Elliot Wagland, Matthew Tucker and Tahira Mirza.
Share +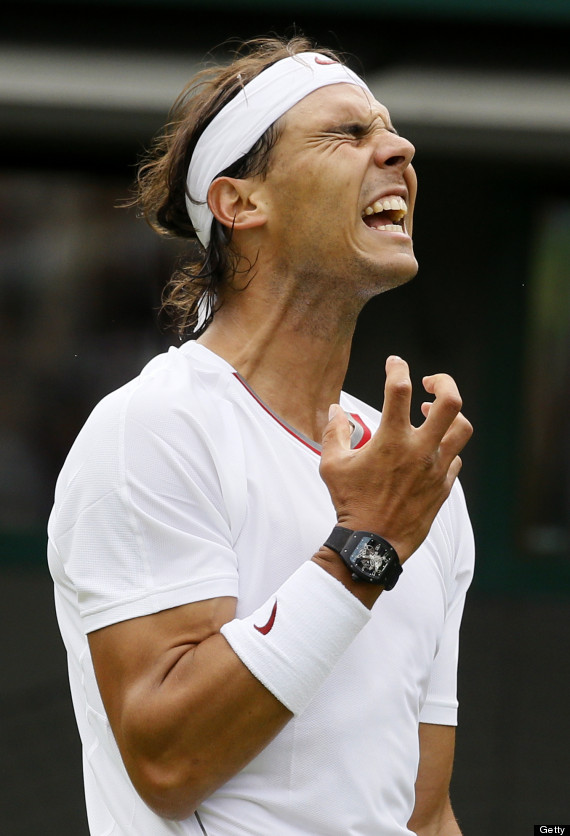 Rafael Nadal suffered arguably the greatest shock in Wimbledon history as he was eliminated on the first day of the Championships by world 135 Steve Darcis. The reigning French Open champion, who has lost just twice this year, was defeated in straight-sets 7-6 7-6 6-4 by the 29-year-old Belgian. Nadal's setback comes a year after his astonishing second-round loss to Lukas Rosol at SW19. Read the story here.
Loading Slideshow
The Championships - Wimbledon 2013: Day One

LONDON, ENGLAND - JUNE 24: Steve Darcis of Belgium celebrates match point during his Gentlemen's Singles first round match against Rafael Nadal of Spain on day one of the Wimbledon Lawn Tennis Championships at the All England Lawn Tennis and Croquet Club on June 24, 2013 in London, England. (Photo by Mike Hewitt/Getty Images)

TENNIS-GBR-WIMBLEDON

Spain's Rafael Nadal walks on to the court to face Belgium's Steve Darcis during their men's first round match on day one of the 2013 Wimbledon Championships tennis tournament at the All England Club in Wimbledon, southwest London, on June 24, 2013. AFP PHOTO / BEN STANSALL - RESTRICTED TO EDITORIAL USE (Photo credit should read BEN STANSALL/AFP/Getty Images)

The Championships - Wimbledon 2013: Day One

LONDON, ENGLAND - JUNE 24: Rafael Nadal of Spain plays a backhand during his Gentlemen's Singles first round match against Steve Darcis of Belgium on day one of the Wimbledon Lawn Tennis Championships at the All England Lawn Tennis and Croquet Club on June 24, 2013 in London, England. (Photo by Mike Hewitt/Getty Images)

TENNIS-GBR-WIMBLEDON

Belgium's Steve Darcis returns against Spain's Rafael Nadal during their men's first round match on day one of the 2013 Wimbledon Championships tennis tournament at the All England Club in Wimbledon, southwest London, on June 24, 2013. AFP PHOTO / BEN STANSALL - RESTRICTED TO EDITORIAL USE (Photo credit should read BEN STANSALL/AFP/Getty Images)

TENNIS-GBR-WIMBLEDON

Spain's Rafael Nadal returns against Belgium's Steve Darcis during their men's first round match on day one of the 2013 Wimbledon Championships tennis tournament at the All England Club in Wimbledon, southwest London, on June 24, 2013. AFP PHOTO / BEN STANSALL - RESTRICTED TO EDITORIAL USE (Photo credit should read BEN STANSALL/AFP/Getty Images)

TENNIS-GBR-WIMBLEDON

Spain's Rafael Nadal returns against Belgium's Steve Darcis during their men's first round match on day one of the 2013 Wimbledon Championships tennis tournament at the All England Club in Wimbledon, southwest London, on June 24, 2013. AFP PHOTO / BEN STANSALL - RESTRICTED TO EDITORIAL USE (Photo credit should read BEN STANSALL/AFP/Getty Images)

TENNIS-GBR-WIMBLEDON

Spain's Rafael Nadal serves against Belgium's Steve Darcis during their men's first round match on day one of the 2013 Wimbledon Championships tennis tournament at the All England Club in Wimbledon, southwest London, on June 24, 2013. AFP PHOTO / BEN STANSALL - RESTRICTED TO EDITORIAL USE (Photo credit should read BEN STANSALL/AFP/Getty Images)

TENNIS-GBR-WIMBLEDON

Spain's Rafael Nadal returns against Belgium's Steve Darcis during their men's first round match on day one of the 2013 Wimbledon Championships tennis tournament at the All England Club in Wimbledon, southwest London, on June 24, 2013. AFP PHOTO / BEN STANSALL - RESTRICTED TO EDITORIAL USE (Photo credit should read BEN STANSALL/AFP/Getty Images)

TENNIS-GBR-WIMBLEDON

Spain's Rafael Nadal returns against Belgium's Steve Darcis during their men's first round match on day one of the 2013 Wimbledon Championships tennis tournament at the All England Club in Wimbledon, southwest London, on June 24, 2013. AFP PHOTO / BEN STANSALL - RESTRICTED TO EDITORIAL USE (Photo credit should read BEN STANSALL/AFP/Getty Images)

TENNIS-GBR-WIMBLEDON

Spain's Rafael Nadal changes his shirt between games against Belgium's Steve Darcis during their men's first round match on day one of the 2013 Wimbledon Championships tennis tournament at the All England Club in Wimbledon, southwest London, on June 24, 2013. AFP PHOTO / BEN STANSALL - RESTRICTED TO EDITORIAL USE (Photo credit should read BEN STANSALL/AFP/Getty Images)

The Championships - Wimbledon 2013: Day One

LONDON, ENGLAND - JUNE 24: Steve Darcis of Belgium reacts during his Gentlemen's Singles first round match against Rafael Nadal of Spain on day one of the Wimbledon Lawn Tennis Championships at the All England Lawn Tennis and Croquet Club on June 24, 2013 in London, England. (Photo by Mike Hewitt/Getty Images)

The Championships - Wimbledon 2013: Day One

LONDON, ENGLAND - JUNE 24: Steve Darcis of Belgium hits a forehand during his Gentlemen's Singles first round match against Rafael Nadal of Spain on day one of the Wimbledon Lawn Tennis Championships at the All England Lawn Tennis and Croquet Club on June 24, 2013 in London, England. (Photo by Mike Hewitt/Getty Images)

The Championships - Wimbledon 2013: Day One

LONDON, ENGLAND - JUNE 24: Rafael Nadal of Spain reacts during his Gentlemen's Singles first round match against Steve Darcis of Belgium on day one of the Wimbledon Lawn Tennis Championships at the All England Lawn Tennis and Croquet Club on June 24, 2013 in London, England. (Photo by Mike Hewitt/Getty Images)

TENNIS-GBR-WIMBLEDON

Belgium's Steve Darcis celebrates winning the first set against Spain's Rafael Nadal during their men's first round match on day one of the 2013 Wimbledon Championships tennis tournament at the All England Club in Wimbledon, southwest London, on June 24, 2013. AFP PHOTO / BEN STANSALL - RESTRICTED TO EDITORIAL USE (Photo credit should read BEN STANSALL/AFP/Getty Images)

The Championships - Wimbledon 2013: Day One

LONDON, ENGLAND - JUNE 24: Steve Darcis of Belgium hits a forehand during his Gentlemen's Singles first round match against Rafael Nadal of Spain on day one of the Wimbledon Lawn Tennis Championships at the All England Lawn Tennis and Croquet Club on June 24, 2013 in London, England. (Photo by Mike Hewitt/Getty Images)

The Championships - Wimbledon 2013: Day One

LONDON, ENGLAND - JUNE 24: Rafael Nadal of Spain plays a forehand during his Gentlemen's Singles first round match against Steve Darcis of Belgium on day one of the Wimbledon Lawn Tennis Championships at the All England Lawn Tennis and Croquet Club on June 24, 2013 in London, England. (Photo by Mike Hewitt/Getty Images)

The Championships - Wimbledon 2013: Day One

LONDON, ENGLAND - JUNE 24: Rafael Nadal of Spain smashes the ball during his Gentlemen's Singles first round match against Steve Darcis of Belgium on day one of the Wimbledon Lawn Tennis Championships at the All England Lawn Tennis and Croquet Club on June 24, 2013 in London, England. (Photo by Mike Hewitt/Getty Images)

TENNIS-GBR-WIMBLEDON

Spain's Rafael Nadal reacts after a point lost against Belgium's Steve Darcis during their men's first round match on day one of the 2013 Wimbledon Championships tennis tournament at the All England Club in Wimbledon, southwest London, on June 24, 2013. AFP PHOTO / BEN STANSALL - RESTRICTED TO EDITORIAL USE (Photo credit should read BEN STANSALL/AFP/Getty Images)

TENNIS-GBR-WIMBLEDON

Spain's Rafael Nadal reacts after a point lost against Belgium's Steve Darcis during their men's first round match on day one of the 2013 Wimbledon Championships tennis tournament at the All England Club in Wimbledon, southwest London, on June 24, 2013. AFP PHOTO / BEN STANSALL - RESTRICTED TO EDITORIAL USE (Photo credit should read BEN STANSALL/AFP/Getty Images)

The Championships - Wimbledon 2013: Day One

LONDON, ENGLAND - JUNE 24: Steve Darcis of Belgium salutes the crowd as he celebrates match point during his Gentlemen's Singles first round match against Rafael Nadal of Spain on day one of the Wimbledon Lawn Tennis Championships at the All England Lawn Tennis and Croquet Club on June 24, 2013 in London, England. (Photo by Mike Hewitt/Getty Images)

The Championships - Wimbledon 2013: Day One

LONDON, ENGLAND - JUNE 24: Steve Darcis of Belgium shakes hands at the net with Rafael Nadal of Spain after their Gentlemen's Singles first round match on day one of the Wimbledon Lawn Tennis Championships at the All England Lawn Tennis and Croquet Club on June 24, 2013 in London, England. (Photo by Mike Hewitt/Getty Images)

The Championships - Wimbledon 2013: Day One

LONDON, ENGLAND - JUNE 24: Steve Darcis of Belgium celebrates match point during his Gentlemen's Singles first round match against Rafael Nadal of Spain on day one of the Wimbledon Lawn Tennis Championships at the All England Lawn Tennis and Croquet Club on June 24, 2013 in London, England. (Photo by Mike Hewitt/Getty Images)

The Championships - Wimbledon 2013: Day One

LONDON, ENGLAND - JUNE 24: Steve Darcis of Belgium celebrates match point during his Gentlemen's Singles first round match against Rafael Nadal of Spain on day one of the Wimbledon Lawn Tennis Championships at the All England Lawn Tennis and Croquet Club on June 24, 2013 in London, England. (Photo by Mike Hewitt/Getty Images)

The Championships - Wimbledon 2013: Day One

LONDON, ENGLAND - JUNE 24: Steve Darcis of Belgium celebrates match point during his Gentlemen's Singles first round match against Rafael Nadal of Spain on day one of the Wimbledon Lawn Tennis Championships at the All England Lawn Tennis and Croquet Club on June 24, 2013 in London, England. (Photo by Mike Hewitt/Getty Images)

The Championships - Wimbledon 2013: Day One

LONDON, ENGLAND - JUNE 24: Rafael Nadal of Spain waves to the crowd as he leaves Court One following his defeat to Steve Darcis of Belgium after Gentlemen's Singles first round match on day one of the Wimbledon Lawn Tennis Championships at the All England Lawn Tennis and Croquet Club on June 24, 2013 in London, England. (Photo by Mike Hewitt/Getty Images)

The Championships - Wimbledon 2013: Day One

LONDON, ENGLAND - JUNE 24: Rafael Nadal of Spain waves to the crowd as he leaves Court One following his defeat to Steve Darcis of Belgium after Gentlemen's Singles first round match on day one of the Wimbledon Lawn Tennis Championships at the All England Lawn Tennis and Croquet Club on June 24, 2013 in London, England. (Photo by Mike Hewitt/Getty Images)

The Championships - Wimbledon 2013: Day One

LONDON, ENGLAND - JUNE 24: Rafael Nadal of Spain waves to the crowd as he leaves Court One following his defeat to Steve Darcis of Belgium after Gentlemen's Singles first round match on day one of the Wimbledon Lawn Tennis Championships at the All England Lawn Tennis and Croquet Club on June 24, 2013 in London, England. (Photo by Mike Hewitt/Getty Images)