When it comes to being elevated up the ranks as a must-see sight, there is no greater prestige than being awarded Unesco status. 19 new sites - 14 of which are cultural sites - were announced over the weekend, and included in this are Mount Fuji and Mount Etna.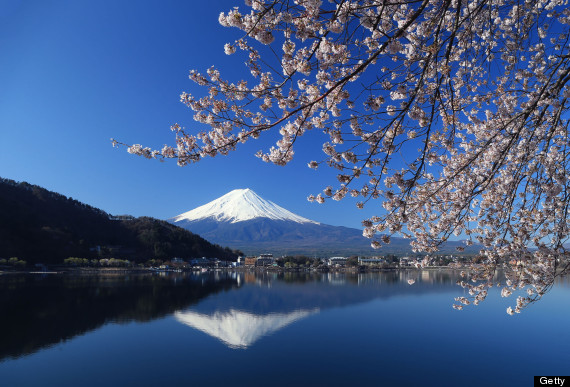 Fujisan, sacred place and source of artistic inspiration
Some are definitely not obvious and offer a fascinating insight into a place otherwise overlooked on a global scale, such as the Wieliczka and Bochnia Royal Salt Mines, below.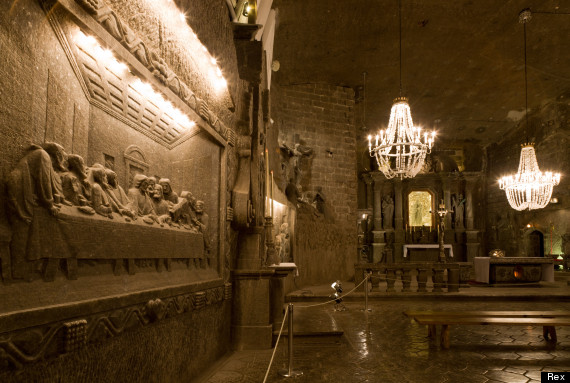 Those definitely on our bucket list are the Namib Sand Sea, which is the world's only coastal desert and Rajasthan's beautiful, intricate hill forts.
Take a look at 16 of our favourites on the list, and tell us which ones you'd list to visit in the comments below...
Cultural Properties Inscribed On The World Heritage List
Golestan Palace is a lavish 18th-century building that marries traditional Persian craft with western influences. Ornate, intricate and thoroughly bling-tastic.

Mount Fuji may hog all the attention, but Fujisan actually incorporates a much wider area - unremittingly beautiful lakes, springs and waterfalls, and the sea is laced with greenery. It's inspired many poets and artists.

It's the most active stratavolcano in the world, and it dates back half a million years. Despite being so active, tourists swarm in their thousands every year.

Located in Kassel, it has an almost half-forgotten air about it, with secluded ponds and a grotto. The gardens are Baroque in design and the woe betide anyone who takes a tour bus of canoodling teenagers here - it is steeped in romantic nooks and views.

Unesco says: "The Namib Sand Sea is the only coastal desert in the world that includes extensive dune fields influenced by fog. It features gravel plains, coastal flats, rocky hills, inselbergs within the sand sea, a coastal lagoon and ephemeral rivers, resulting in a landscape of exceptional beauty."

Kaesong includes various palaces, tombs and 10th to 14th-century gates and walls.

Although you may be more concerned with the beaches than the historical parts of Fiji, the Unesco status means the country's first colonial capital will be protected for future generations.

Those chandeliers make it hard to believe it's a salt mine, but this has been in use since the 13th century. There are a whopping 300 kilometres of underground rooms that have statues and altars built out of salt. There is even an underground church.

With so much of Timbuktu destroyed, Agadez is a good alternative if you want to see the stunning mud minarets and earthen dwellings.

The picture, we feel, speaks for itself. Xinjiang Tianshan consists of the Tianshan mountain system, the "snowy mountains glacier-capped peaks, undisturbed forests and meadows, clear rivers and lakes and red bed canyons. These landscapes contrast with the vast adjacent desert landscapes, creating a striking visual contrast between hot and cold environments, dry and wet, desolate and luxuriant."

Kenya has suffered a setback in tourism in recent years due to upheavals, but the spotlight shining on this beautiful area that has become an extension to the Kenya National Park should hopefully boost visits. It is noted for its beauty because of the contrast between glacier-capped peaks, scrub land and brilliant blue lakes.

A historical gem, this, with key picks including the royal palace of Alcáçova, the baroque library and the gorgeous 18th-century garden.

Apart from the natural beauty, one of the amazing things about the area is the 4,000-year-old rock paintings by the San people.

Rajasthan is ridiculously beautiful anyway - all those intricate spires, palaces and lakes set against a pristine mountain backdrop - but the forts in Chittorgar, Kumbhalgarh, Sawai Madhopur, Jhalawar, Jaipur and Jaisalmer are particularly so.

It's the site of some utterly fascinating Greek ruins which haven't had as many tourists as the Ukraine has been largely off the tourist map for the most of the 20th century.

These spectacular rice terraces is where red rice is grown and the villages have quaint thatched houses. Unesco says the area "demonstrates extraordinary harmony between people and their environment, both visually and ecologically, based on exceptional and long-standing social and religious structures."
MORE ON HUFFPOST UK LIFESTYLE: