As thousands of Egyptians thronged to Tahrir Square and cities across the country, women's groups and local activists warned of horrific sexual attacks on women attending the demonstrations.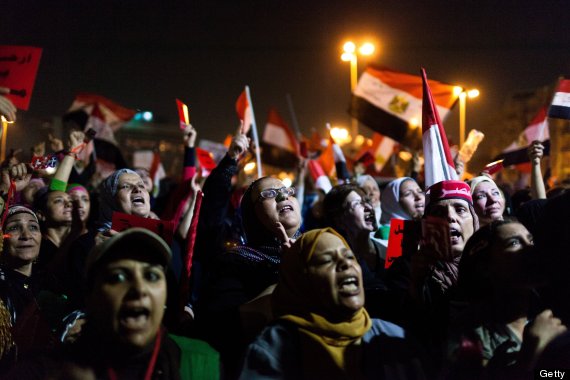 A large group of women take to the front of a gathering of opposition supporters in Cairo, Egypt's Tahrir Square while waiting for President Mohammed Morsi
44 cases this evening. The highest number we have encountered since we began OpAntish. This is a very sad day.
Egyptian media have reported that a foreign journalist was raped numerous times in Tahrir Square, and said that Egypt's Prosecutor General Talaat Abdallah had sent staff to the hospital to take the woman's testimony.
The BBC's Jeremy Bowen said on Sunday night that women being pursued by gangs of attackers had taken refuge in the broadcaster's building.
In #tahrir tonight woman hiding in the building BBC using as a live position, protected from gang outside trying to sexually assault her.
Sadly #tahrir revolutionary atmosphere of people behaving well with common purpose long gone. Sexual assault common. no cops In sight.
The protests have been preceded by street fighting across the country, which has resulted in several deaths and numerous injuries. An American, 21-year-old Andrew Pochter, was killed in Alexandria on Friday.
Freelance Egyptian journalist Ghazala Irshad reported that she had been warned from going into the thick of the Tahrir Square protests by other male protesters - because of the risk of sexual assault.
"June 30 is the first day in two and a half years of covering Tahrir that I felt so uncomfortable and intimidated. And I didn't even make it past the entry point," she wrote on Twitter. "I've been at clashes frontlines and felt less nervous than I did by the display of testosterone at the entrance (Asr el-Nil) of Tahrir tonight."
The United Nations said in a report last month that it had around 25 reports of sexual assault in Tahrir Square from the beginning of the year - 19 of them in January 25 alone, which was the second anniversary of the protest, which sparked the toppling of Egyptian dictator Hosni Mubarak.

According to a report by the UN, the Cairo Demographic Center and Egypt's Institute of National Planning, more than 99% of the hundreds of Egyptian women who participated in the study reported some kind of sexual harassment or assault, from verbal abuse to rape.
Supporters of Muslim Brotherhood President Morsi have been retweeting many of the reports of sexual assault, in an attempt to discredit opposition protesters.

SUBSCRIBE TO & FOLLOW UK DAILY BRIEF