After her recent arrest on suspicion of arranging to supply class A drugs to an undercover reporter, Tulisa was in need of an urgent image make-over but we really weren't expecting THIS!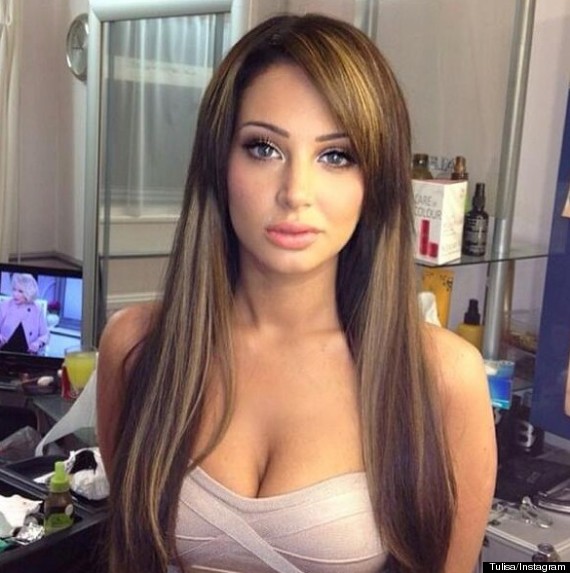 Tulisa unveils her new look
The N-Dubz star unveiled her brand new look in a series of snaps she posted on Instagram and we have to say, we're seriously impressed with her image overhaul.
With her sleek new tresses and Herve Leger designer frock, she looks a million miles away from her Vicky Pollard-inspired look of old.
And it seems Tulisa is just as impressed. In a message that accompanied the snaps, she wrote: "Whoops 4got to thank @cathairine 4 make up, gotta give a bitch her full credit haha love it babes."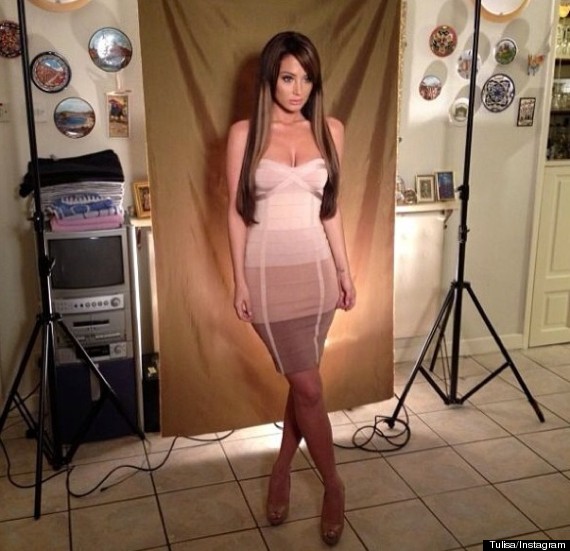 It's been a tough few weeks for the former 'X Factor' judge. Following her arrest it was reported she was suffering from panic attacks after being released on bail, believing her career to be over.
It then took a further hit when it emerged that a film role she had been offered turned out to be a hoax.
Following the reports, the N-Dubz singer was then left "utterly petrified" when a stalker confronted her at her multi-million pound Hertfordshire mansion.
The star is due to face the charges in court next month.
Tulisa love, you appear to have made a dress out of the contents of our Nana's 'special occasion' wrapping paper drawer.

Tulisa shows off the latest hair trend... for drag queens.

Believe it or not, this isn't one of the cast members of the film 'Kidulthood'.

Where Tulisa's from this is considered tres chic, innit.

Words actually fail us.

Tulisa once proudly proclaimed she bought her clothes from "Matalan, brrrrap!". Yep, we can tell.

If Jane Norman was still open, we reckon they would've snapped Tulisa up to be the face of the brand.

No, Tulisa hasn't been tarred and feathered, she actually chose to wear this.

Looks like Tulisa got carried away playing around in Katie Price's dressing up box.

Even X Factor judges are prone to a spot of the dreaded camel toe.

We didn't realise Tulisa was in 'Two Pints of Lager and a Packet of Crisps'.

Tulisa, Vicky Pollard's been on the phone and she's asked for her look back.

All she needs is a couple of parrots hanging from those earrings and this outfit would be complete. Completely awful.

The Croydon facelift look is still a favourite of Tulisa's, despite leaving dreadful clothes like this behind.

You should look ashamed, love.

Someone should really tell her it's dark outside so she can lose the diamante encrusted sunglasses.

Taking tan advice from the cast of 'TOWIE' is never a good idea.

Thank goodness she has a stylist these days. Now at least she has someone to blame for get-ups like this.
Cara Delevingne has yet to speak about the snaps of her dropping a suspicious packet of white powder outside her home in front of the paps in May 2013.

Rihanna denied claims she was taking something dodgy after she was pictured sitting on a man's shoulders with a mystery white powder on his head at Coachella. She called MTV "pathetic c*nts" over their claim.

Frankie Cocozza was thrown off 'The X Factor' in 2011 after being overheard by a member of the show's production team bragging about taking cocaine. "I helped in showing a lot of young people out there that drugs f**k things up, no matter how dodgy it all was. Say no to drugs. Life's too short," he said afterwards.

Tulisa was arrested on suspicion of supplying class A drugs, after an undercover reporter working for The Sun allegedly caught her on camera fixing up a drug deal. Her alleged dealer, Mike GLC, claimed the pair had been set up after they were released on bail.

Kerry Katona has spoken openly about her use of cocaine while she was married to second husband Mark Croft, who sold a video of her snorting the drug to a newspaper in 2009. She later told the News Of The World: "I hated my life, I'd lie in bed for three days in a row doing cocaine with Mark. Our relationship was just about coke. Mostly we'd have three-day sessions and not eat."

"I only smoke tobacco, I don't drink or do drugs. I've never had a bong in my life!" tweeted Amanda Bynes. Shortly afterwards she was arrested after reportedly throwing a bong out of her New York apartment window.

Kate Moss hit out at reports she used to use heroin. "If I was anorexic or if I was on heroin, maybe I would have been a bit more 'oh dear!' But I wasn't any of those things that they were painting me to be," she wrote in her 2013 book. However, Kate faced allegations of cocaine use in 2005, when the Daily Mirror printed photos appearing to show her with the drug. Police dropped the charges for lack of evidence.

Richard Bacon was fired from his role as a Blue Peter presenter in 1999 after using cocaine. "I have been stupid and regret making a silly mistake experimenting with drugs. But I have learned the lesson the hard way and I hope it serves as a lesson to lots of other young people. I would also like to apologise to all loyal Blue Peter viewers," he said at the time.

Pete Doherty has been repeatedly arrested for drug offences, and even spent time in jail in 2010. "It was just a question of how quickly I can find a vein and then let's get on with it. It's poison but it's also medicine. When you're in that state, you can't function unless you have your fix. I am struggling, to be honest," he told the Guardian in 2012.

Daniella Westbrook was asked to leave EastEnders twice over her off-screen antics. The star famously eroded away her septum due to her use of cocaine. She later revealed that she took drugs while she was giving birth to her son.: "I took drugs right up to the moment I delivered him, in the bathroom of the suite. Whilst in labour I asked them to leave the room," she told 'The Jeremy Kyle Show'.

Justin Bieber took to Twitter to deny rumours that cannabis and a stun gun were allegedly found on his tour bus in 2013. "Some of the rumors about me....where do people even get this stuff. whatever...back to the music," he wrote.

Made In Chelsea's Spencer Matthews was reportedly captured on film snorting cocaine in 2012. "I can't say too much about it because it's an ongoing thing – they were just allegations," he later told the Daily Star.

"Mostly it was drinking, you know, and opiates," Matthew Perry told ABC of his addiction during the height of his 'Friends' fame. "I think I was pretty good at hiding it but, you know, eventually people were aware."

Macaulay Culkin's reps strenuously denied claims that the actor was addicted to heroin in 2012. "Not only [is the story] categorically without merit, but it is also impossibly and ridiculously fictitious. We beseech the responsible media to consider the source and its reputation and to please not perpetuate this destructive and insulting story by pursuing it any further," they said.

"At the time you don't give a s*** if you pop your clogs. I must have been very, very close," Robbie Williams told The Sun of his 1990s drug addiction. "I would have carried on, to be honest. You get to the point that far into your addiction, you're not bothered whether you live or die, because that's where it takes you."

Snoop Dogg was forbidden from returning to Norway in 2012, following an arrest at Kjevik airport, Kristiansand, for possession of marijuana.

Brian Harvey was fired from boyband East 17 in 1997 after comments he made in the media, claiming he had taken 12 ecstasy tablets in one night and then driven. In 2002 he was also charged with possessing and supplying cocaine but was later cleared. "I have maintained my innocence for the last 12-months and still do today," he said after his acquittal.

"When I got that Grammy I was high. Not at the Grammys I don't think. But I was drinking like a crazy person. Still sniffing cocaine going in," Mary J Blige told the Los Angeles Confidential of her 1995 Grammy win. "[Whitney Houston's] death is another reason I stopped. I really do think I'm done."

"I have done just about every drug possible: cocaine, ecstasy, LSD and, my favorite, heroin," Ange told The Mirror in 1996.

"I didn't live my life in the right way for politics, you know. I fucked too many chicks and did too many drugs, and that's the truth. That's gonna be my campaign slogan: 'I drank the bong water,'" George told Newsweek in 2011.

On smoking a joint to calm herself before winning her 1991 Oscar for "Ghost": "Smoking cigarettes and pot every now and then are my habits. And so I thought, 'I've got to relax.' So I smoked this wonderful joint that was the last of my homegrown. And honey, when [Denzel Washington] said my name and I popped up, I thought, 'Oh, fuck.'"

"I mean, I still love a waterfall or the odd hallucinogenic drug. I liked mushrooms, which were legal until a year or so ago. If I had a drug of choice, it would be magic mushrooms." [The Guardian, 2007]

"I've done drugs, and that's how I know I don't like them. Cocaine is back with a vengeance. Everyone in every club is doing drugs. A lot of people are on prescription drugs. Celebrities aren't trying to hide it, except where people have camera phones. ... I wanted to try several things and make an informed decision, but I didn't enjoy anything other than marijuana. I don't even think of it as a drug -- it should be legalized. I know about five people who aren't on drugs today, and I'm one of them." [Maxim, 2007]

On doing cocaine with her boyfriend in the '70s while working as an anchorwoman in Nashville: "I did your drug. This is probably one of the hardest things I have ever said. ... I had a perfect, round, little Afro, I went to church on Sunday and I went to Wednesday prayer meetings when I could ... and I did drugs." ["The Oprah Winfrey Show," 1995]

"I spent most of my life looking for the quick fix and the deep kick. I shot drugs under freeway off-ramps with Mexican gangbangers and in thousand-dollar-a-day hotel suites. Now I sip vitamin-infused water and seek out wild, as opposed to farm-raised, salmon." ["Scar Tissue," published 2005]

"When I was 10 ½, I was sitting in a room with a group of young adults who were smoking pot. I wanted to try some, and they said, 'Sure. Isn't it cute, a little girl getting stoned?' Eventually that got boring, and my addict mind told me, 'Well, if smoking pot is cute, it'll also be cute to get the heavier stuff like cocaine.' It was gradual. What I did kept getting worse and worse, and I didn't care what anybody else thought." [People, 1989]

"I kind of took matters into my own hands and was creating drama in a very dangerous way. I think I was just bored, and I had seen everything. Especially when you're young, you just want more. ... At 18 I had just been doing a lot of cocaine." [People, 2007]

"[Marijuana] keeps me sane and happy. I could write without it if I was sane and happy. ... This is the only kind of drug I ever thought worth taking." [ITV's "South Bank Show," 2008]

"Never give up the ganja." [The Guardian, 2003]

"I've never been a major smoker, but I think America's view on weed is ridiculous. I mean, are you kidding me? If everyone smoked weed, the world would be a better place." [The Daily Mail, 2007]

"I was consumed by cocaine, booze and who knows what else. I apparently never got the memo that the Me generation had ended." ["Love Is the Cure: On Life, Loss and the End of AIDS," published 2012]

"Cocaine was even in the budgets of movies, thinly disguised. It was petty cash, you know? It was supplied, basically, on movie sets because everyone was doing it. People would make deals. Instead of having a cocktail, you'd have a line." [Newsweek, 2011]

"I had a bag of mushrooms in my refrigerator. My cat used to sneak into the refrigerator and eat them. ... He ate them voraciously; it was like catnip to him. So I thought, 'What the heck, I better do it with him.' I remember lying on my bed for hours and Lewis was on the desk across my bed for hours, and we just stared at each other -- not moving, just staring at each other, and I had no doubt that he was my brother. But having said that, I don't do that anymore. And you know what? Later in life, when I was completely not doing any of that, I know he said 'Hi' to me." ["Late Show With David Letterman," 2010]

"I don't trust anyone who hasn't been self-destructive in some way. Who hasn't gone through some sort of bout of self-loathing. You've got to bang yourself around a bit to know yourself." [GQ, 2011]

"hi guys, i smoke pot. ok guys, bye." [Twitter, 2013]

"I got into a scene. I started going out and taking ecstasy. From ecstasy, it went to crystal meth. With any drugs, everything is great at the beginning, and then slowly your life starts to spiral down. [I was] 90 pounds at one point." ["Oprah's Next Chapter," 2012]