Celebrity fitness trainer Matt Roberts, who has trained the likes of Naomi Campbell, Trudie Styler and David Cameron (we won't hold that last one against you Matt), has revealed some amazing exercises to do after giving birth.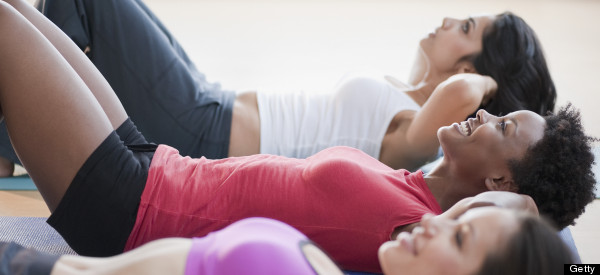 He says: "Those who exercise after a pregnancy notice big positives. Not only will you speed up your recovery and slim down but everyone will notice a boost in mood and feel good endorphins and most importantly energy levels! Everyone knows that looking after a newborn can zap your energy and tire you out. But all my clients find it easier to manage their lack of sleep and baby work loads.
"However, training after pregnancy is often a scary concept. With little common knowledge out there its the best time to seek out a professional whose got a wealth of experience in working with women looking to get their beach bodies back. To ensure you're safe and confident in your exercise here's my three top tips and my post pregnancy workout."
1. Be safe
Not only is every individual unique but so is every pregnancy. For this reason its best to consult your doctor before you go out and start exercising. Trust me on this. I know most are eager to start as soon as possible but you can prolong your recovery and therefore prolong your results if you start too soon. Most recommend six weeks of rest before hitting the gym but this could be less or more depending on what the doctor says.
2. Understand the effects of pregnancy and change your workouts to maximise your results and health
After pregnancy the body doesn't revert back to normal for around 6months (depending on how long you breast feed for). Because of this there are still a lot of pregnancy hormones in the body. High levels of the hormone relaxin can make joints over flexible so stability strengthening exercise like back lying abdominal holds and standing wall pushups not only burn fat but also strengthens the bodies muscles protect yourself from injury and speed up your recovery.

3. Rebuild good levels of fitness and strength for the tough stuff further down the line
This is something I tell my clients who are used to training intensely and frequently because they often want to start up where they left off! Ease your self back slowly and steadily especially if this is your first pregnancy. For a first time mum It's a whole new experience and you won't be fully aware as to how your body will bounce back. If you therefore create a good foundation of strength and fitness further down the line you'll be able to really start some advance exercises and here is when you'll notice the best results!


TOP EXERCISES
Loading Slideshow
Foam roller supported Static lunge 3x 8 (each leg)

Stand with your right foot forward and left foot back about three feet apart. Keep your upper body straight and stomach tucked in. Raise onto your toes of your back leg. Lower yourself down to create a 90 degree angle in both front and back leg. Use the foam roller as a support if needed. Drive through the heel of the front foot to return back to the starting position.

Bodyweight squat to bench 3 x 8

Bend from the hips keeping your weight in your heels and maintaining a straight back. Sit back into the movement until your bottom is lowered onto the bench. Touch the bench and push back up to the start position by driving through the heels and keeping your back straight. Be careful not to let your knees travel passed your toes.

Resistance Band Pull Down 3 x 8

Take a medium strength resistance band and hook it over the top of a door frame. Taking the band in both hands step back so one leg is in front of the other. Keep your stomach tight, shoulders relaxed and chest lifted. Extend both arms out in front whilst still holding the band. In one movement pull the arms back towards the side of the body, bending at the elbows until they aligned with the side of the body, allowing the shoulder blades to be squeezed together. Hold for two seconds and return to the start position.

Press up from wall 3 x8

Stand in front of the wall and lift your arms to shoulder height. Place your palms against the wall and slightly wider than your shoulders. Take a step back creating a slight bend in the elbows. Take a deep breath and lower your upper body forward keeping your feet static. To complete the movement, exhale and push off the wall until your arms are in an outstretched position with elbows slightly bent.