The Backstreet Boys have revealed that their inspirations for reforming and going back on the road were our very own Brit favourites Take That.
Nick Carter tells HuffPostUK, "The stars were kind of aligning anyway, but when we saw what they did, the way they were received on the road, and the fact that their new music was really good, it wasn't just some novelty thing, we began to see what could be possible."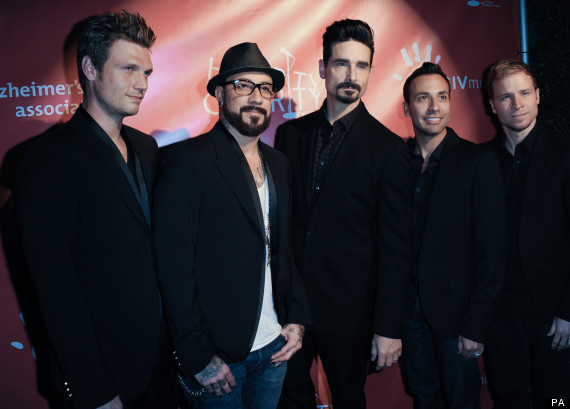 The Backstreet Boys are most definitely back
The Back Street Boys are celebrating a scary 20 years (yes, I know!) since they first formed in 1993, and became one of the world's best-selling bands, with a string of hits including 'I Want It That Way', 'Show Me The Meaning Of Being Lonely' and the dance floor-filling 'Everybody (Back Street's Back)'.
They notched up an incredible 130 million record sales, which makes them officially the best-selling boyband in history - compare this with, for example, One Direction's estimated eight million album sales thus far...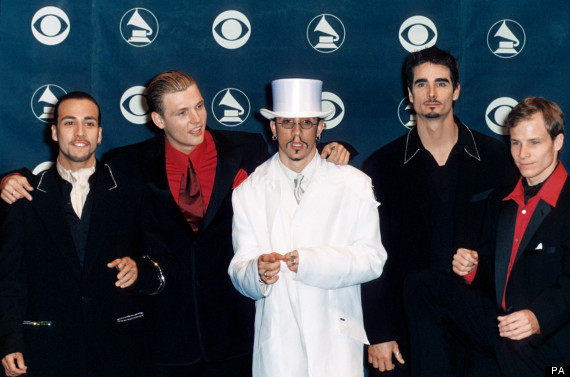 Back in the day - at the 1999 Grammys - well, everyone has to experiment...
And when their distinctively bearded member Kevin Richardson left to pursue solo projects, including a stint on the Broadway stage, which caused nearly as many ripples in their devoted fan base as when Robbie Williams dramatically left Take That in 1995.
The Backstreet quartet carried on gamefully, but were rewarded with diminishing record sales and a lack of interest by their record company. It was pretty much game over, until Kevin's return last year. More than one of them uses the phrase "stars aligning" to describe their reunion.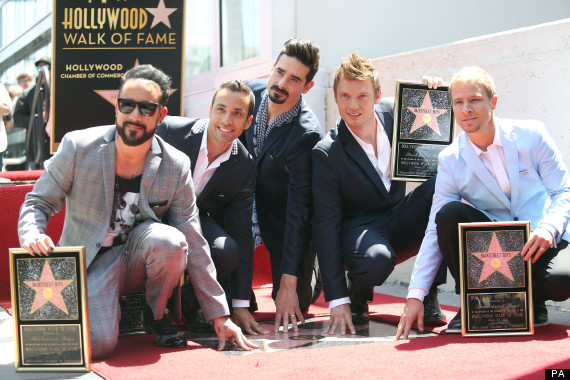 The Boys getting their star on the Walk of Fame in April this year
And now here they are, with a new album on the way, plus a world tour ahead of them, kicking off next month. Here's a taster of the first single...
So does that mean Kevin, like several of the group, now married with children, is the Robbie of this group? "Only if I went off and sold millions of records, and filled stadiums all by myself…" he replies. "So that's a big no."
What's changed? "We communicate a lot better with each other," offers Brian Littrell.
"Some things are still the same," chips in Howie Dorough. "The same people are still late... " (Kevin sticks up a hand.)
"The same old habits," continues Howie. "But I guess we're a lot more forgiving of those habits than we used to be."
Full interview with the Backstreet Boys next week. The Back Street Boys' album will be coming out on 28 July, and heading off on a world tour starting in August. And they're not the only people getting back in touch...

Loading Slideshow
S Club 7

S Club 7 -- a British pop group created by former Spice Girls manager Simon Fuller and consisting of members Tina Barrett, Paul Cattermole, Jon Lee, Bradley McIntosh, Jo O'Meara, Hannah Spearritt and Rachel Stevens -- rose to international fame in 2000, before splitting in 2003. In March 2012, it was announced that <a href="http://www.mirror.co.uk/3am/celebrity-news/s-club-7-hit-the-comeback-trail-767556" target="_hplink">all original seven members would reunite for seven UK shows, with possibility of a two-album record deal.</a>

The Backstreet Boys

Unlike almost all of the other 90s boy bands, the Backstreet Boys never really broke up -- although original member Kevin Richardson did quit in 2006. In 2011, the Backstreet Boys toured with New Kids on the Block, and BSB is planning to release a new album in 2012.

New Kids On The Block

After reuniting in 2008, New Kids On The Block embarked on a highly successful reunion tour. Then in 2011, they joined The Backstreet Boys for the NKOTBSB tour and released a compilation album of the same name, featuring their hits "You Got It (The Right Stuff)" and "Hangin' Tough," and a new recording, "Don't Turn Out the Lights."

Take That

Take That formed in 1990 and after a few No. 1 UK singles, the British boy band split in 1996. However, the group reunited in 2005 and have been touring and releasing new music ever since. The band's next album is expected to hit shelves in late 2012, and <a href="http://www.dailystar.co.uk/news/view/214902/Robbie-William-s-next-Take-That-reunion-is-back-on-for-good/" target="_hplink">Take That is also in talks to open the London 2012 Olympic Games</a>.

Spice Girls

After reuniting in 2007 for a Spice Girls reunion tour, the <a href="http://www.cbsnews.com/8301-31749_162-57368509-10391698/spice-girls-reuniting-for-queens-diamond-jubilee/" target="_hplink">British girl power group may reunite again for Queen Elizabeth's upcoming Diamond Jubilee</a> in June. Scary, Baby, Sporty, Ginger and Posh may also don their platform boots for the London 2012 Olympic Games this summer.