For more than 60 years a cluster of larch trees grew, unnoticed, in the formation of a swastika in a forest in the German state of Brandenburg.
The Nazi symbol, which was not spotted until 1992, was visible only from the air and stood out from the surrounding pines thanks to the autumnal colours of the larch.
Rumours have swirled as to why the swastika – an equilateral cross with its arms bent at right angles - was planted and by whom.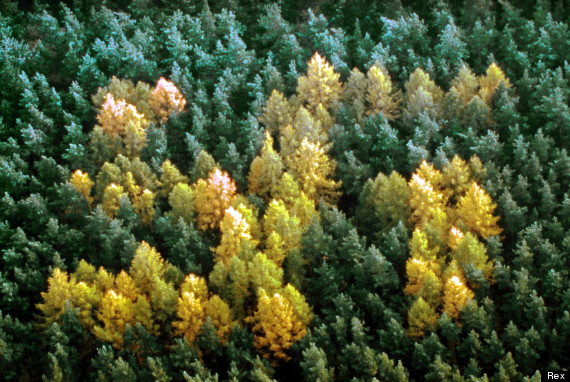 The swastika forest in the German state of Brandenburg was felled in 2000, though its origins are unclear
The BBC reports the symbol, which can represent eternity in East Asian culture and Buddhism, but was adopted as a symbol of the Nazi party, was sown to celebrate wartime leader Adolf Hitler's birthday in the 1930s.
"It seems to have been something of a fashion among Nazi loyalist forest wardens," he added.
The truth behind the symbol, which measured around 20 metres square in size and was eventually felled in 2000, amid fears it would become a site of pilgrimage for neo-Nazis, has never been confirmed.
It cites an incident in the 1970s, which saw US soldiers complain to the government of the state of Hesse about a huge swastika on the southern slope of a spruce forest close to Asterode.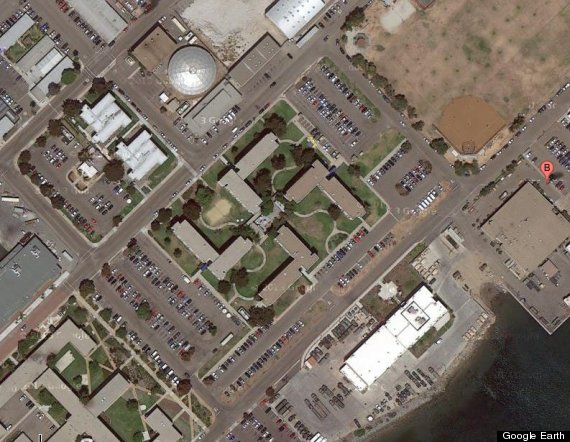 San Diego's Coronado Naval Amphibious Base was found to resemble a swastika from above in 2007
A similar symbol was reported in Jesberg, north Hesse in the 1980s and in 2000 a swastika of evergreen Douglas firs planted backwards was reportedly discovered in a deciduous forest in Wiesbaden.
It also points out the discovery of a man-made swastika near the edge of the Himalayas in Tash-Bashat, Kyrgyzstan.
It adds: "Legend has it that German prisoners of war, pressed into forest duty after World War II, duped their Soviet guards and planted rows of seedlings in the shape of the emblem Hitler had chosen as his own."
SEE ALSO:
Indeed "secret" swastikas continue to periodically pop up, though not all of them appear to be deliberate, nor are they all of the horticultural variety.
In 2007 Google Earth sleuths found that San Diego's Coronado Naval Amphibious Base resembled a swastika from above.
A spokesman said the Navy planned to spend $600,000 on further works to mask the shape, TIME reported.
He said: "We don't want to be associated with something as symbolic and hateful as a swastika."
North Somerset Council said the symbol was created by accident after certain flowers were removed, leaving an outline of the Nazi symbol.
The plants were hastily removed.
Extraordinary Sites From Above
SUBSCRIBE TO & FOLLOW UK DAILY BRIEF