The Travel Photographer Of The Year competition is easily one of our favourites - a mix of professional and amateur photographers, it features some truly stunning photographs from around the world. Best of all, categories range from the really young (age 11) to those who do it for a hobby, to those who make a living from it.
Not only do they provide an often little-seen glimpse into corners of the world, they really get our travel bug going.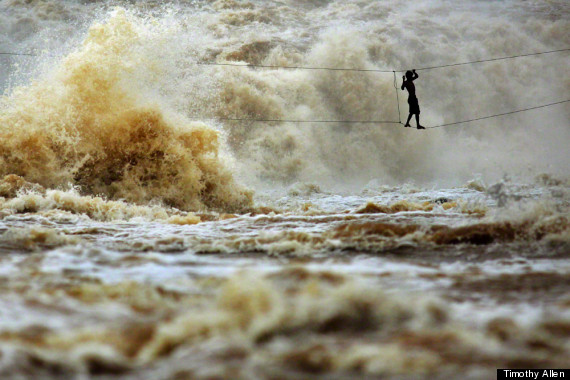 This week, at the Royal Geographical Society, an exhibition of all the winners will be on display. There's also a festival of photography which begins next week on 17 July, if you want to hear leading photographers such as Andy Rouse, Colin Prior, Steve Bloom, Nick Danziger, Chris Weston, Jim Marks, Martin Hartley and Philip Lee Harvey speak. Otherwise, it's free to view any other time.
If you can't make it down, however, you can always click through our slideshow of the beautiful shots that made the final cut:
In Pictures: Travel Photographer Of The Year
It looks like the ray was interacting with the fish, guarding it, shepherding it. But actually no, they just swim together.

Yamalo Nemets' winter camp in the tundra, Siberia, Russia

Rapa das Bestas (Shearing of the Beasts) festival

A fox about to scavenge the skeleton of a seal which had been caught by a polar bear.

Man walking past Ben Slow's 'Screaming Faces' painting on a wall in Hanbury Street.

Yamalo Nemets' winter camp in the tundra. This young girl collects wood in the forest.

Glaucous gulls fight over scraps left by a polar bear.

Grey heron.

Eurasian wren.

This is a series of images called 'Dreich' – an old Scottish word to describe the wet, grey, miserable, dank.
Festival tickets start from £25 for regular entry and £17.50 for concessions. Festival tickets are available from travelphotographylive.eventbrite.co.uk.
MORE ON HUFFPOST UK:
Best Budget Boutique Hotels In Britain