Rihanna is definitely having a Twiggy-esque moment on the cover of the latest issue of Elle magazine.
The star looked super-sexy in the 60s-inspired bold check crop top and split skirt (which later comes off to reveal a matching checked mini), topped off with a slick of red lippie.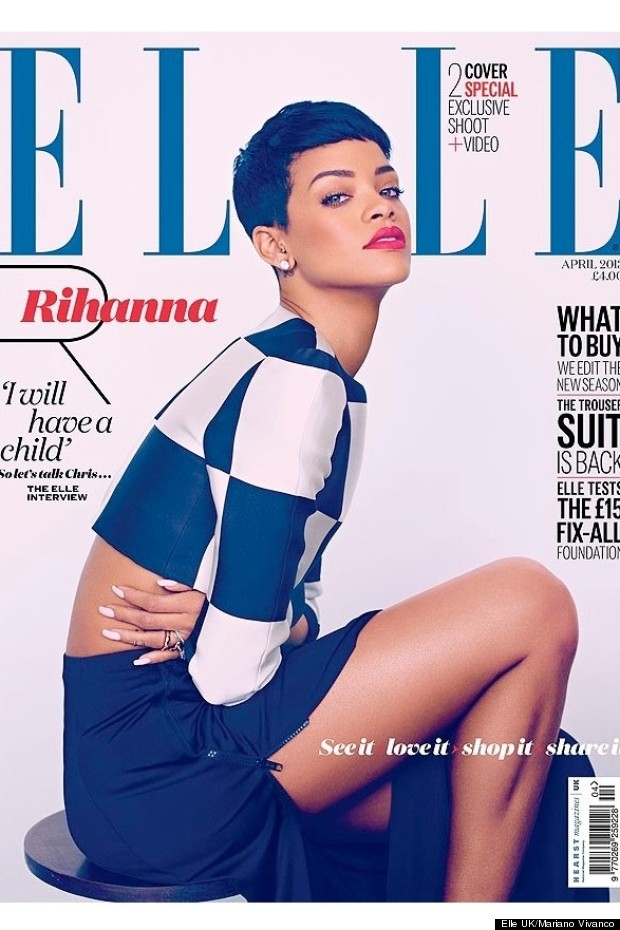 According to the The Sun, the singer opens up about her relationship, her famous addiction to Instagram, and plans to become a mum. See some interview highlights here:
On having children and the five-year plan: "I will probably have a kid. And I'm praying I can go on vacation for a good month. And I'll have set some things up so I don't have to tour for the rest of my life, even though I love touring. I want health and happiness in five years. I want to be healthy and happy."
On "The One" Chris Brown: "Right now that's just what we want, a great friendship that's unbreakable. Now that we're adults we can do this right. We got a fresh start and I'm thankful for that."
On all those raunchy Instagram pics: "Well I Instagram everything about my life, whether it's smoking pot, in a strip club, reading a Bible verse - how crazy, I know - or hanging out with my best friend, who happens to be Chris."
On the repercussions of all those raunchy Instagram pics: "[Mum] called me two days ago and reeled me in about two naked pictures Melissa put up on Instagram - a sneak-peek from a photo book she's making about me.
"My mom, she went crazy on me. I was like embarrassed. I felt like I got my ass whupped in front of my class in school! She said, 'This was like a private moment and you're just parading this around.' She humbled the f*** out of me.'"
Elle's April 2013 issue hits newsstands on 6 March.
More RiRi right here:
SUBSCRIBE TO & FOLLOW UK STYLE