No matter what time of year her wedding, no bride wants to appear washed out on their wedding day and it doesn't help that an ivory dress can often make pale skin look even paler. So, it's no surprise that when it comes to the weeks before the wedding, brides start to reach for the self tan...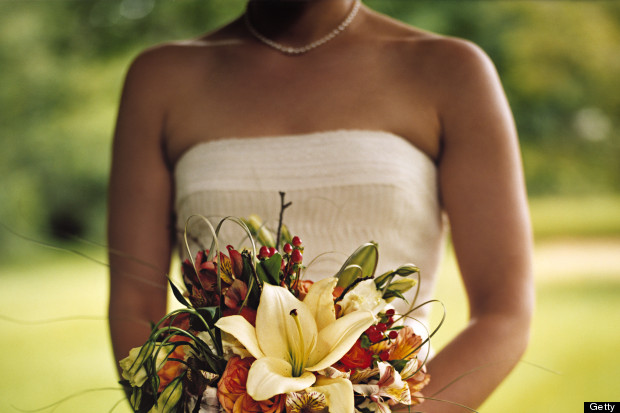 Whether you're opting for a spray tan or sticking to your trusted bottle of the fake stuff, pre-wedding tanning can be a complicated process. Too much and you'll look tangoed (and probably smell like biscuits), too little and you'll spend all day wishing you'd gone for "dark" not "natural". Then there's the problem of streaks - how do you apply an even tan and what if the spray tanner misses a spot?
St.Tropez Skin Finishing Expert Jules Heptonstall shares his tanning wisdom with MyDaily:
Prep
"For the big day, make sure you haven't applied any self tan for at least two weeks prior to your wedding. Exfoliate your skin 48hours before your spray tan and pay special attention to your hands, elbows, knees and feet. On the morning of your tan, don't moisturise. The moisturiser will act as a barrier to the spray tan and your colour wont be as rich. You'll be asked to remove any make up or deodorant before your expert applies their tan".
Timing
"I always recommend having your tan at least two days before. That way you are absolutely guaranteed that there will be no transfer onto your dress. In my opinion, a spray tan's optimum colour is on day two – so if you're getting married on a Saturday, have your tan on the Thursday".
Will it stain?
"With spray tans – the tan develops with your skin, so once it's developed, it will be with you in the skin for five to seven days. If you're using wash off, there can be a risk of tan transfer so a spray is always advisable".
Skin tone
Whatever your skin tone, it's all about choosing a natural looking tan for the big day. If you're wearing white, cream, ivory remember your tan will look darker anyway because of the lighter shade of your dress. Remember that you will be stood next to your groom and family, so opting for a natural looking spray tan you won't look out of place".
And if you're going for the DIY approach? "I think self tans are a great option for brides", Jules told us. "Using tan isn't just about getting a depth of colour, but about lifting complexion and giving the skin an evenness in complexion".
With that in mind, here's our pick of the best self tans to snap up before your wedding:
SUBSCRIBE TO & FOLLOW UK STYLE