What do you do when you're an American bride and your husband-to-be is British? MyDaily's Bride of the Month Shannon Finnerman on organising a wedding that guests from both sides of the pond will love...
British weddings are very different to American weddings, as my fiance Jack (British) and I (American) have discovered.
There are lots of little quirks and traditions each nation favours when it comes to getting hitched and these are the ones that we'll be honouring on our big day...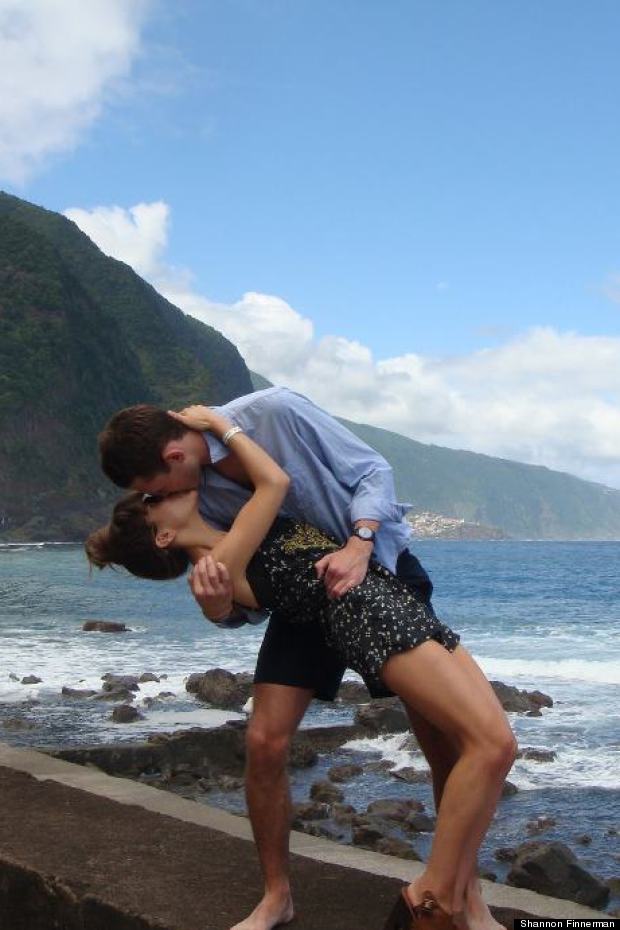 It's common in the US for the mother of the bride and bridesmaids to host a Bridal Shower, where there are usually nibbles, presents for the bride and games.
This is separate to the bachelorette/ hen party and is usually in the daytime, incorporating older female friends and family members who wouldn't necessarily want to spend the night doing shots with a bunch of extremely excited girls!
I'm still deciding whether or not I'll have a bridal shower. It would be a great experience, but as I won't be in the US for that long prior to the wedding if it can be squeezed in.
The Bachelorette vs. Hen Party
Technically, I'll be having a bachelorette party since it will be taking place in the US. It's virtually the same thing as a hen party, but I've noticed this pre-wedding event is a much bigger deal in the UK, with people travelling abroad and even turning one last night of freedom into weeklong extravaganzas!
In the US it is typically one night - maximum a weekend - and usually involves a stripper (we're nothing if not traditionalists).
However, there are rumors that my UK friends are throwing me a hen party before I go to the US, so I'll keep you posted...
Jack and his friends are going to Las Vegas for his stag party a week before the wedding and I must admit I'm a tiny bit worried for his safety because his friends+ Vegas = dangerous.
I made them promise not to do anything to his face - like shave an eyebrow (I would literally die) – as it would completely ruin our pictures!
The Bridesmaids and Flower Girl
We'll be following American tradition where my bridesmaids are all around my age and my best friends (as opposed to including young girls like in the UK).
Typically the Flower Girl is the only little girl in the bridal party, however we won't be having any young children at the wedding, so the bridesmaids and groomsmen are going to do those roles.
Another difference to mention is in America it is common practice for the bride to pick the dresses, but then leave it to the bridesmaids to pick up the bill. I was amazed to find out that in the UK brides typically buy the bridal party dresses as well.
Something old, something new, something borrowed, something blue, and a six pence in her shoe:
The US tradition is very similar, except obviously we don't include the six pence in our shoe as that currency doesn't exist in the US ( or the UK for that matter!)!
I will however be following the UK tradition with the six pence as my boss at Brand Revolution; generously gave me a six pence to use for the wedding.
We will be following American traditions for the ceremony as that is where the wedding will take place! There aren't massive differences, except:
In the UK there are only a select group of licensed locations where people can legally get married. I think that is to encourage most people to initially get married in a church or at registry office. In the US, you can get married wherever you like as long as there's an officiant there to perform the service. As neither of us are particularly religious, the majority of the wedding will be non-denominational. However, out of respect for my grandparents, we will have a Rabbi perform the ceremony to incorporate some Jewish blessings.
The dress code will be black tie allowing guests to bring out their best frocks. Also, Jack's uncle and cousins are Scottish and therefore will be wearing their kilts to the wedding! Female guests travelling from the UK have told me they'll be wearing hats wedding which is a very BRITISH tradition that never happens at American weddings.
As mentioned in my last post, for family reasons and also practicality; we will be following the American top table system which consists of the bridal party and is seated man/woman/man/woman, with the bride and groom in the middle, the best man next to the bride, and the maid of honour next to the groom.
Our wedding cake will be American for a couple of reasons: 1) They look more extravagant and 2) Jack hates fruitcake!
American wedding cakes are made of sponge and the tiers are usually stacked on top of one another. We also will follow the tradition that during the cake cutting ceremony, the newlyweds will hand feed each other a piece of cake. Sometimes, they will stuff the cake into each other's faces - although that will definitely mess up my make up on the day!
It is very common for the bride to toss her bouquet to the single female women at the wedding because tradition is whoever catches the bouquet will be the next to get hitched. I am still debating doing the toss, because I think I will want to save my flowers as a keepsake. We think our wedding will definitely be a great combination of both traditions but most of all, I hope our guests will have an unforgettable day.
LOVE THIS WRITER? Follow her on Twitter @ShannyLAX.
CATCH UP! Read our Bride of the Month's blog on the ups and downs of getting married in Los Angeles.
SUBSCRIBE TO & FOLLOW UK STYLE