Do you remember when Kim Kardashian got a fake fringe? Well this is what it was all for - a cover girl look for Cosmopolitan. And doesn't it look good?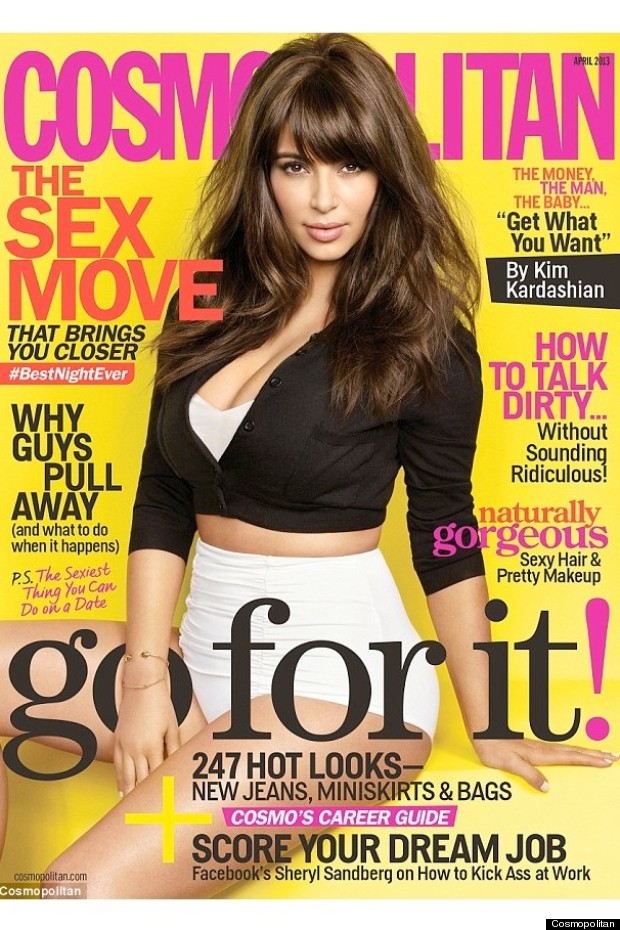 The shoot was done before the reality TV mogul announced her pregnancy, and she was still bump-free enough to pull off this black cropped cardie and white high-waist 50s-style knickers combo. See some of the interview highlights below:
KK on falling in love with KW: "Sometimes you're just not ready. A person could have it all, and you're not ready for it all.
"But this is where I probably always should have been...[marriage] is something I know that we both want in our future, but I don't have this sense of urgency about it.
"I have this best friend who understands me and helps me through all my tough experiences, and vice versa, you know? It just feels like this is it for me.'
On fast marriages: "I saw fast marriages like Khloe and Lamar's and that was what seemed to work. [Now] I say give it a good six months before you commit. Feelings change, even if it seems so lustful."
On having a baby: "I've always said that I wanted kids, but I don't think I ever would have been ready until now."
On taking time out: "2013 for me is about scaling back. I want to focus on the few projects that I'm super passionate about and not spread myself too thin."
What do you think? To bang or not to bang? (no naughty schoolgirl sniggering, please...)
You want more Kim pics? Coming up:
SUBSCRIBE TO & FOLLOW UK STYLE