Latex, what condoms are made from, yes, but also the biggest social climber in fashion thanks to Burberry and Felder Felder's new fondness of the saucy textile. But can normal girls wear it? A talc-ed up Alexandra Jones reports
Last week I found myself in a land beyond leather, where all the clothes were wipe-clean and cat-women and dominatrixes (dominatrices?) roamed free and un-gawped at. In a quest to broaden my fashion horizons (I wear dungarees most of the time) I had gone in search of a slinky pencil skirt...and ended up in a latex shop, which is not as random as it first sounds, honestly.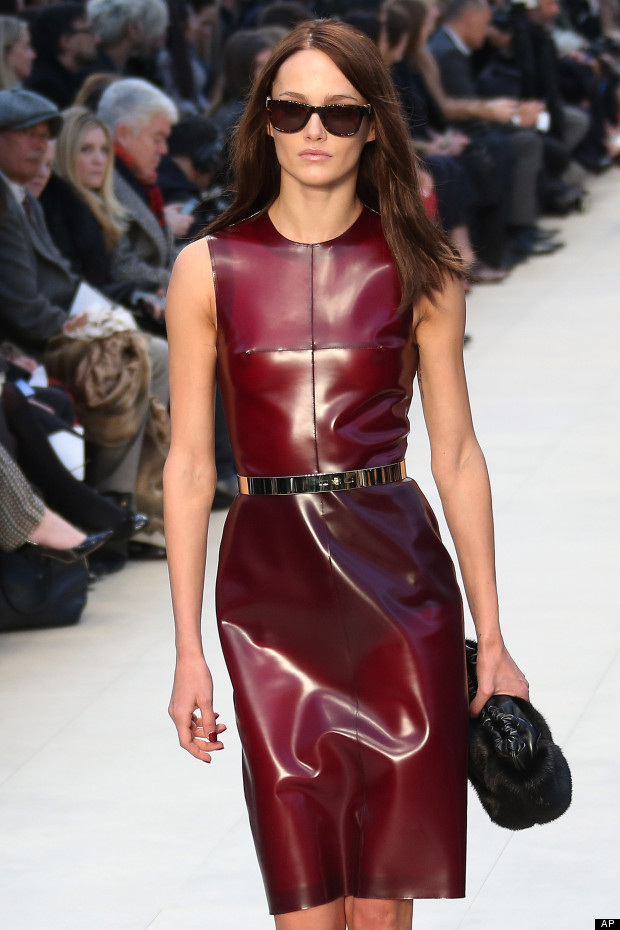 Once the preserve of gimps and people who like to spank them, latex has been sort of sartorially social climbing, if you will, for a few years now. And as a fabric, you know you've made it when Christopher Bailey (i.e. the Grand High Emperor of all things fashion) turns you into a Burberry trench coat.
Latex also appeared on the catwalk at Felder Felder A/W 13 and J W Anderson A/W 13, and couture latex designer Atsuko Kudo's 'Lady P' pencil skirts - top sellers in her pop-up concession in Selfridges - have been worn by everyone from Daisy Lowe to

Given my general lack of fashion chops was treading a tightrope between style and sex (porn-y sex, no less) a good idea? I hiked up my dungaree strap, whipped my card from the machine and dusted out of there. But the thought of the skirt, with its heavenly pearlescent shine and, yes, even its hyper sexy sexiness has stayed with me. Amy explains, "This is what makes it appealing – paired with, say, a grey cashmere M&S man's sweater – it suddenly makes everything else look a bit naughty, and a lot sexier."
Atsuko Kudo advises, "If you want to start modest, leggings are a good investment, you can wear them with almost anything, or try accessories like gloves."
Maybe I was just trying too much too soon? Maybe I needed to begin by dipping a toe in...anyway, off to track down some latex dungarees...

SUBSCRIBE TO & FOLLOW UK STYLE