Arguments, awkwardness, weird drink pouring shots and over-inflated egos, all seen through a soft-focused lens - it could only be this week's episode of Made in Chelsea. And just because Spenny's not actually there doesn't mean he isn't wreaking havoc, says Saoirse Cassidy
While lacking in any major dramas (after all Spencer was in Barcelona and Louise had returned to Edinburgh - though not before telling the world yet again how blissfully happy she was), this episode was all about setting up the constructed-reality building blocks for next week's showdown.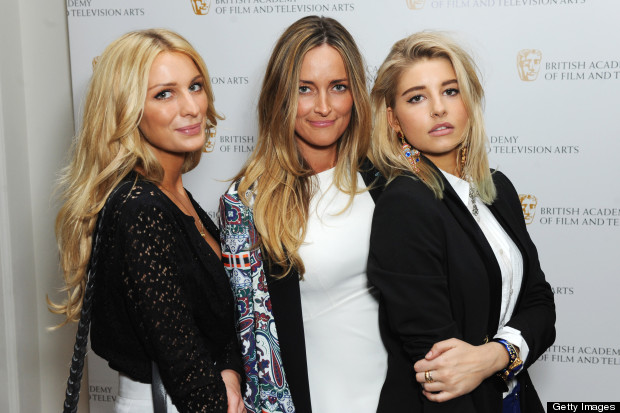 The main focus was the blossoming relationship between "evil" Lucy Watson and Alex Mytton - ex-boyfriend of Phoebe Lettice and man whose surname makes him sound like a children's toy.
Despite being her first love and then cruelly cheating on her several times, Lettice insisted she will always love him and vice versa, which is why she warned him off Lucy. Because that's totally normal, okay?
We then moved across to a traditional English game of tennis – except that in Chelsea, this was no ordinary game of tennis. You have to wear an elaborate and impractical headpiece in your hair (Rosie), talk at some length by the net about how crap someone you know treats women, and then Mark Francis turns up to do a shoot and asks you to a masquerade ball. 15-love daahling.
This week, Jamie appeared to have grown a conscience and with this newfound morality intact, he decided to fess up to that snog with Lucy in the hot tub in Verbier. The pint-sized blond bombshell admitted he feigned amnesia over the dalliance out of love for his girlfriend Tara.
However he doesn't appear to have considered the elusive Tara in this latest display of honesty. Perhaps after watching this episode, we'll see her confront him in later weeks, or maybe she's already realised she is dating a fool but hanging in there because, after all, being part of a BAFTA-winning show is quite fun? It's impossible to tell.
Anyway, the best scene of the night came when Ollie (who's so out of the closet, he's across the other side of the room squinting at the closet, thinking, "Is that a closet over there?") bumped into his recent ex Ashley while she was on a date Josh.
Ashley clearly didn't watch the last series in which Ollie split up with Gabriella because he liked men, and so it came as a total shock when the poor girl found out he was bisexual a few weeks ago.
Her frustrations boiled over, as she rebuked him for lying to her throughout their relationship, called him a twat and uttered a few more expletives, leaving Ollie looking bewildered - like a puppy that's just been kicked.
Meanwhile sweet, innocent-looking Ashley turned back to her stunned date, claiming she was an Aries and "gets angry". Yeah, that's right, blame it on the stars, love.
As is always the case in Chelsea, there was a lavish party at the end. Mark Francis' ball gave everyone a chance to wear extravagant masks (oh, Francis) and covered their scheming eyes (Lettice, Watson, I'm looking at you).
The episode ended with news of Spencer. It appeared he had run off to the Spanish city to sit by the side of a pool and blow kisses down the phone to Jamie. He told the Boy Wonder to get a "cool group" together – which for entertainment purposes must include Lucy, her current beau, his ex and Jamie's flirt pal, and all of Lucy's other enemies ­- and come join him.
Bring on next week's Catalonian calamity. Hasta la vista baby.
Will Gore is away.
CATCH UP!
Read all the latest on Made In Chelsea here
SUBSCRIBE TO & FOLLOW UK STYLE