The Huffington Post pictures of the day brings you the very best images from around the world chosen by our own photo editors, Elliot Wagland, Matthew Tucker and Tahira Mirza.
12/07/2013 18:49 BST
Train Derailed At The Bretigny-sur-Orge station, Paris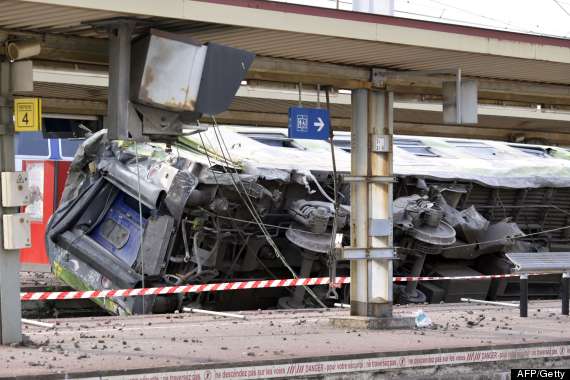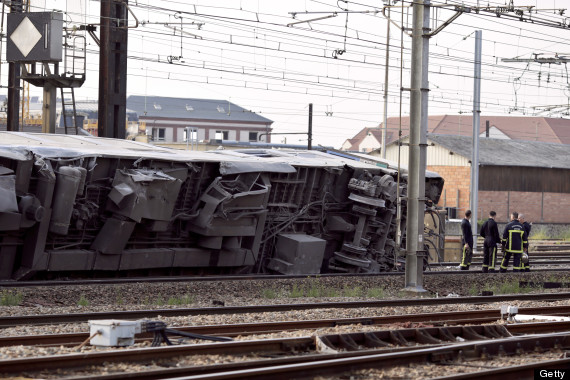 Pictures show a derailed wagon on the site of a train accident in the railway station of Bretigny-sur-Orge on July 12, 2013 near Paris. A train derailed in the Paris suburb of Bretigny-sur-Orge in an accident that caused 'many casualties', authorities said.
12/07/2013 16:42 BST
Royal Babies Descend On Hospital Photographers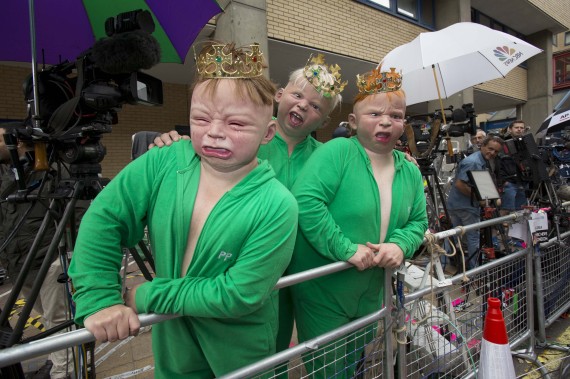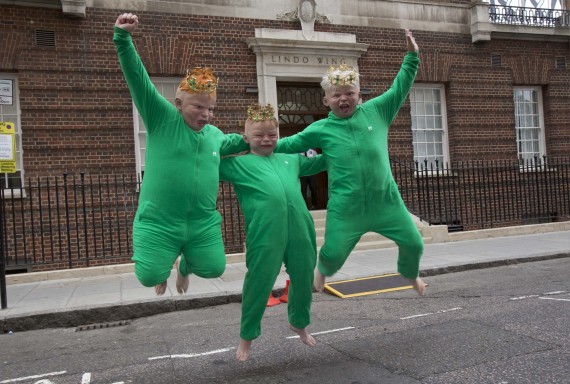 As the Twitter rumour mill went into overdrive yesterday suggesting the Royal Birth was imminent Paddy Power today sent three big babies to the Lindo Wing of St Mary's Hospital to cheer Kate along. The babies, dressed in onesies, each rocked a customised coloured tuft of hair to highlight the bookmakers hair betting market. While brown remains the favourite ginger has been heavily backed at 4/1.
12/07/2013 15:44 BST
Edward Snowden Pictured In Moscow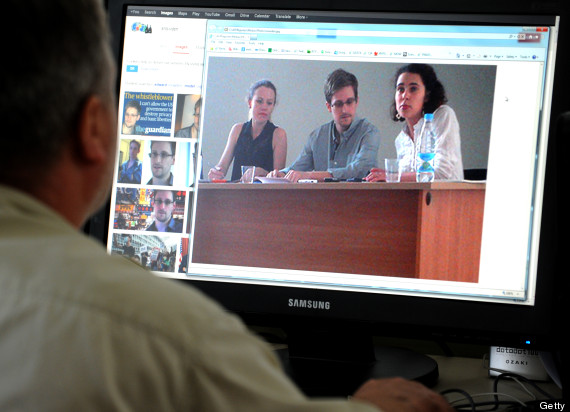 A man looks in Moscow on July 12, 2013, at a computer screen displaying a photo US National Security Agency (NSA) fugitive leaker Edward Snowden (C) during his today's meeting with leading Russian rights activists and lawyers at Moscow's Sheremetyevo airport where he has been stuck in transit for the last three weeks. Snowden met today around a dozen Russian rights activists, lawyers and other figures in a closed-door meeting at Moscow's Sheremetyevo airport, an official said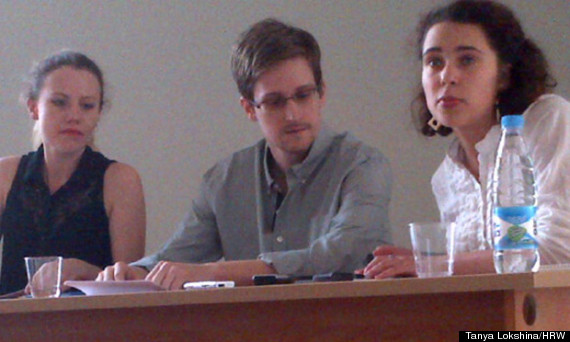 This image provided by Human Rights Watch shows NSA leaker, Edward Snowden, centre, attends a press conference at Moscow's Sheremetyevo Airport with Sarah Harrison of WikiLeaks, left, Friday, July 12, 2013..read full story here
12/07/2013 15:27 BST
Brainiac Live! Heads To The West-End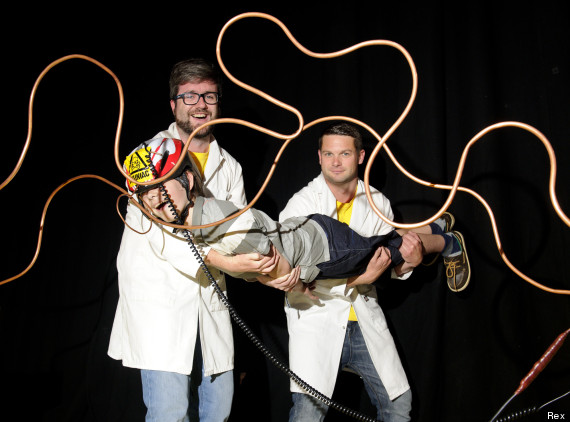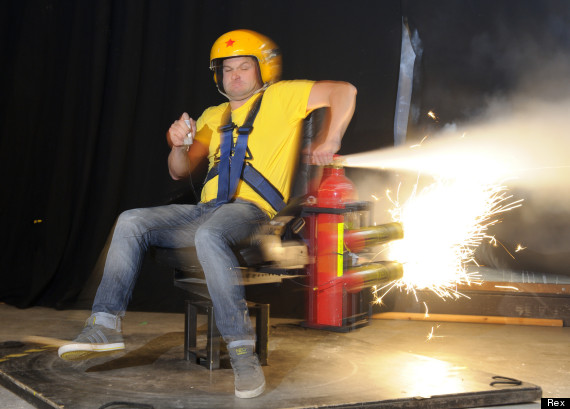 Brainiac Live! Science Abuse, the show that laughs in the face of science, is due to make its West-End debut at the Palace Theatre's first-ever children's show from the 18th July- 17th August.The show, which is based on the multi-award winning Sky One series made by ITV Studios, Brainiac, is hitting the stage with a bang. Literally. It will bring mischief and mayhem to the West End for 23 days across an incredible 50 shows during July and August. You can expect to see exploding dustbins, combusting microwaves, Airzooka challenges and lots of messy audience participation.
12/07/2013 13:10 BST
Arsenal Arrive In Indonesia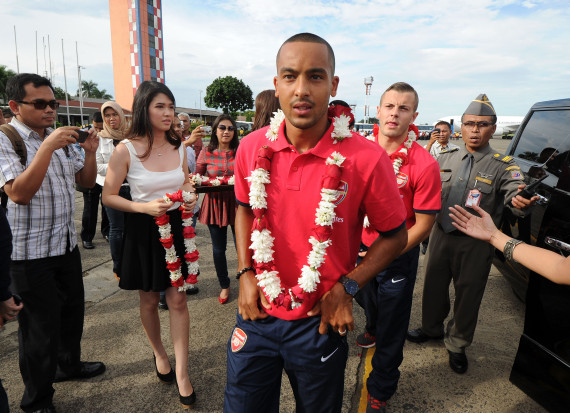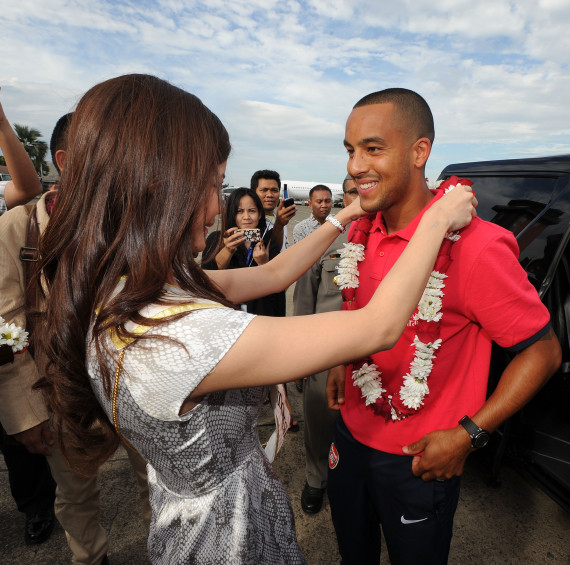 Theo Walcott of Arsenal FC arrives in Indonesia for the club's pre-season Asian tour on July 12, 2013 in Jakarta, Indonesia.
12/07/2013 13:01 BST
Bye Bye Bilbo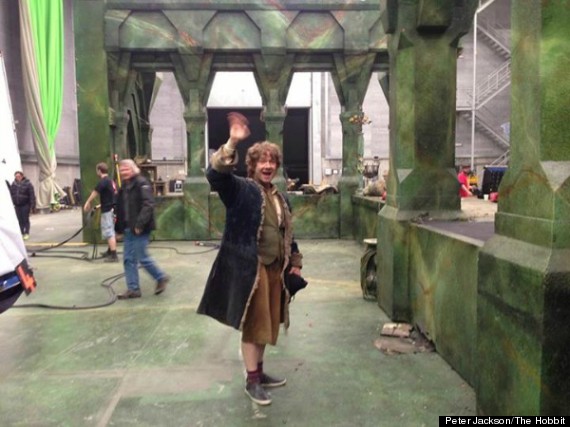 Tonight Martin Freeman finished his last shot as Bilbo Baggins. The end of an incredible two and a half years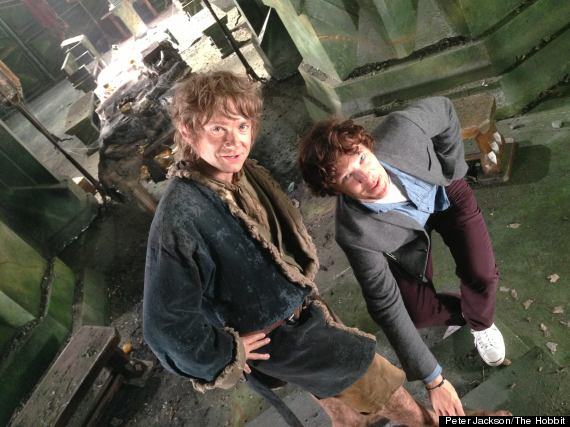 12/07/2013 12:38 BST
Doctor Who At York Maze An aerial view showing the shape of a Dalek cut into the York Maze which this year celebrates 50 years of the television series Doctor Who An aerial view showing the heads of two 'Doctors', William Hartnell from 1963 and Matt Smith from 2013, cut into the York Maze which this year celebrates 50 years of the television series Doctor Who. Colin Baker, the sixth Doctor, stands outside the Tardis during a photocall to launch the 2013 York Maze which this year celebrates 50 years of the television series Doctor Who.
12/07/2013 12:18 BST
A Bit Stiff Wayne?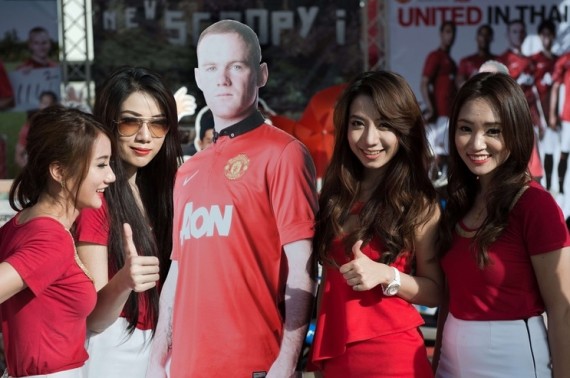 Thai promotion models pose for a photograph next to a life size card board photograph of Manchester United's football player Wayne Rooney in the fan zone village outside Rajamangala stadium ahead of United's training session in Bangkok on July 12, 2013. Wayne Rooney said he was "gutted" after a hamstring injury forced him out of Manchester United's Asian tour on the very first day with questions still unanswered about his future.
12/07/2013 11:41 BST
The Duchess Of Cambridge Does Demi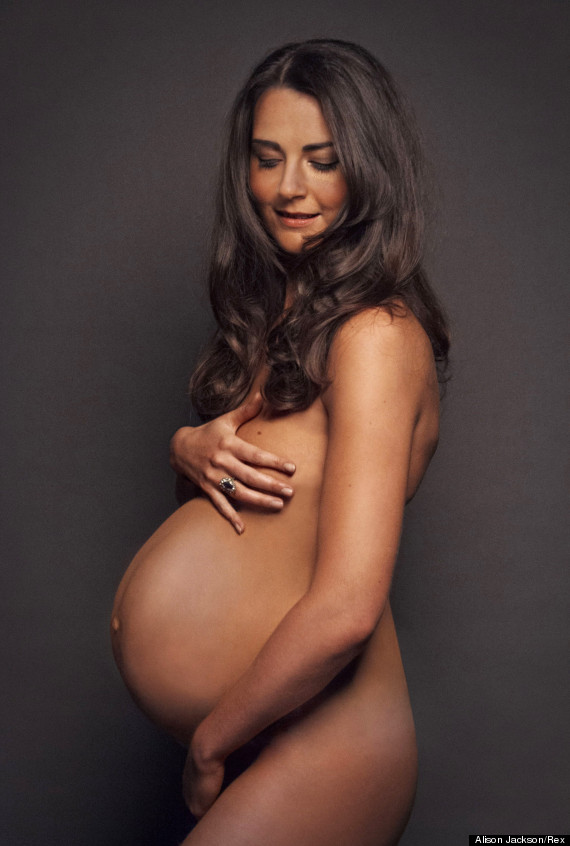 It would appear that the Duchess of Cambridge is the latest in a long line of celebrities to 'do a Demi'. A heavily pregnant Demi Moore famously posed on the front cover of Vanity Fair magazine naked and cradling her baby bump in 1991. And while it may have proven to be controversial at the time, since then it has been a pose replicated by many a celebrity. And now it's even got the Royal seal of approval with a pregnant Catherine stripping off to re-create the scene. Or has she? Take a closer look and the secret behind the photo is revealed - it was shot using a lookalike. The picture is the work of artist Alison Jackson, who is renowned for her elaborate and often believable 'spoof' productions, which give an imaginary behind-the-scenes insight into the world of celebrities and Royals. Read the story here.
For more details on Alison Jackson and her work, please visit www.alisonjackson.com. More information can also be found at https://twitter.com/alisonjackson and http://www.facebook.com/AlisonJacksonOnline.
12/07/2013 11:12 BST
Drummer Lee Rigby Funeral Service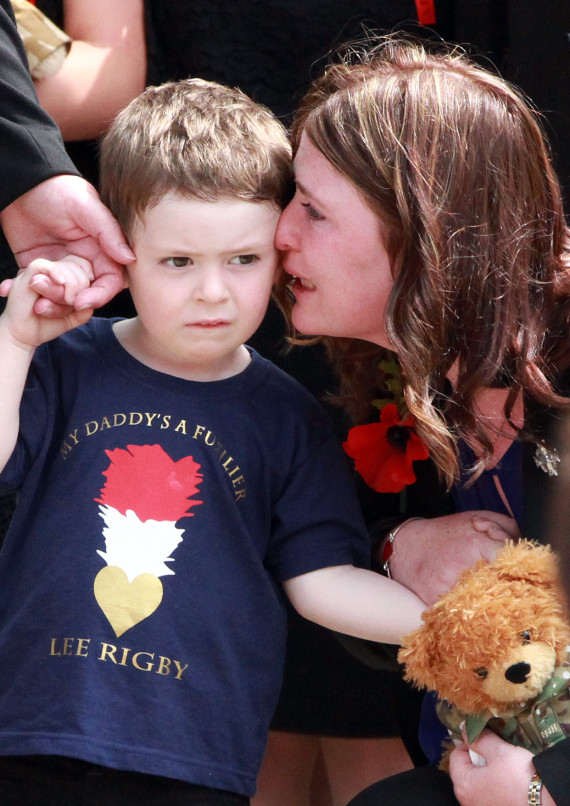 Family leave the funeral of Fusilier Lee Rigby at Bury Parish Church. Notably Lyn and Ian, his parents, Rebecca, his wife with Jack, his son and Aimee West, his girlfriend. David Cameron and Boris Johnson were also seen at the funeral.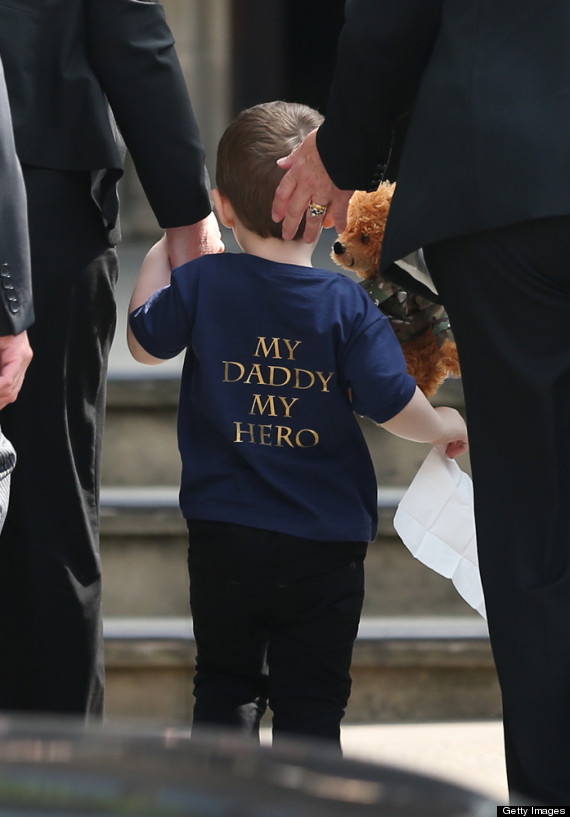 Two-year-old Jack Rigb arrives for the funeral service of his father Fusilier Lee Rigby at Bury Parish Church on July 12, 2013 in Bury, Greater Manchester, England. The Royal Regiment of Fusiliers soldier was killed whilst off duty near Woolwich Barracks in South-East London in May. Michael Adebowale and Michael Adebolajo are accused of 25-year-old's murder Prime Minister David Cameron (right) and Mayor of London Boris Johnson arrive for the funeral service of Fusilier Lee Rigby at Bury Parish church in Greater Manchester. Rebecca Rigby, wife of murdered Fusilier Lee Rigby arrives for his funeral service at Bury Parish church in Greater Manchester
SUBSCRIBE TO & FOLLOW UK DAILY BRIEF