The Huffington Post pictures of the day brings you the very best images from around the world chosen by our own photo editors, Elliot Wagland, Matthew Tucker and Tahira Mirza.
LIKE US ON FACEBOOK | FOLLOW US ON TWITTER
Share +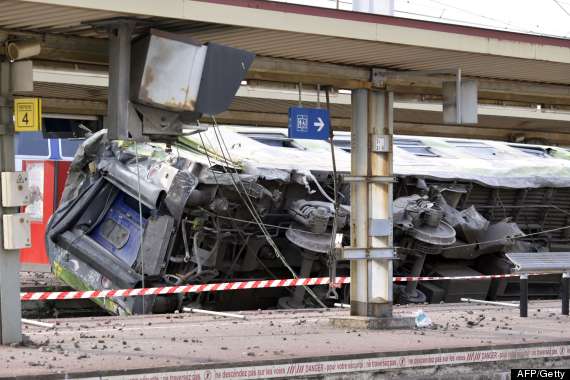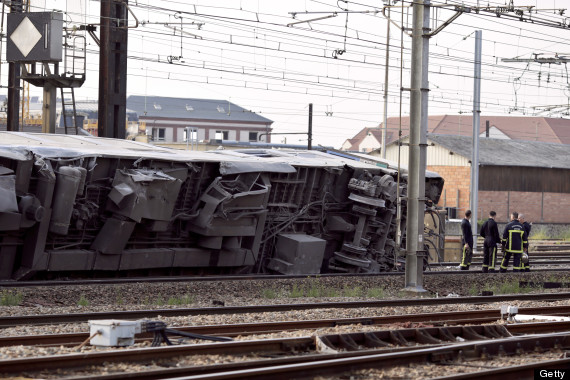 Pictures show a derailed wagon on the site of a train accident in the railway station of Bretigny-sur-Orge on July 12, 2013 near Paris. A train derailed in the Paris suburb of Bretigny-sur-Orge in an accident that caused 'many casualties', authorities said.
Loading Slideshow
Part of a train that derailed is seen, in Bretigny sur Orge, south of Paris, Friday July, 12, 2013. A packed passenger train skidded off its rails after leaving Paris on Friday, leaving seven people believed dead and dozens injured as train cars slammed into each other and overturned, authorities said. (AP Photo/Jacques Brinon)

People are evacuated after a train derailed, in Bretigny sur Orge, south of Paris, Friday July, 12, 2013. A packed passenger train skidded off its rails after leaving Paris on Friday, leaving seven people believed dead and dozens injured as train cars slammed into each other and overturned, authorities said. (AP Photo/Jacques Brinon)

Rescue workers transport a victim from a train that derailed in Bretigny sur Orge, south of Paris, Friday July, 12, 2013. A packed passenger train skidded off its rails after leaving Paris on Friday, leaving seven people believed dead and dozens injured as train cars slammed into each other and overturned, authorities said. (AP Photo/Jacques Brinon)

Rescue workers transport a victim from a train that derailed, in Bretigny sur Orge, south of Paris, Friday July, 12, 2013. A packed passenger train skidded off its rails after leaving Paris on Friday, leaving seven people believed dead and dozens injured as train cars slammed into each other and overturned, authorities said. (AP Photo/Jacques Brinon)

A picture shows a derailed wagon on the site of a train accident in the railway station of Bretigny-sur-Orge on July 12, 2013 near Paris. A train derailed in the Paris suburb of Bretigny-sur-Orge in an accident that caused "many casualties", authorities said. AFP PHOTO /KENZO TRIBOUILLARDKENZO TRIBOUILLARD/AFP/Getty

FRANCE-RAIL-TRANSPORT-ACCIDENT

Rescue workers arrive on the site of a train accident in the railway station of Bretigny-sur-Orge on July 12, 2013 near Paris. A train derailed in the Paris suburb of Bretigny-sur-Orge in an accident that caused 'many casualties', authorities said. AFP PHOTO /KENZO TRIBOUILLARD (Photo credit should read KENZO TRIBOUILLARD/AFP/Getty Images)

FRANCE-RAIL-TRANSPORT-ACCIDENT

Rescuers work on the site of a train accident in the railway station of Bretigny-sur-Orge on July 12, 2013 near Paris. At least seven people were dead and dozens injured after a speeding train split in two and derailed at a station in the southern suburbs of Paris, officials said. AFP PHOTO /KENZO TRIBOUILLARD (Photo credit should read KENZO TRIBOUILLARD/AFP/Getty Images)

FRANCE-RAIL-TRANSPORT-ACCIDENT

A picture shows a derailed wagon (C) on the site of a train accident in the railway station of Bretigny-sur-Orge on July 12, 2013 near Paris. A train derailed in the Paris suburb of Bretigny-sur-Orge in an accident that caused 'many casualties', authorities said. AFP PHOTO /KENZO TRIBOUILLARD (Photo credit should read KENZO TRIBOUILLARD/AFP/Getty Images)

FRANCE-RAIL-TRANSPORT-ACCIDENT

Rescuers work on the site of a train accident in the railway station of Bretigny-sur-Orge on July 12, 2013 near Paris. At least seven people were dead and dozens injured after a speeding train split in two and derailed at a station in the southern suburbs of Paris, officials said. AFP PHOTO /KENZO TRIBOUILLARD (Photo credit should read KENZO TRIBOUILLARD/AFP/Getty Images)

FRANCE-RAIL-TRANSPORT-ACCIDENT

Rescuers work on the site of a train accident in the railway station of Bretigny-sur-Orge on July 12, 2013 near Paris. At least seven people were dead and dozens injured after a speeding train split in two and derailed at a station in the southern suburbs of Paris, officials said. AFP PHOTO /KENZO TRIBOUILLARD (Photo credit should read KENZO TRIBOUILLARD/AFP/Getty Images)

FRANCE-RAIL-TRANSPORT-ACCIDENT

Rescuers work on the site of a train accident in the railway station of Bretigny-sur-Orge on July 12, 2013 near Paris. At least seven people were dead and dozens injured after a speeding train split in two and derailed at a station in the southern suburbs of Paris, officials said. AFP PHOTO /KENZO TRIBOUILLARD (Photo credit should read KENZO TRIBOUILLARD/AFP/Getty Images)

FRANCE-RAIL-TRANSPORT-ACCIDENT

Rescuers work on the site of a train accident in the railway station of Bretigny-sur-Orge on July 12, 2013 near Paris. At least seven people were dead and dozens injured after a speeding train split in two and derailed at a station in the southern suburbs of Paris, officials said. AFP PHOTO /KENZO TRIBOUILLARD (Photo credit should read KENZO TRIBOUILLARD/AFP/Getty Images)

FRANCE-RAIL-TRANSPORT-ACCIDENT

Men investigate on the site of a train accident in the railway station of Bretigny-sur-Orge on July 12, 2013 near Paris. At least seven people were dead and dozens injured after a speeding train split in two and derailed at a station in the southern suburbs of Paris, officials said. AFP PHOTO /KENZO TRIBOUILLARD (Photo credit should read KENZO TRIBOUILLARD/AFP/Getty Images)

FRANCE-RAIL-TRANSPORT-ACCIDENT

Rescue workers arrive on the site of a train accident in the railway station of Bretigny-sur-Orge on July 12, 2013 near Paris. A train derailed in the Paris suburb of Bretigny-sur-Orge in an accident that caused 'many casualties', authorities said. AFP PHOTO /KENZO TRIBOUILLARD (Photo credit should read KENZO TRIBOUILLARD/AFP/Getty Images)

FRANCE-RAIL-TRANSPORT-ACCIDENT

A picture shows a derailed wagon on the site of a train accident in the railway station of Bretigny-sur-Orge on July 12, 2013 near Paris. A train derailed in the Paris suburb of Bretigny-sur-Orge in an accident that caused 'many casualties', authorities said. AFP PHOTO /KENZO TRIBOUILLARD (Photo credit should read KENZO TRIBOUILLARD/AFP/Getty Images)

FRANCE-RAIL-TRANSPORT-ACCIDENT

A picture shows a derailed wagon on the site of a train accident in the railway station of Bretigny-sur-Orge on July 12, 2013 near Paris. A train derailed in the Paris suburb of Bretigny-sur-Orge in an accident that caused 'many casualties', authorities said. AFP PHOTO /KENZO TRIBOUILLARD (Photo credit should read KENZO TRIBOUILLARD/AFP/Getty Images)

FRANCE-RAIL-TRANSPORT-ACCIDENT

A picture shows a derailed wagon (C) on the site of a train accident in the railway station of Bretigny-sur-Orge on July 12, 2013 near Paris. A train derailed in the Paris suburb of Bretigny-sur-Orge in an accident that caused 'many casualties', authorities said. AFP PHOTO /KENZO TRIBOUILLARD (Photo credit should read KENZO TRIBOUILLARD/AFP/Getty Images)

A general view shows ambulances in front of the railway station of Bretigny-sur-Orge after a train accident on July 12, 2013 near Paris. A train derailed in the Paris suburb of Bretigny-sur-Orge in an accident that caused "many casualties", authorities said. AFP PHOTO /MARTIN BUREAUMARTIN BUREAU/AFP/Getty Images

A general view shows ambulances in front of the railway station of Bretigny-sur-Orge after a train accident on July 12, 2013 near Paris. A train derailed in the Paris suburb of Bretigny-sur-Orge in an accident that caused "many casualties", authorities said. AFP PHOTO /MARTIN BUREAUMARTIN BUREAU/AFP/Getty Images

A general view shows ambulances in front of the railway station of Bretigny-sur-Orge after a train accident on July 12, 2013 near Paris. A train derailed in the Paris suburb of Bretigny-sur-Orge in an accident that caused "many casualties", authorities said. AFP PHOTO /MARTIN BUREAUMARTIN BUREAU/AFP/Getty Images

A general view shows the train accident in the railway station of Bretigny-sur-Orge on July 12, 2013 near Paris. A train derailed in the Paris suburb of Bretigny-sur-Orge in an accident that caused "many casualties", authorities said. AFP PHOTO /MARTIN BUREAUMARTIN BUREAU/AFP/Getty Images