If there's such a thing as becoming stuck in a rut when it comes to practising yoga, it's safe to say I've been sticking to what I know for the last two years. I go to classes with an excellent teacher once a week, but because she's so great, I've remained loyal to her hatha routines and never tried a different style or a more advanced yoga lesson. Bikram? Too sweaty for me, thanks.
So - when I heard that one of London's newest five-star hotels was starting a wellness programme with daily yoga classes and weekend retreats, I swapped my local village hall for the Bulgari spa in Knightsbridge (I don't have to tell you which one has marble floors) and hoped I'd learn something new.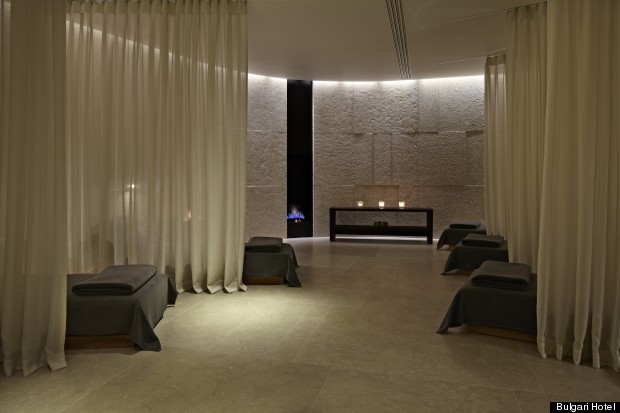 The spa has just opened its specially-designed, ultra swanky yoga studio but more importantly, the Bulgari has recruited some of the most experienced yoga teachers in the world. My class was led by Mercedes Ngoh (co-founder of the Yeotown Radiant Health Retreat) and there are eight more, equally sought-after names on the spa's schedule.
Aside from the beautifully designed studio (there was a fireplace, there were pieces of yoga equipment I had never seen before, there was a lot more marble), the best thing about this class was that there were only four people in it. I never realised how space can impact the way you feel whilst half way through a sun salutation.
Mercedes took us through a vinyasa flow practice (a fluid routine made up of traditional poses) and although our levels of yoga experience varied, the class wasn't too easy for some or too challenging for others. There were things I had come across before, but who knew that repeatedly kicking your legs up into a handstand could be so invigorating?
After 45 minutes of movement, the second half of the class was devoted to cooling down the body and clearing the mind. Mercedes' no fuss approach was surprisingly calming. I felt satisfied with having done a full workout, but I didn't feel tired or drained from it. Not even a broken down Tube train on my way home could spoil the positive outlook instilled in me. Whether you've done yoga before or not, there's a lot to be said for trying a new teacher in one very luxurious yoga studio.
More tried and tested treatments...
The Colour Rinse At Bleach Hair Salon
Eyelash Extensions At The Lash Bar
SUBSCRIBE TO & FOLLOW UK STYLE