A firefighter has died after being pulled from a major blaze in a shop in Manchester city centre, the fire service has said.
Stephen Hunt was part of a team responding to a fire at Paul's Hair World in Oldham Street when he and a colleague got into difficulties last night.
Both were rescued by firefighters and taken to hospital, but Hunt, who was 38-years-old, died, Greater Manchester Fire and Rescue Service said.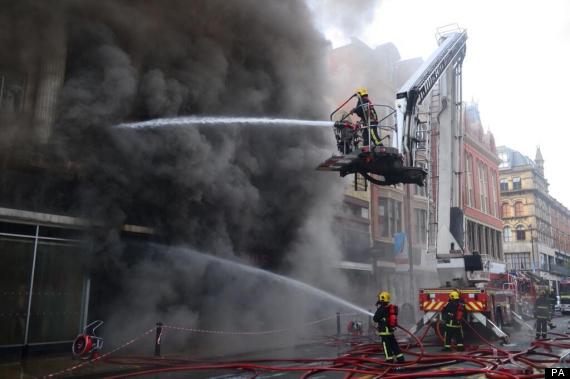 Arson has not been ruled out
County Fire Officer Steve McGuirk said: "We are devastated by the loss of one of our colleagues who has died in the line of duty.
"We never expect to lose a colleague in this way and it brings home the dangers that our firefighters put themselves in every day to keep the community safe.
"Stephen had been a dedicated firefighter since 2008 and we are all in a state of shock.
"It is a very sad day for Greater Manchester Fire and Rescue Service and all our thoughts are with Stephen's family and friends.
"Details of exactly what happened are unclear at this stage but will be investigated thoroughly and independently. The fire is believed to have started in the store room
"We have asked our neighbouring Fire and Rescue Services to immediately start an investigation into the incident and circumstances leading to this terrible tragedy. We are working alongside Greater Manchester Police to establish the cause of the fire.
"At this stage arson is not being ruled out.
"(The firefighters) are clearly devastated by the loss of their colleague and I pay tribute to their professionalism, courage and dedication - while in mourning they are continuing to keep the community safe."
The fire began around 2.50pm yesterday and is still being dealt with.
Firefighters are still trying to extinguish the fire and are expected to remain on the scene throughout today.
The second firefighter pulled from the blaze remains in hospital but his injuries are not thought to be life threatening.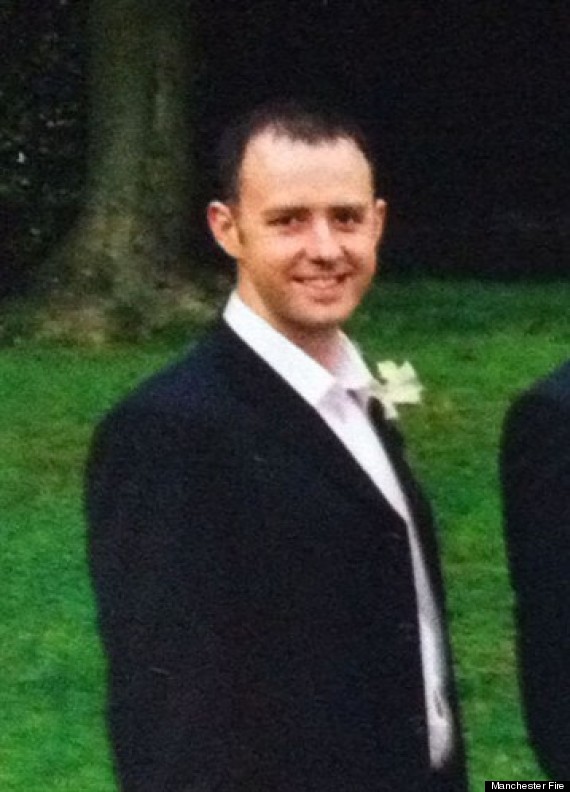 Mr Hunt's family released this photo of him
The pair got into trouble inside the building at around 8.35pm.
The fire, which started in the store room of the shop, has been particularly difficult to tackle due to the complex layout of the building and the amount of materials inside, a spokeswoman for the fire service said.
The owner and a passer-by had tried to put the fire out but were unable to and both were taken to hospital suffering smoke inhalation, she added.
By 4pm yesterday, 12 crews and more than 60 firefighters from stations around the county were tackling the fire which broke through to the first floor.
The crews who have been involved in tackling the fire have been offered support by the fire service.
A spokeswoman for the fire service said it will be working with the police and the Health and Safety Executive.
In a statement McGuirk thanked the ambulance service's Hazardous Area Response Ream who battled to save Mr Hunt's life.
SUBSCRIBE AND FOLLOW
Get top stories and blog posts emailed to me each day. Newsletters may offer personalized content or advertisements.
Learn more