The rise of spell check has probably been a net-gain for humanity - despite the best-efforts of evil Auto-Correct filters.
But while near-ubiquitous spell check means your emails are more legible than ever - and ensure that you're less likely to misspell ubiquitous - when it comes to writing in ink, you're still pretty much on your own.
Until now. Two German fathers have invented the world's first fountain pen with built-in spell check.
The digital device watches what you write and emits a subtle vibration when it thinks you've made an error. Aimed at school children and teachers, the idea is to help bring the benefits of digital writing to traditional paper-and-ink - and to help stop the decline of cursive.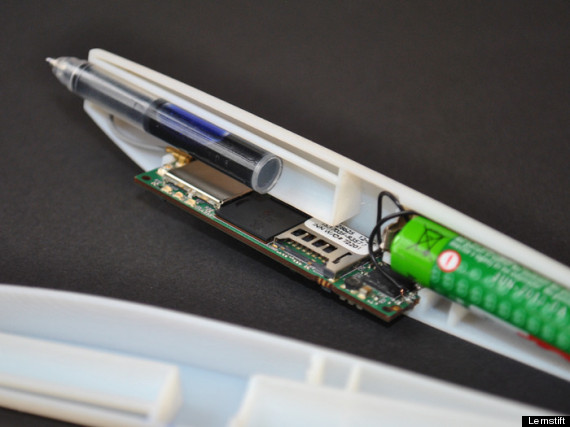 The inventors of Lernstift are looking for £120,000 in funding on Kickstarter to help bring the pen to the mass market. So far they've raised £16,000, and have about a month to go in their campaign. The team explains:
"Current digital pens use optical sensors to pick up the writing movements and digitalize the words or sketches for computer use. Some of them require external devices. Others only work with specialty paper.

Lernstift is different. It requires none of those. It's the first truly intelligent pen because all the tech and software is built-in. It can be used with apps but it doesn't depend on them."
The current prototype uses a Linux computer built into the casing of the pen, run off a single AAA battery. It contains a specially-designed motion sensor to help track the path of your writing, and accurately know when you've made a mistake - either in spelling, or the shape of your handwriting. It works in English and German. And unlike existing 'Smart Pens', like Anoto's Livescribe, it doesn't require special paper either. The next models will be smaller, more reliable and we hope built to withstand the frustrations of constantly harassed handwriting students.
If you're intrigued, head over to Kickstarter for more details on the pen and to read the full business plan for the device. A pledge of £99 will get you one of the pens when they eventually hit the production line.
Loading Slideshow
HTC One M8

The 2014 update to the HTC One builds on the same hardware features that won the original such a fanatical response, but keeps the essential DNA intact. The massive front-facing speakers are 25% louder, the UltraPixel camera adds a second lens for depth perception (so you can refocus an image after shooting it), and there's a 5-megapixel 'Selfie' front facing lens too. [<a href="www.huffingtonpost.co.uk/2014/03/26/htc-one-m8-review_n_5035163.html?1395847758" target="_blank">REVIEW</a>]

Sony Xperia Z2

Sony's latest flagship Xperia smartphone is a beautiful, thin and waterproof delight. It packs in a 20-megapixels still camera capable of 4K video, a sleeker form factor, a far better screen and built-in noise cancellation technology.

Samsung Galaxy S5

This year's Galaxy S adds water resistance, a slightly larger screen, a 16-megapixel camera and a heart-rate sensor into what was already a market-leading, powerful and sleekly designed device. It doesn't rock the boat too much, but it didn't need to. This is still up there with the very best Android phones.

Google LG Nexus 5

The new Nexus 5 is based on the internals of the LG G2 - which means you get the same Snapdragon 800 processor, as well as the full version of Google's new Android 4.4 KitKat OS, which integrates SMS messages into Hangouts, freshens up the design and adds new features under the hood. The camera is still a little lacking, while the design is functional rather than beautiful, but at £299 off contract it's still a steal.

iPhone 5C

The 5C was rumoured to be Apple's 'budget' iPhone. It isn't - and not only because it isn't that cheap. The "proudly plastic" 5C comes in five colours (see what they did there) <a href="http://www.huffingtonpost.co.uk/2013/09/10/iphone-5c-uk-pictures-release-date_n_3899557.html?utm_hp_ref=uk-tech" target="_blank">but has the same internals, screen and camera as the iPhone 5.</a> It's essentially the same beautiful, high-end phone you already know and love, in a more colourful (and potentially divisive) design. As such it's hard to see how Apple won't sell a billion of them.

Nokia Lumia 925

<a href="http://gdgt.com/nokia/lumia/920/" target="_blank">The Nokia Lumia 925</a> has the same great design and attention to detail we've come to expect from Nokia, but with some crucial upgrades from the 920 including a thinner, all-metal design and an improved camera.

iPhone 5S

With the same ultra-clear Retina display as the iPhone 5, but now with an <a href="http://www.huffingtonpost.co.uk/2013/09/10/iphone-5s-uk-pictures-release-date_n_3898775.html?1378818683&utm_hp_ref=uk-tech" target="_blank">added fingerprint sensor</a>, a seriously impressive 64-bit A7 chip, an improved camera and a new gold design option, this is the best iPhone ever made. And with its consistent market-leading app selection, easy-to-use OS and delightful design, it's hard to argue against it being one of the very best gadgets ever made too.

LG G2

The LG G2 is an extremely high-end 5-inch, 1080p Android 4.2.2 smartphone whose major distinguishing feature is that it has three buttons on the back of the device, which are normally found on the sides. The G2 has its camera button and volume rocker on the rear, which for many people is enough to justify the purchase alone. It also has excellent battery life for this class of device.

Samsung Galaxy Note III

The Note III is huge. It's got a 5.7-inch screen, though with the same 1080P resolution as the Note II. It adds a new leather back panel, which gives it an 'office' feel in line with the productivity-plus-stylus theme of the device. It also adds a Snapdragon 8000 quad-core processor, some new software enhancements and a few new S-Pen functions into the mix. If you're looking for a giant note-taking phone, this is still your best bet.