You may want to halt the foot about to crush that snail - after the anti-ageing fire facial, the placenta face cream and the bull sperm hair treatment - the latest to join the club of strange beauty treatments is the live snail facial.
What, we hear you ask?
A new facial has just launched in Japan (where else?) that involves live snails crawling all over your skin, as the mucus has a powerful mix of antioxidants, hyaluronic acid and proteins. All of which help the skin to retain moisture, soothe any inflammations and even act as an exfoliant for dead skin cells.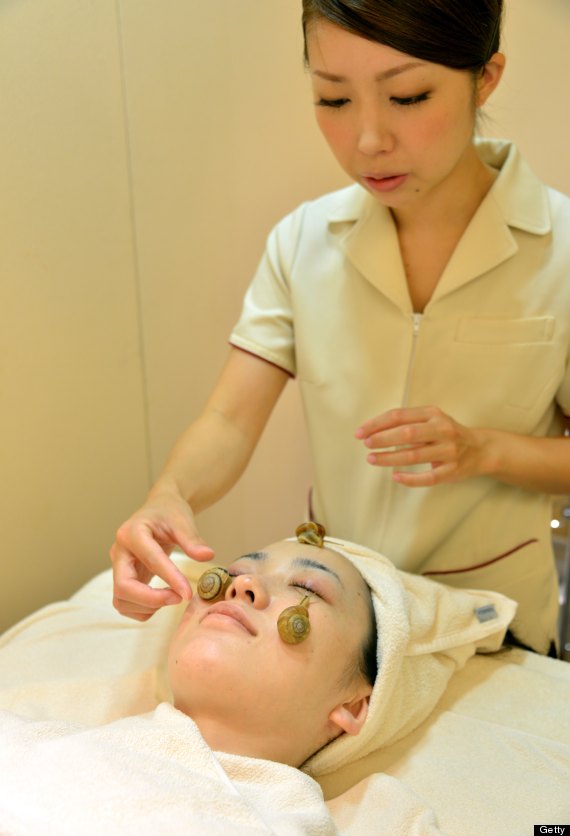 Once placed on the face, the snails are given free reign to roam on the skin. The Daily Telegraph quoted Yoko Minami, sales manager at the Clinical Salon, the flagship outlet of Ci:z.Labo, a nationwide spa operator and affiliate of Japan's biggest medical cosmetics company as saying: "This salon is the only place in Japan where you can try a live snail facial," said
"Snail slime can help the recovery of skin cells on the face, so we expect the snail facial to help heal damaged skin."
But - these snails aren't just plucked at random from the garden, they are bought from an organic farm and fed a better diet than most of us - carrots, spinach and Swiss chard. The treatment lasts 60 minutes and is called the Celebrity Escargot Course. After washing the face, a therapist places the snails on the skin and then follows with massages, electrical pulse machines and creams which have snail mucus in them.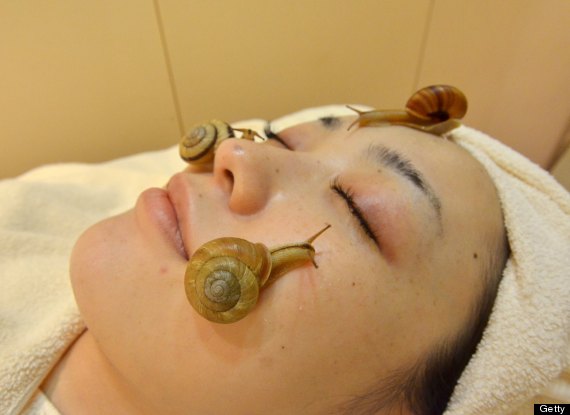 Snail creams have been popular in Korea and Japan for years - earlier this year, The Daily Mail revealed Katie Holmes apparently used snail products to improve her complexion.
These creams are already available in the western market - a cream called Elicina, which hails from Chile and is produced in Portugal, contains snails and is said to help with stretch marks and sun spots.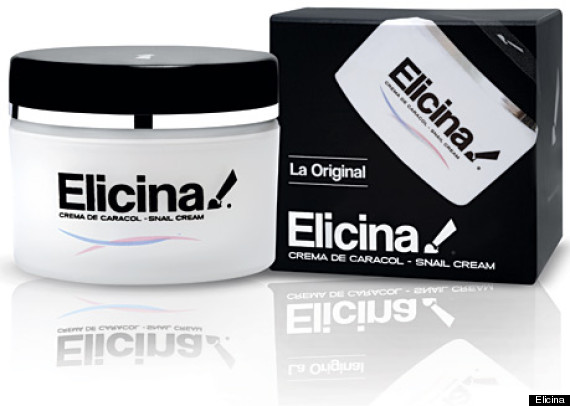 The beauty properties of snails also goes back as far as the Ancient Greeks, when Hippocrates was said to recommend crushed snails to soothe inflamed skin.
Beauty products with hyaluronic acid are increasingly popular, as it helps to hydrate the skin (it can hold up to 1,000 times its own weight in water) and is effective at easing the appearance of scars.
Would you try it?
FOLLOW HUFFPOST UK LIFESTYLE ON TWITTER | LIKE OUR PAGE ON FACEBOOK
Bizarre Anti-Ageing Treatments
Carefully collected snail's slime is a potent anti-ageing ingredient that helps reduce scars, stretch marks and acne, as well as smoothing out wrinkles. The rich snail secretion is packed with regenerative compounds. Now this anti-ageing treatment isn't as unusual as it sounds, as it's already a staple beauty product in Britain's Holland and Barrett.

Rendered from from the fat of an emu bird, emu oil is a lesser known anti-ageing oil that has been used for centuries in the Aboriginal communities for its healing powers. Mixed with eucalyptus oil, it containing bundles of vitamin E and A, the oil's antioxidants help repair wounds and thickens skin against ageing. The cream also soaks moisture into the skin, which avoids dehydrated, saggy looking skin.

Definitely not one for vegetarian beauty fans, but pigs trotters are a popular anti-ageing solution in Japan, as the trotters are a great source of collagen - the vital ingredient for boosting elasticity in the skin.

The bee sting venom facial doesn't involve a her of bees pricking your face, but instead, the venom from the sting is transferred into a gel and then rubbed on the face as part of an intensive facial. According to researchers in South Korea, the venom helps prevent the skin from sun damage and restores collagen production.

Spermine is a powerful antioxidant in human sperm and some beauty goers swear by its anti-ageing super powers. This treatment first surfaced in New York where the 'cream' is applied over the skin and then ultrasound and infrared light is used to penetrate through the skins lipid barrier. It's believed this 'sperm facial' leaves the skin looking blemish and wrinkle-free. And you don't have to have the treatment done in a salon, as a Norwegian company, Bioforskning, sell sperm-based products.

Breast milk soap claims to be a great alternative to ordinary soap as it doesn't dry up the skin and is good for reducing the appearance of facial scarring and wrinkles. However, the only snag is - it's best to make the soap yourself if you're breastfeeding. The ingredients? Olive oil, palm oil, coconut oil, heat-treated breast milk, and purified water.

Possibly the wackiest of them all - the 'Face Slimmer', originates from Japan but is (unsurprisingly) yet to take off in the UK. This rubbery-looking mouthpiece, created by cosmetic company Glim, is designed to keep the facial muscles pert by keeping the cheeks and mouth stretched in a permanent 'trout pout' position. The mouth guard comes with various face exercise ideas to keep the dreaded sagging jowls away. Image: Flickr/ cool3c

A treatment developed by British biomedical company Intercytex, created an anti-ageing treatment using microscopic skin cells from babies' foreskins. This unusual treatment is believed to rejuvenate and restructure ageing and damaged skin, by repopulating the lower layers of skin with millions of healthy skin cells from the foreskin that are packed of collagen and human dermal fibroblasts.

This alternative and somewhat painful-looking anti-ageing massage is designed to stimulate the blood flow, creating a youthful glow. The 'platza' treatment involves the bare back being thwarted with a 'broom' made of oak-leaf branches. The harsh brushing technique is also said to help tone up muscles and invigorate sluggish energy levels.

It's long been known that the placenta has great nutritional benefits (who can forget the 'placenta pills') but it is also available in a face cream too. Skincare company Lanocrème sell a range of placenta-based creams that promise to nourish the skin using its 56 bio-stimulant proteins that help encourage skin replenishment.