Ejected 'Big Brother' contestant Daley Ojuederie appeared on spin-off show 'Bit On The Side' on Tuesday night to face questions about the 'aggressive and threatening' behaviour he displayed towards fellow housemate Hazel O'Sullivan, which saw him kicked out.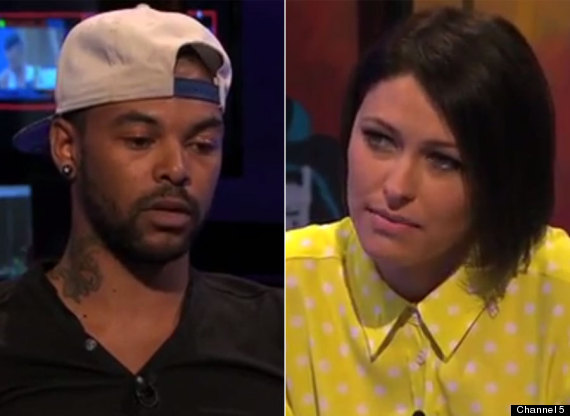 Daley was interviewed by Emma Willis on 'Big Brother's Bit On The Side'
However, many viewers of the show accused host Emma Willis of being too soft on the shamed housemate, who had grabbed Hazel by the neck and pinned her on a bed during a drunken 'playfight', in which he told her to "respect your f**king elders, before I nut you one".
Emma told Daley at one point during the interview, "Hazel was willing to flirt till her heart was content. This is in no way a 'This is all your fault'," leaving some Twitter users angry.
@martin_morgan

Martin Morgan
I'm angry how
#BBBOTS
are trying to condone Daley's behaviour, Hazel didnt ask to be treated that way. We see 1 hour BB see's all
#TeamHazel
@JosephineFormby

Josephine Formby
#bbuk
Daley's interview was irresponsible. Where was the simple and clear message that there can never be any excuse for such behaviour?
@Purplenightowl

Constance Lally
Watch the interview in full by clicking here and vote below...
An emotional Daley apologised during the interview, but refused to comment on Hazel, who he branded the "most devious person" upon leaving the house, after finding out that she had told Big Brother she found his behaviour threatening.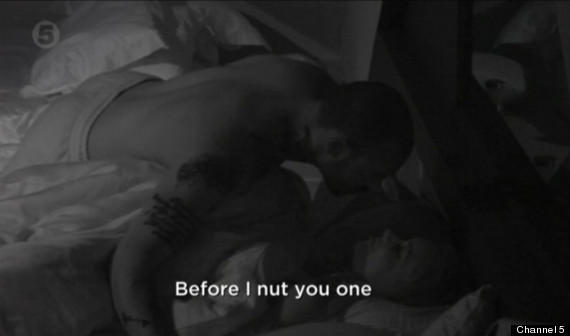 Daley was removed after an incident with Hazel on Sunday night
"If I've come across as offensive to any woman out there, then I'm sorry... I'm not malicious, I would never ever do anything to a woman or disrespect a woman in that way," he said.
"I want people to make their own mind up about her (Hazel) and judge what they see, and then if I'm in the wrong, I'm sorry. I don't even want to waste my breath... on chatting her name.
"I've come here to apologise... to anyone I've offended, I don't really care to say anything about Hazel."
Gina Rio, 24, from central London The socialite claims to live off a £10,000 per month allowance and is said to have lived at the Savoy Hotel in London for six months. She dropped out of a fashion and marketing course at Hertfordshire because the other students "didn't party enough". She would like to have her own chat show and styles her rapper boyfriend Ecksell.

Daley Ojuederie, 28, from Notting Hill, London A professional middleweight boxer for the past decade, he has yet to lose a fight. He has been with his current girlfriend for nearly eight months. Says he is a "clean freak" and would be annoyed by unhygienic housemates and anyone with bad manners.

Charlie Travers, 26, from south-west London A receptionist whose mum Jackie - with whom she is supposed to have a love/hate relationship - is accompanying her into the house. She also claims to be confrontational and aggressive and says she is a "daddy's girl".

Daniel Neal, 33, from Brentwood, Essex A detective constable who has worked in child abuse cases which have included working on Operation Yewtree, the investigation launched in the wake of the Jimmy Savile scandal. He has a 13-year-old son from a previous relationship and now lives with a male partner, but says he is "not a typical gay".

Hazel O'Sullivan, 24, from Dublin, Ireland. The newly single glamour model used to date Irish rugby player Fergus McFadden. She enjoys hanging around celebrity haunts in Dublin and has had a spat with former Big Brother contestant Georgia Salpa. Describes herself as "snappy and irritable".

Jackie Travers, 59, from Berkhamsted, Hertfordshire A divorcee dance instructor, she says she is "classy but not a snob". The mum-of-two says spending time with daughter Charlie in such a confined space will be a challenge, but one to which she is looking forward. She featured on TV in the 1970s when she was part of dance troupes which took part in The Two Ronnies and editions of Seaside Special.

Sallie Axl, 26, from Liverpool The model and DJ claims to have slept with more than 70 women and a string of celebrity men but says she dumped her last boyfriend after she found him checking her phone. She says her biggest achievement is travelling around the world with her daughter.

Sam Evans, 23, from Wales The stockroom assistant was born with around 80% hearing loss and wants to be a role model for other deaf children who are embarrassed about wearing hearing aids. He compares himself to cockney wheeler-dealer Del Trotter and has played for the Wales and Great Britain deaf football teams and says he is not always able to follow conversations properly.

Callum Knell, 28, from Rochester in Kent The children's sports coach said he is worried his housemates will be annoyed by his "very good looks" but thinks he will win any arguments because he is so intelligent, which he says is his "trump card". He is single and says he is not looking for love in the house but will definitely "crack on" with someone.

Dexter Koh, 28, from Liverpool The self-styled celebrity publicist claims to have worked as a male escort, magician and strip club manager before setting up a PR firm in the East End of London. He hit the headlines last year when he claimed to have blown six-figure sums on escort girls and drinks in upmarket clubs and describes his love life as "complicated".

Jack and Joe Glenny, 18, from Cheshunt in Hertfordshire The pair of identical twins have the same job - as supermarket checkout assistants - and share everything from hobbies to the same bedroom. They love musicals and idolise Richard Branson because as Jack says: "He is dyslexic and now he has an island."

Jemima Slade, 41, from London The 41-year-old runs a dating site for gold diggers and also works as a hairdresser. The mother-of-one said she will miss her family and plans to deal with it by bonding with her "new family" in the house, but says she does not want to live with smelly people, lazy people or smokers.

Sophie Lawrence, 20, from Canning Town in east London The dental nurse comes from a Gypsy family who run a scrapyard business, has a black belt in karate and admits she has a temper. But she does not take herself too seriously, saying: "I have webbed feet and I'm always joking about them. You have to laugh at yourself."

Wolfy Millington, 20, from Bolton but now lives in Falmouth, Cornwall The student is a practising Shamen who says she connects "with earth through love and harmony". She says she can talk to animals and also works as a mackerel fisherwoman and says she has "a passion for fishing which borders on the erotic".

Michael, 29, Cork Michael entered the house as a postman but is actually a professional actor working for Big Brother, known as the 'People's Puppet'. "I've been recruited by Big Brother to work for you. I'm not the fun-loving happy-go-lucky postman." He told viewers he was in the house to "spin a web of secrets and lies" and said: "You control me. You want to know what the secret is? You're looking at it."
Nikki's '"who is she?" rant

Jade throws a strop over her verruca

Kinga and the wine bottle

Michelle doesn't want her 'chicken Stu' taking a naked jacuzzi

Craig confronts Nasty Nick

Alex dances behind the door

FIGHT NIGHT!

Craig's unrequited love for Anthony

Josie: "Everytime I'm feeling sad, I just think of that woman who got her face ripped off by a chimpanzee"

Chanelle's diary room tantrum

Nadia needs her cigarettes

Tim: "Comprendez?"

The bedsit twist

The box task

Grace throws water over Suzi as she is evicted

Kemal throws water over Saskia and Maxwell: "At least someone got wet tonight"

Helen and Paul's romance

Nikki throws a strop over her iPod not working

Ahmed smashes plates in a fit of rage

Davina strips to her bikini

Aisleyne to Nikki: "You better know yourself if you're talking to me, little girl."

Sandy goes over the roof

Michelle sings 'Pie Jesus'

Brian wins

Mickey eats a chilli

Nadia's deckchair collapses

Emily says the 'n word'

Dennis spits in Mo's face

The electric shock task

Naked pool party