Looking to spice things up in the bedroom? Why not make like the rest of Britain and try role play on for size?
According to research, 35% of Brits opt for role play when looking to boost their sex lives with more than half of them choosing to dress up in uniform.
The study was conducted by online pharmacy UKMedix, as part of research into non-medical methods used to improve sex lives in Britain.
A total of 1,712 people took part, all of whom were aged 18 and in a co-habiting relationship.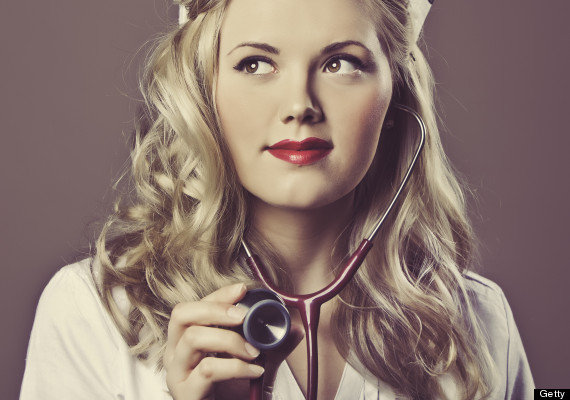 The survey asked: "Have you ever used any 'special' methods to boost your sex life with your current partner?"
To which more than 62% replied: "Yes"
Most popular sex-life boosters:

Role playing- 35%
Sex Toys- 34%
Exhibitionism (Loud/ Outdoor/ Public Sex)- 28%
Celibacy/ 'Sex Breaks'- 25%
Open Relationship/ Threesome- 21%
Interestingly, 19% of role-players claimed that they or their partner impersonated the other's most-fancied celebrity. Is this us or is this a bit odd?
"It seems that role playing is potentially more popular than some may think in bedrooms around the UK, with donning your partner's favourite style of uniform topping the charts," Sarah Bailey of UKMedix.
"Whatever method you employ, as long as both yourself and your partner are comfortable with it, that's all that matters.
"As for which celebrities are most commonly impersonated in the bedroom; our bets would have to be on George Clooney and Kelly Brook!"
What methods have you used to boost your sex life? Let us know in the comments below
Take a look at the next generation of sex toys, designed by Ann Summers
New Sex Toys On the Block
It may look like a glove belonging to an alien, but this was the toy that gave 47-year-old Kim Smith her first orgasm.

You may never call someone sweetheart again, but this baby is waterproof, has an accelerator and is rechargeable. Ann Summers says: "It may look gentle but its silicone heart packs a powerful punch."

The sex toy for beginners, they say, and it even comes with a remote control. If you don't fancy a solo mission it's great for couples and isn't too daunting.

This discreet little toy is the cheapest of the bunch and is good for a beginner. You clip it to your underwear and set it on buzz. Happy travels!

Equestrian Emily was inspired to create a toy that users could rock on (that just sounds 50 Shades of Wrong to us), but for those of us who don't ride horses, you may find this does the trick.

We all know about the Rampant Rabbit but this is like the T-1000 version. Called the 'expanding' Rampant Rabbit, it was created by Kim Axford who wanted a toy that could expand and contract on request. It has seven speeds and a six-inch shaft.

Jill Demirellowres and Margaret Holyland wanted to design a toy that could massage and vibrate different areas of the body - and this mini bullet can be used above the waist or below. It has a multi-speed settings and if you are woman enough, you can even wear it in your bra outdoors and set it to vibrate.