Being Brad Pitt's body double sounds like a pretty cool job, but it turns out the pay isn't all that great...
A Scot who played the Hollywood actor's body double in 'World War Z' has revealed he earned a measly £4.44 an hour for the role.
That's compared to the comfortable £9million salary for the zombie horror flick that Pitt earned.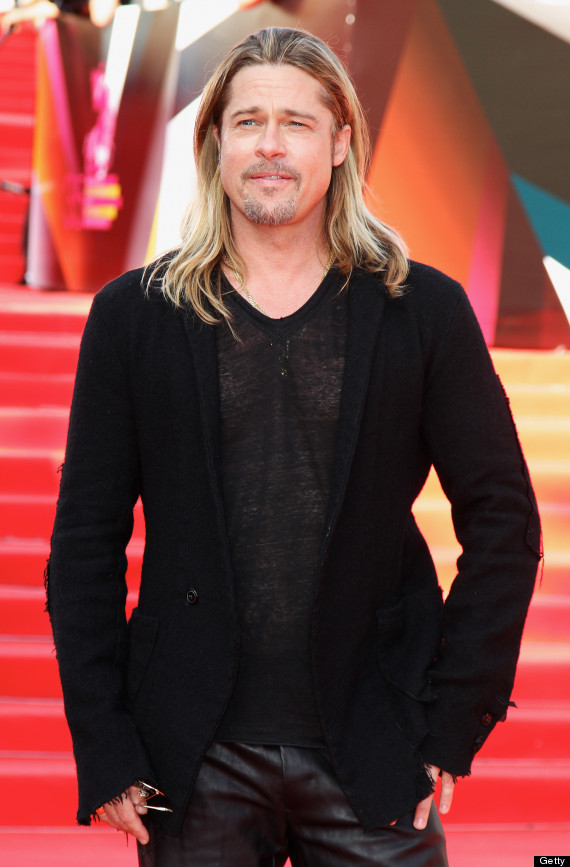 Brad Pitt at the World War Z premiere
Solicitor David Paterson, 26, who has all of Pitt's vital statistics told the Daily Record: "I basically had to be Brad for the day and copy everything he did on screen... I was paid £80 but it wasn't anything to do with the money. I'm not too fussed about that."
Paterson's job included running around a Kwik Save in Glasgow's Cardonald as a United Nations worker in the zombie apocalypse thriller.
The much-vamped, equally-derided blockbuster has defied much gloomy expectation and made a respectable return at the box office, no doubt helped by Pitt's tireless publicity mission around the world, with Angelina Jolie and family by his side. Brad Pitt waves as he leaves the set of World War Z near George Square, Glasgow.

There were those who calmly predicted 'Z' would turn out to be the biggest film flop ever, after re-writes, re-shoots and a whopping £170 million got spent on bringing it from book to screen.
But it's earning its money, and the hot news is there's a sequel on the way.
So if Brad Pitt won't have to wipe egg from his face after all, who are the Hollywood dreamers really left licking their wounds after thinking big and scoring small?
Here's the current top ten list of film history's biggest flops (with figures adjusted to 2013 levels for ease of comparison). The good news is the list doesn't take into account DVD sales that might... just... have rescued these Hollywood heads. And the bizarre news is that, from the trailers alone, some of them look half-decent. As William Goldman told us, in Hollywood, no one knows anything. Go figure.
Top Ten Biggest Film Flops Ever
American science fiction action film starring Josh Lucas, Jessica Biel, Jamie Foxx, Sam Shepard, Joe Morton and Richard Roxburgh. The film was directed by Rob Cohen, director of The Fast and the Furious and xXx. The film follows three top fighter pilots as they join a project to develop an automated robotic stealth aircraft.

American epic Western film portraying a fictional dispute between land barons and European immigrants in Wyoming in the 1890s. The cast includes Kris Kristofferson, Christopher Walken, Isabelle Huppert, Jeff Bridges, John Hurt, Sam Waterston, Brad Dourif, Joseph Cotten, Geoffrey Lewis, David Mansfield, Richard Masur, Terry O'Quinn, Mickey Rourke, and, in his first film role (uncredited), Willem Dafoe. Written, directed and produced (in part) by American film director Michael Cimino.

American action film written, produced and directed by The Wachowskis. A live action adaptation of the 1960s Japanese anime series Speed Racer, it stars Emile Hirsch in the title role, with supporting roles played by Christina Ricci, John Goodman, Susan Sarandon, and Matthew Fox.

Starring Warren Beatty, Diane Keaton, Goldie Hawn and Garry Shandling and directed by Peter Chelsom. It is a romantic comedy in which Beatty plays an architect, with Keaton as his wife and Hawn and Shandling as their best friends.

American historical fiction action film starring Antonio Banderas as Ahmad ibn Fadlan and Vladimir Kulich as Buliwyf. It is based on the novel Eaters of the Dead by Michael Crichton. Directed by John McTiernan and an uncredited Crichton.

2011 American 3-D motion capture animated science fiction comedy film co-written and directed by Simon Wells, and based on the Berkeley Breathed book of the same title. The film is centered around Milo, a nine-year-old boy who finally comes to understand the importance of family, and has to rescue his mother after she is abducted by Martians.

Action–comedy adventure film directed by Breck Eisner, is based on the best-selling book of the same name by Clive Cussler. It stars Matthew McConaughey, Steve Zahn and Penélope Cruz.

Science fiction comedy film directed by Ron Underwood and starring Eddie Murphy as the title protagonist.

American war film about the Battle of the Alamo during the Texas Revolution. The film was directed by Texan John Lee Hancock, produced by Ron Howard, Brian Grazer, and Mark Johnson, distributed by Touchstone Pictures, and starring Dennis Quaid as Sam Houston, Billy Bob Thornton as Davy Crockett, and Jason Patric as Jim Bowie.

Romantic comedy action adventure film directed by Renny Harlin. The film stars Geena Davis, Matthew Modine, and Frank Langella. It is listed in the Guinness Book of World Records as the biggest box office flop of all time. It was the last film Carolco Pictures produced before it went bankrupt.