George Clooney is reportedly Desperate to make Eva Longoria his next girlfriend, according to reports.
The Hollywood actor - who recently split from Stacy Keibler - is said to have developed a crush on the former 'Desperate Housewives' star, despite the fact she is currently dating Ernesto Arguello, who she met on the set of a reality TV show she produced last year.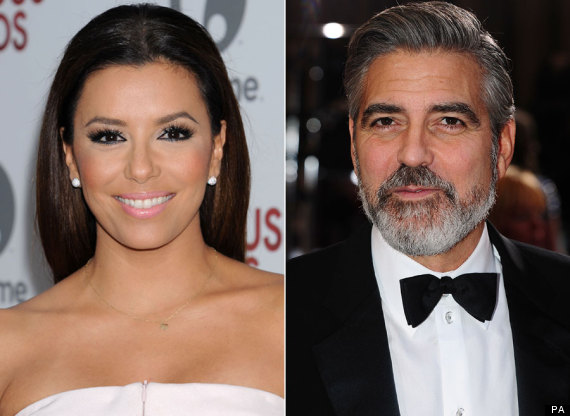 Eva Longoria and George Clooney
According to The Sun, George and Eva have enjoyed a string of secret 'dates', after becoming close during Barack Obama's presidential campaign last year.
A source told the paper: "They've become even closer just recently and George is smitten. Chemistry is palpable whenever they're in the same room and mutual friends have been backing the union, saying what a great couple they'd make.
"They're both really smart and have very passionate political beliefs in common. It's rare to find someone of a similar fame level and of equal intelligence. It's the full package."
They added: "Eva is enjoying her summer fling in the States, but she's flattered by George's attentions."
Us Weekly also reports that the former 'ER' hunk pursued Eva before he dumped ex Stacy.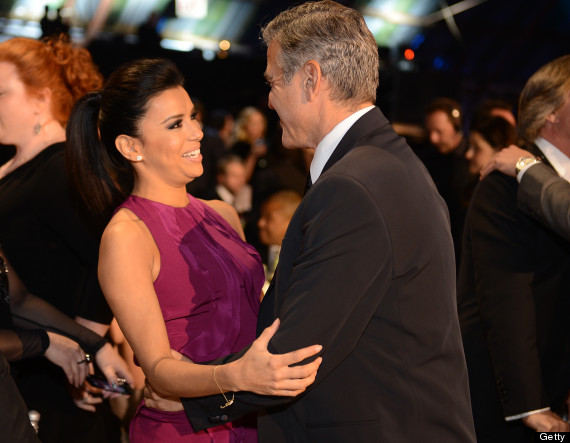 Eva and George have been friends for a while
The mag says that the pair met up in Germany in March 'but did not hook up'.
A source said: "George began pursuing Eva. He told her that he was still with Stacy, but had plans to break up with her and was interested in being with Eva."
While Eva reportedly resisted, George "continued to pursue her with texts and calls. Eva made it clear to him that she would not date or be with him until he was completely single."
UPDATE: Eva Longaria has now responded to the rumours via Twitter. She wrote:
As interesting as the George Clooney rumors are, they aren't true. George and I have been friends for years.

— Eva Longoria (@EvaLongoria) July 19, 2013
Michelle Pfeiffer's sister Dedee briefly dated Clooney in the early 1980s.

George Clooney moved in with girlfriend Kelly Preston in 1988 when they were both just starting out. Preston, who was the recipient of Max the pig from Clooney, also dated Charlie Sheen before marrying John Travolta in 1991. They have two children, after losing their son Jett in 2009.

After he broke up with Kelly Preston, Clooney began dating actress Talia Balsam, whom he married in Las Vegas in 1989 and divorced three years later. Balsam is now married to John Slattery, with whom she's appeared on Mad Men.

Shortly after his divorce, Clooney began a three-year relationship with actress Kimberly Russell, whom he met on the set of a martini commercial. More recently, Russell was seen in Lee Daniels' "Precious" and the forthcoming "Spychosis."

George Clooney and Karen Duffy were rumored to be dating when they appeared together at the Emmys in 1995. The same year, she was diagnosed with the relatively rare disease sarcoidosis, which she wrote about in her 2000 autobiography "Model Patient: My Life As an Incurable Wise-Ass." She continued to model for Revlon, and is married to John Lambros with a son.

Clooney met Celine Balitran in Paris while filming the movie "The Peacemaker" in 1996 and dated until 1999. She continued to work as a model, and was married for two years to filmmaker David Rosenthal, but divorced in 2004.

Clooney and actress Lucy Lui were rumored to be dating in 2000, and later the two were caught by paparazzi sharing a New Year's Eve kiss in 2006. Liu's career has branched out beyond the big screen, and the actress has devoted huge efforts to charity and working for human rights.

In 2002 Clooney began dating actress Krista Allen, whom he met on the set of "Confessions of a Dangerous Mind." They broke up in 2004, reconciled briefly and broke up for good in 2006. In 2010, she married British musician Mams Taylor, but they separated in August 2011. Krista runs a blog called Veggie Boom Boom.

Clooney dated model Lisa Snowdon on and off for five years, before they finally ended it for good in 2006. Snowden is now a regular DJ for Capital Radio in London.

Actress Renee Zellweger has been linked to Clooney a number of times. The pair were first rumored to have dated in late 2001, just before he started bumpy romance with Krista Allen, and again in 2006 the two were said to be together briefly. But in 2007 they denied there was ever a romance and said that they've been just friends for over a decade.

While they were together for less than a year, Clooney dated Sarah Larson, a cocktail waitress from Las Vegas, and got lots of attention for doing so. They called it off in 2008.

George Clooney and Elisabetta Canalis confirmed they were dating after Elisabetta was first spotted on the back of George's motorcycle in July 2009. The two dated for just under two years, breaking up in June 2011. She went on to contend in "Dancing With the Stars" and continued to model and perform.

Clooney ended things with Stacy Keibler, a former professional wrestler and "Dancing With the Stars" contestant in July 2013 after two years of dating. Stacy, a former wrestler, has a new lifestyle show, "Supermarket Superstar," lined up for Lifetime channel.