Designing your own running shoes on a computer and having them arrive in a box a few weeks later is the sort of thing that is both futuristic and mundane, all at once.
Futuristic, because the idea of Nike iD alone - the very conceit - that you can boot up a computer, design a pair of shoes in a few seconds and send them off to a big factory where someone, a robot ideally, will sew, package and send them to your door exactly as you requested, is insane and brilliant.
But it's mundane too. Because… well, isn't everything made and sold with a version of this hypnotic vacuum tube dream attached, these days? Computers, cars, bikes, phones - all are custom-built to order. 3D printers allow us to replicate objects from bits of data. Even buying a book on Amazon requires the help of about 20 automata. And since Nike iD was launched in way back in 1999, though in a limited form, it can hardly claim to be all that new.
That said, when HuffPost found itself standing in front of a booth at Nike's Oxford Street flagship store recently, ready to design a pair of just-released LunarGlide 5 running shoes, we broke out in a sweat. This felt like living in the future - and we wanted to get it right.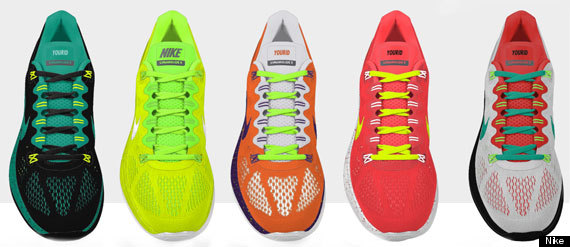 The Nike iD system - which you can play around with online for a variety of different shoes - is pretty simple, but also allows for a wide amount of customisation. Starting with the outer 'upper', you can choose different colours and patterns for virtually every part of the shoe. The LunarGlide 5s have a new 'Freak Graphic' option, but all of the available fades and solid colours are bright and bold. From there you'll pick your inner lining, flywire, Swoosh colour, laces, midsole and add your personal ID tag to the tongue.
There are lots and lots of options, and with a bit of inspiration you can get some truly amazing, or hideous, results. When we gave the system a try, we couldn't hold back. We built what we felt were the brightest, silliest and boldest shoes we could, and then labelled them in honour of Andrew WK, cult rockstar and God of Party. Here's what we came up with: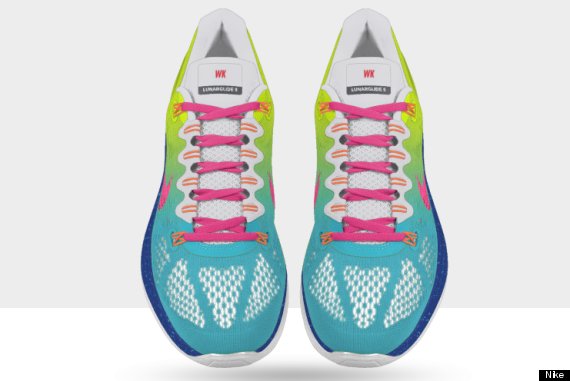 When the shoes arrived, about four weeks later, the results were fantastic. The colours are just as bold as they were on screen, and we couldn't have been happier with the horrified faces of passers-by and the warm glow of knowing we looked a bit more ridiculous than usual.
As for the LunarGlide 5s themselves, we were surprised to find that they're actually a very decent, flexible running shoe -- if you're looking for something stable with support and cushioning, and aren't yet won over to the Barefoot Revolution. We tried both a few short runs and a half marathon, and they held up very well. They lack the bleeding edge tech of the Adidas Boost, or the reassuring elite runner-isms of Asics. But they're very good.
The downsides to the system are obvious. The price is high - £125 for a customised pair, compared to £90 for a basic pair - and the wait is long. We had to sit tight for a month, but that wait is now up to 36 days. Many runners will also prefer to get their customisation kicks (literally) when it comes to fit, support and style, from a running shoe specialist, rather than in terms of colour and design.
But for us, the Nike iD experience was a very fun way to build a pair of unique, hauntingly beautiful, shoes. The result was consistent with out expectations, and our shoes are now neon, with a Pink swoosh and have Andrew WK's name on. And yours don't. So we win.
Loading Slideshow
Jawbone Up

While it's rather more fiddly than the Nike Fuelband, the UP gives you more control over your data, is a lighter and arguably more attractive device to wear on your wrist and is complemented by 10-day battery and an excellent app which links into several external services to share data on iOS. <a href="http://www.huffingtonpost.co.uk/2013/04/23/jawbone-up-uk-review-can-_n_3139321.html" target="_blank">It's not infallible, but it's an good option if you want to track your activity easily and effectively</a>.

Fitbit One Review

The Fitbit One clips to your clothes to measure the steps you take, stairs you climb, and the quality of your sleep. We prefer it to the wristband version, which lacks altitude tracking.

Nike Fuelband SE

The Nike Fuelband is one of the most attractive and intuitive fitness trackers on the market - and the new SE edition is the best one yet, adding Bluetooth LE for constant syncing with your iPhone, 'Session' markers and limited sleep tracking. It's not a complex gadget, and it's hurt by the lack of Android compatibility. <a href="http://www.huffingtonpost.co.uk/2012/06/20/nike-fuel-band-review-the_n_1612388.html" target="_blank">But it works, is stylish and has earned a legion of fans.</a>

Bose SIE2i Sports Headphones

<a href="http://www.amazon.co.uk/Bose-SIE2i-Sport-Headphone-Green/dp/B00CM6J6JQ/ref=sr_1_cc_3?s=aps&ie=UTF8&qid=1369748927&sr=1-3-catcorr&keywords=Bose+SIE2i+Sports+Headphones&tag=hptech-21" target="_blank">For £129.95 you might expect that these Bose headphones</a> would be Bluetooth enabled. Sadly, they're not - but they are totally water resistant, secure in the ear and have fantastic sound quality. They also come with in-line controls and a microphone designed for the iPhone, and a fitness armband to hold your music player safe when you work out.

iPod Nano 7th Generation

Apple's latest music player is small, thin, light, has a two-inch screen and is Bluetooth enabled. For our money it's still the best all-around music player if you're mainly using it for exercise - though we do miss the wearability of the 'mini wristwatch' style 6th generation.

FINIS SwiMP3 Waterproof Headphones

<a href="http://www.amazon.co.uk/FINIS-SwiMP3-2G-X18-Firmware/dp/B00822529W/ref=sr_1_cc_1?s=aps&ie=UTF8&qid=1369748846&sr=1-1-catcorr&keywords=neptune+headphones&tag=hptech-21" target="_blank">The FINIS SwiMP3 headphones (£93)</a> are a stunning bit of kit which transmit music through your cheekbones via induction. It's one of the only pair of headphones you can wear in the pool, and if you're spending a lot of time underwater and need an Andrew WK boost on your 50th lap, it might make the difference. (£93)

Withings Smart Body Scale

If you want to get fitter, it's worth knowing the state of play before you start - and during your programme. The <a href="http://www.amazon.co.uk/Withings-Black-Wifi-Body-Scale/dp/B002JE2PSA/ref=sr_1_cc_2?s=aps&ie=UTF8&qid=1369748900&sr=1-2-catcorr&keywords=withings+smart+body+monitor&tag=hptech-21" target="_blank">Withings Smart Body Scale</a> will give you that. It's able to accurately track your weight, body fat and various other stats, and sync them to your phone so you can easily monitor progress over time. They're pricey - but they might make the difference.

Adidas Boost

Many shoe companies boast about the energy-saving, world-changing, etc etc tech of their trainers. The Adidas Boost are the only pair in recent memory that we've been genuinely convinced by. Stunningly 'bouncey' (there's no other way for it), they return more energy to your legs as you run, conserving energy and give you a literal boost to make it that extra mile. Check they're suited for your gait through - they aren't great for those who need a little extra support.

GoPro HERO 3

Alongside being one of the most flexible, durable and tiniest sports cameras on the market, the <a href="http://www.amazon.co.uk/GoPro-Hero-Edition-Camcorder-Black/dp/B009TCD8V8/ref=sr_1_1?ie=UTF8&qid=1369748816&sr=8-1&keywords=gopro+hero+3&tag=hptech-21" target="_blank">GoPro Hero 3 Black action camera (£349)</a> can record in up to 4K resolution. If you're getting fit on a bike, on skis, in the sea, on a board - or doing anything else which conceivably might be of interest to the outside world - you should get one.