The noble BLT is an office staple, whether it's lunch on the go or a picnic must-have. Don't believe us? Apparently 1.69 billion of the sarnies sold last year alone.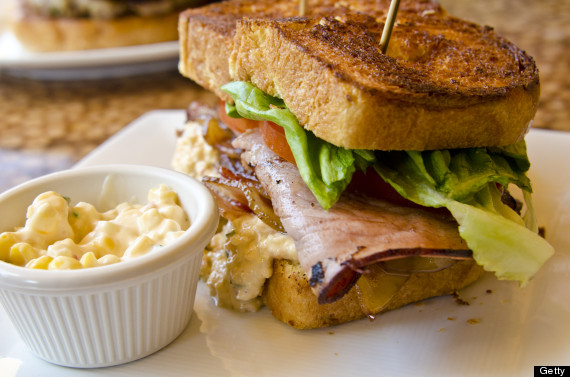 With over 62% of the population buying a sandwich at least once a year we set out office tasters on a mission to find the best of the BLT bunch from the high street supermarket and sandwich specialists.
MORE HUFFPOST FOOD:
Our crack team of tasters included UK Lifestyle's Poorna Bell (PB) and Brogan Driscoll (BD), Entertainment's Sarah Dean (SD), Analytics specialist Amy Greenacre (AG) and AOL Travel's Katy Holland (KH)
We've pitted fancy deli brands against high-end supermarkets and budget shops to find the best BLT on the lunchtime market. Find out which BLT won over our discerning sarnie critics below.
Loading Slideshow
Winner: Benugo BLT, £3.50

The tasters couldn't wait to dive into this sandwich claiming it looked <strong>"incredible," "jam packed with bacon"</strong> and that it looked the most homemade of the bunch. The taste verdict was by no means unanimous however, and while all BD could say was: <strong>"Mmmmmm, oh my god it's so good!"</strong> Discerning sandwich taster PB said the <strong>"bacon was too salty"</strong> and SD claimed: <strong>"The mayonnaise tastes cheap."</strong> Overall the mixed comments didn't stop the most expensive sandwich in the trial from scoring an average embark of <strong>4/5</strong>, making it our tried-and-tasted winner.

Joint Second: Prêt a Manger beech smoked BLT, £2.99

The tasters decided that this sandwich looked attractive and were pleasantly surprised by the taste with SD praising the <strong>"garlicky"</strong> sauce and saying it <strong>"tasted like aioli."</strong> Not all the tasters were as taken with the strong flavour though as KH said that it was too salty and PB declared: <strong>"The mayonnaise overpowers the rest of the sandwich."</strong> Despite this split verdict on the mayonnaise the Prêt BLT scored highly with an average mark of <strong>3.5/5</strong> putting it in second place alongside the Tesco version.

Joint Second: Tesco BLT, £2.10

Despite being the cheapest sandwich in the trial, the tasters thought this BLT looked impressive with AG saying: <strong>"This looks packed out."</strong> The tasters unanimously agreed that this sandwich was the most balanced in flavours with KH claiming that the bacon <strong>"is almost like pancetta."</strong> AG said: <strong>"There's a good balance between salad and meat,"</strong> which was corroborated by BD who praised the <strong>"excellent leaf to pig ratio."</strong> The Tesco BLT racked up an average score of <strong>3.5/5</strong> putting it in joint second with the Prêt sandwich.

Fourth: Marks and Spencer BLT on malted bread, £2.75

The testers picked this sandwich to be the most expensive, 'posh' one due to its attractive appearance and use of fancy mixed leaf salad. However AG thought the bread looked anaemic and KH said the bacon was <strong>"too chewy."</strong> PB praised the balance of ingredients saying: <strong>"There's a good ratio of the three main components but the tomatoes are disappointingly soggy."</strong> The 'posh' one only managed to score a mediocre <strong>2/5</strong> marks on average, putting it in fourth place overall.

Fifth Place: Sainsbury's BLT, £2.60

The tasters thought that the Sainsbury's offering looked appetising and <strong>"healthy,"</strong> however this sandwich fell down heavily on tasting, with PB calling it overpoweringly sweet and AG saying: <strong>"The bread sticks to your teeth like it's under baked."</strong> This BLT fared no better with the other testers as SD said: <strong>"It tastes like a desperate hangover sandwich"</strong> and BD replying: <strong>"I'd rather never drink again than have that as my hangover sandwich!"</strong> The Sainsbury's BLT only managed an average score of <strong>1/5</strong> putting it in last place.
Had a better BLT? Tell us below. Next week we will be testing out a summer staple, chocolate ice cream. If you can recommend your favourite high street brand then tweet, Facebook or message us and we'll consider it.
FOLLOW HUFFPOST UK LIFESTYLE ON TWITTER | LIKE OUR PAGE ON FACEBOOK