A contestant on Noel Edmonds' 'Deal Or No Deal' has been jailed after blowing his £35,000 windfall when he was already bankrupt with £61,438 debts.
Andy Barker blew his prize money on holidays, hotels and jewellery in just three months, a court heard.
The 43-year-old plasterer was caught out after one viewer to whom he owed money saw his win on TV and contacted insolvency authorities. It turns out he should have declared the win as he was declared bankrupt in 2011.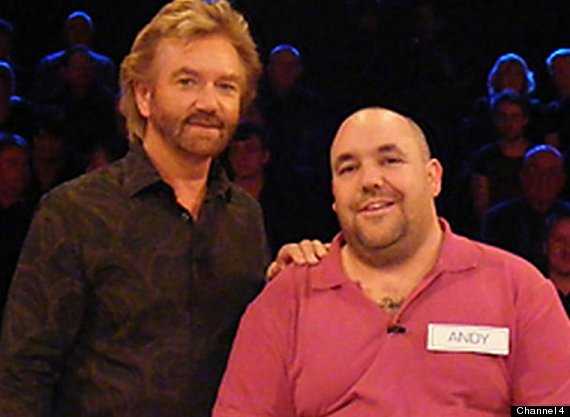 Noel Edmonds with Andy Barker
Warwick Crown Court imposed a 13-week prison sentence.
The Sun reports his barrister Tim Pole told the court: "What should have been a joyful moment has become a nightmare."
Judge Richard Griffith-Jones said: "This was a flagrant breach of your duty to the Official Receiver."
Barker isn't the first contestant to get in to trouble with the law after appearing on the show.
In May, a mother who won £95,000 on the television show pleaded guilty to benefit fraud.
Caroline Banana, 40, of Stoke-on-Trent, Staffordshire, admitted six counts of failing to disclose financial changes in her circumstances with the intention of profiting from the situation, North Staffordshire Magistrates' Court confirmed.
She had been facing trial over 10 charges in a prosecution brought by Stoke City Council.
However she admitted the six charges, while the other offences were dismissed.
Benefit claimants must inform the Department for Work and Pensions if their bank balance exceeds £16,000, either due to a windfall or inheritance. However Banana, who appeared on the show in 2011, did not disclose her winnings.
LIKE US ON FACEBOOK | FOLLOW US ON TWITTER
Also on HuffPost:
Loading Slideshow
Kerry Katona

Despite her fortune for her Atomic Kitten days and various relaity TV appearances, Kerry was officially made broke in 2008 when she failed to cough up the final £82,000 of a £417,000 tax bill. A turn as a housemate on 'Celebrity Big Brother' helped her to finally pay off her debts.

Shane Filan

The Westlife star and property investor was made bankrupt in June 2012 when the housing market crashed, and left him owing more than €5.5m (£4.45m) to Ulster Bank and Bank of Ireland.

Martine McCutcheon

Martine filed for bankruptcy in in 2013, when she amassed debts of £187,000.

Stephen Baldwin

When Stephen defaulted on a mortgage payment in 2009, he filed for bankcruptcy claiming he was $2.3m in debt.

Joe Swash

The former 'EastEnders' star was made bankrupt by London's High Court in 2009 after he failed to pay a £20,000 tax bill.

Peter Stringfellow

Peter lost a reported $20m in 1992 after a failed attempt to crack America.

Christopher Biggins

Biggins reckons that going into voluntary bankruptcy 15 years ago was the 'best thing that ever happened' to him. The star was forced into it after work offers slowed down.

Mike Tyson

The boxer owed both the US and British governments $17m in taxes, $750,000 to law firms and $300,000 to limo services and became bankrupt in 2004.

Donald Trump

He may be a multi-billionaire, but Donald Trump has filed for corporate bankruptcy four times! However, he has never filed for personal bankruptcy.

Neil Morrissey

Neil entered into an individual voluntary arrangement (IVA) after a property scheme in which he invested collapsed, leaving him millions of pounds in debt.

MC Hammer

One hit wonder MC Hammer's living beyond his means meant he was $13m in debt and filed for bankruptcy in 1996.